Hi All! Today's post is going to be a little different. I am going to share a few handmade signs that I made to go into my craft booth. Recently I pulled everything out of the booth because not enough sales to make the rent. Which now leaves me with lots of homemade items and not enough room to store. Deciding that having a Handmade Things Giveaway would be a great way to clear out some of my inventory. This gives you a chance to win some handmade items. If all goes well, I am thinking of having more giveaways.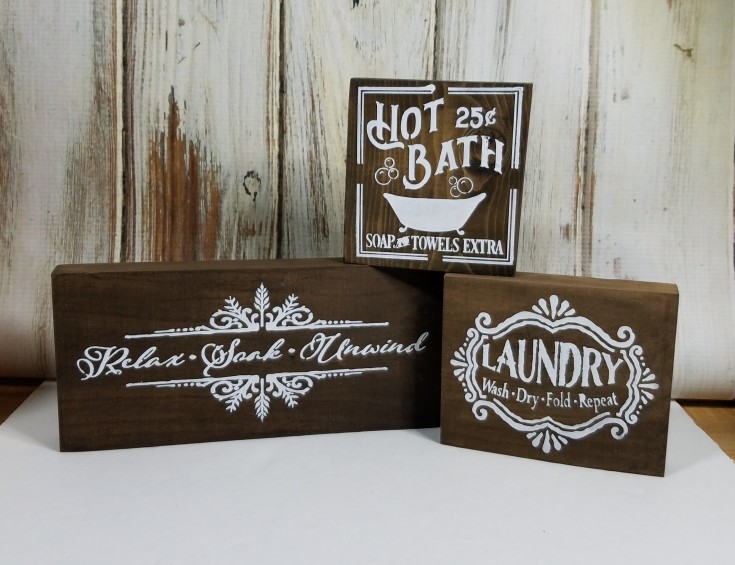 Handmade Things Giveaway Rules
First, I will share a quick tutorial with photos of how these wood signs were made.
1. Must share this Handmade Things Giveaway on your favorite social media, then scroll down below post and leave a comment letting me know where this post was shared.
2. Then your name will be added to the drawing using Rafflecopter.
3. Once the giveaway has ended, I will notify the winner by email. So please leave an email address so I will have a way to contact the winner.
4. The winner has 72 hours to respond to my email and send me their shipping address, or another winner will be selected.
5. Sorry, must live in the United States to enter.
Giveaway starts 2/19/2021 @ 12:00am
Giveaway ends 2/28/2021 @ 12:00am
Handmade Wood Signs
These handmade signs are really easy to make. Start off with raw wood then give them some color with wood stain. I like a water-based stain. Makes for easy clean up, and I'm all about easy!
Let the stain sit for about 30 seconds then wiped it off with a clean soft rag. It only took one coat to achieve this color of stain on the wood.
Next, use white acrylic paint to stencil in the wording. A little paint goes a long way when stenciling.
That's all there is to making these cute and easy little wood signs. Two for the bathroom and one laundry room sign.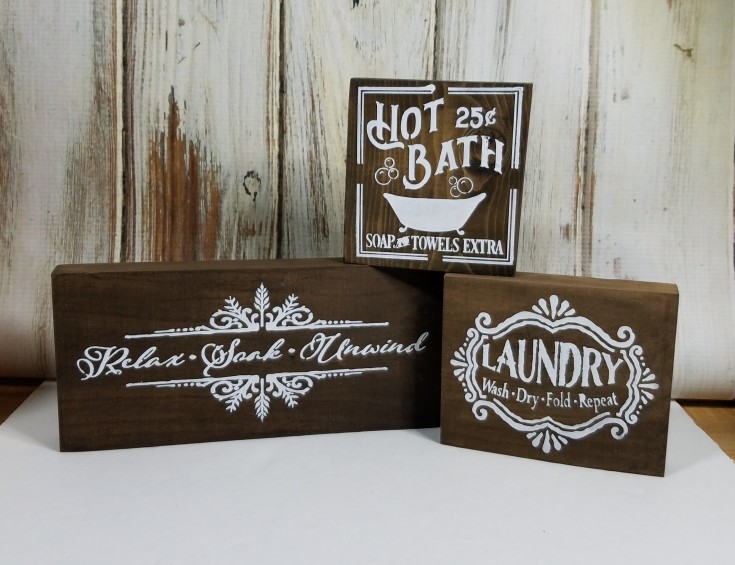 Hot Bath measures 3 ½" x 4" x ¾"
Relax, Soak, Unwind measures 7 ¾" x 3 ½" x ¾"
Laundry measures 4" x 3 ½" x ¾"
Supplies for Wood Signs
Scrap wood
Stencils
Stencil brush
Craftsmart gel stain
Clean rag
If you would like a chance to win these three signs for yourself or to give as a gift then please share on your favorite social media (there are share buttons top and bottom of this post to make it easy).
a Rafflecopter giveaway

Then scroll down and leave a comment below stating where this Handmade Things Giveaway was shared.
Please let me know if you would love to have more of these types of giveaways. Thanks so much for stopping by and entering the contest. GOOD LUCK!!!
More Fun Laundry Projects!
Loose change jar for the laundry room
How to make laundry detergent
Repurposed ironing board