My Recommendations
This is a list of the affiliates recommendations, that I have used myself, and have been very happy with. You will find a variety of links from things to help with your blog, women's fashions, home decor, and more. If you click on one of the images below and happen to purchase something I will receive a small commission at no extra cost to you. This helps with the cost of running my blog. Thanks!
Blog Resources
Monumetric is a full-service ad revenue service. Get paid with ads on your blog.
Bluehost
Bluehost is a great web hosting service if you are just starting out blogging. It's inexpensive, and they have online, or phone tech suppost 24/7. They have other features that can be added on for an extra cost like online marketplace and more.


Training Classes
Craftsy
Craftsy offers online classes, from cooking, sewing, quilting, gardening, woodworking, jewelry making, photography, and more. They even offer some free online classes. Great place to purchase kits for making different craft project. Or maybe you just need a few supplies, well craftsy carries supplies for cake decorating, yarn, fabric, and more. I have taken a few of the paid classes and free ones as well, and was very happy with them. Oh and the best thing is that you can access the classes for life. They even have an app so that you can take your classes anywhere you go. How cool is that? I live on my smart phone!

Creativebug
Creativebug make creating easy, classes for anyone at any skill level can learn to make beautiful and useful things.

Craft Resources
Dollar Tree is a great place to get cheap craft supplies!

Creative Fabrica
A great place to get crafts, online classes, tools, graphics bundles, like this farmhouse bundle.
Contenti
I don't have an affiliate account with Contenti, but this is where I buy most of my copper wire, and this is where I bought my jump ring maker. The jump ring maker makes quick wire coils, then I just cut them with my flush wire cutters. They sell other tools for jewelry making as well.
Create For Less
Create For Less has a variety of craft supplies from beading, sewing, scrapbooking, kids crafts, and more.

Affiliate Marketing Networks
Share A Sale
Share A Sale is a Affiliate Network where you can sign up then apply to different affiliate programs. They have so many wonderful companies to join. Just a few are Craftsy, CreativeBug, Create For Less, Decor Steals, and more.


Rakuten Affiliate Network Program
Sign up an joined advertiser programs then published advertiser affiliate links on your site to earn a commission. Large selection of advertisers like Walmart, Interweave store, PetsMart and more.
LinkVehicle
LinkVehicle is a place where blogger/Publishers can earn money when a advertiser buys an ad and you approve that ad and publish on your website. You have three options to either use their ad that they have written, write your own, or have LinkVehicle's writers to write the article for you for a small price which is deducted from the money that you earn. I am very selective with what ads I will publish on my blog, so I have only publish a few.

Shopping – Home Decor, Fashion
Dollar Tree
Need cheap gift ideas? Then check out Dollar Tree!

Antique Farm House
If you love the farm house style then you will love "The Antique Farm House". They offer unique farmhouse , shabby chic, and vintage style decor at sales up to 80% off retail prices. They also offer sales events at incredible savings.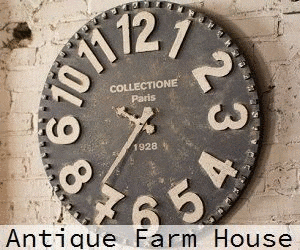 Decor Steals
I love farmhouse decor and Decor Steals has some of the cutest. They offer three steals a day that you can sign up to receive text messages so that you want miss the deals.

reCap Mason Jars
reCap Mason Jars has a large variety of mason jars and neat accessories.

Target


I do love Targets home decor. They have lots of pretty baskets, pillows, candle holders, candles, vases, galvanized buckets, trays, and more.
Old Time Candy Shop
If you have a sweet tooth then you should check out the old time candy shop where you can buy candy that was sold all the way back to the 1920's. Pretty cool to see what candies were popular back in the decade your born.