Here's a couple super easy repurposed tin cans that could be used as cute little storage containers for the craft room, planter's, pencil holders, etc.
The other day I was going through my craft room thinking what should I make now? I wanted another quick and easy project, as my eyes were zeroing in on my box of newly gunk free tin cans.
The reason I say gunk free is because the tin cans that I save for repurposing get a good washing, and the Sticky part of the label removed. As for the tin cans that go in recycle bin just get a rinsing.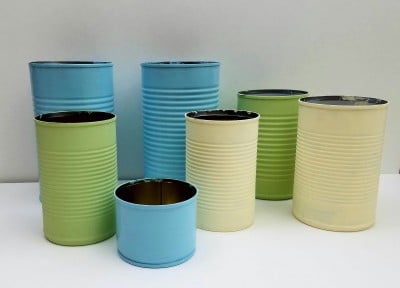 Repurposed Tin Cans
After cleaning the gunk off of your tin cans start painting them your choice of colors. Mine took two coats of paint.
Once dry take a piece of sandpaper and scuff them up a bit to give them a distressed look.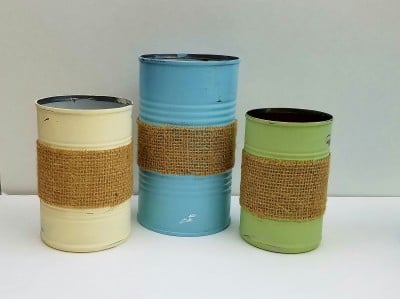 Now it's time to dress them up a bit, and I chose burlap (affiliate). So for the first three cans I wrapped, and hot glued a piece of burlap around the center of the cans.
Next I glued some embellishments from my jewelry stash onto the burlap using my hot glue. That's it for these three! Wasn't that a quick and easy way to repurpose tin cans?
Another Way To Repurpose Tin Cans
Now I am going to use some Diamond wrap ribbon for my next set of repurposed tin cans.
Cut the diamond wrap ribbon (affiliate) into strips long enough to wrap around the top of the tins cans.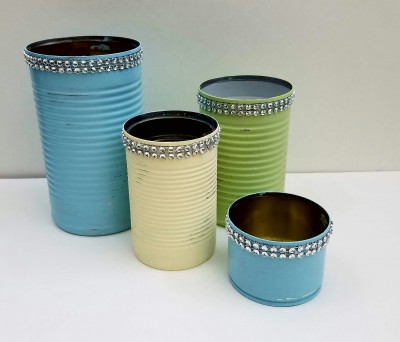 Using my hot glue gun (affiliate) I glued the diamond strips around the top of each tin can.
Then I stenciled some wording on to each tin can. (I bought this stencil at Walmart and they came on one sheet with all of these words plus more).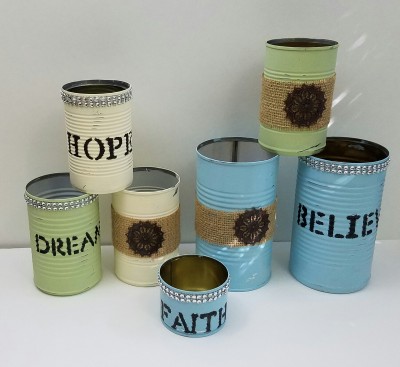 That's it for a cute and easy way to repurpose tin cans.
They make cute planters!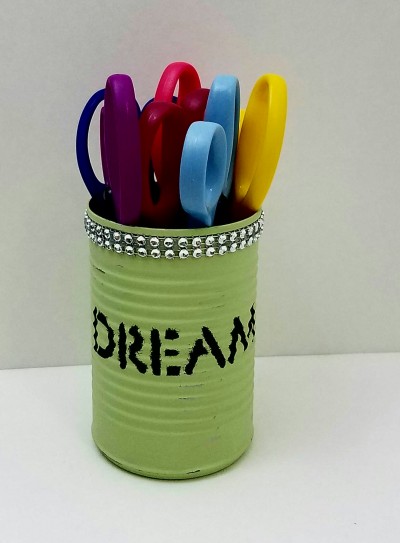 Or can be used in the craft room for storing craft supplies, like scissors, markers, pens, etc.
What do you think of my quick and easy repurposed tin cans? Which set do you like best, the ones with the burlap and embellishment or the diamond wrapped ribbon?
If you liked this craft project please share on your favor social media. Thanks!
Other post you may like.
Diy Grungy Can
Homemade Chalk Paint For Craft Projects
Ten for Tin challenge
*This post contains affiliate links, if you click on an affiliate link & buy something I may receive a small commission at no extra charge to you. The affiliate money I earn helps pay the expenses to keep this site running. Please read my full advertising disclosure for more info. Thanks so much for your support!*