Hi all! Today's project is two cut log pumpkins for Thanksgiving. These were made by cutting a piece of firewood in half. The wood stems were from a bag of stems that I found at the Dollar Tree at the same time that I found the wood slices for my wood slice snowmen ornaments.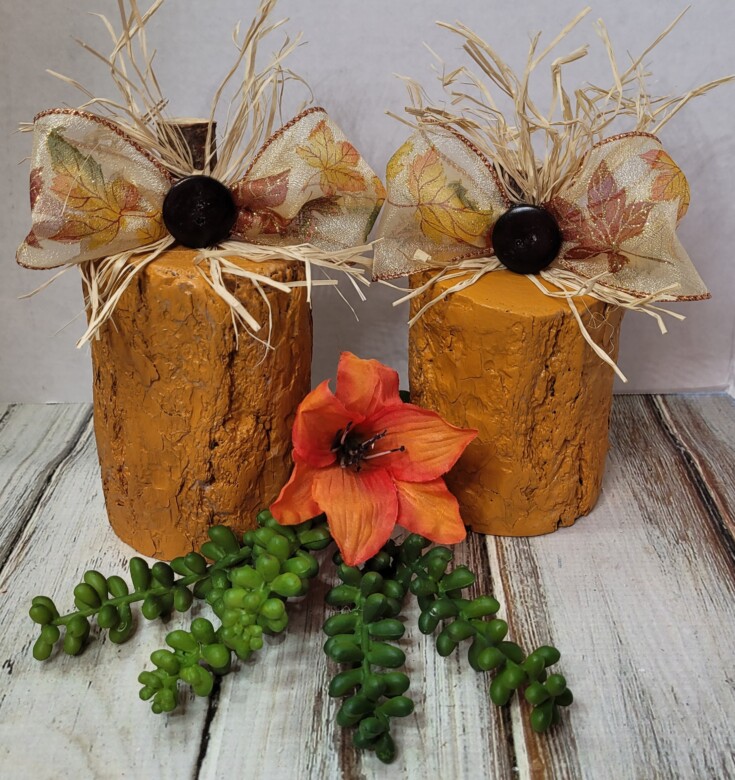 ***This post contains affiliate links… We are a participant in the Amazon Services LLC Associates Program, and affiliate advertising program designed to provide a means for us to earn fees by linking to Amazon.com and affiliated sites at no extra charge to you. Please read my full advertising disclosure for more info. Thanks so much for your support!***
Diy Cut Log Pumpkins
I started off by running some sandpaper over each cut log pumpkin to knock off any loose bark.
Next, give each log pumpkin two coats of pumpkin color chalk paint. Let each coat dry thoroughly.
Then for the wood stems drill a hole in the top center of each wood pumpkin.
Add some wood glue into the holes and gently hammer the stems into the pumpkins. Then I gave each pumpkin a coat of Mod Podge to help seal the back from chipping off.
The bows were made from some ribbon that I had on hand, and I used wire to attach the bows to the stem.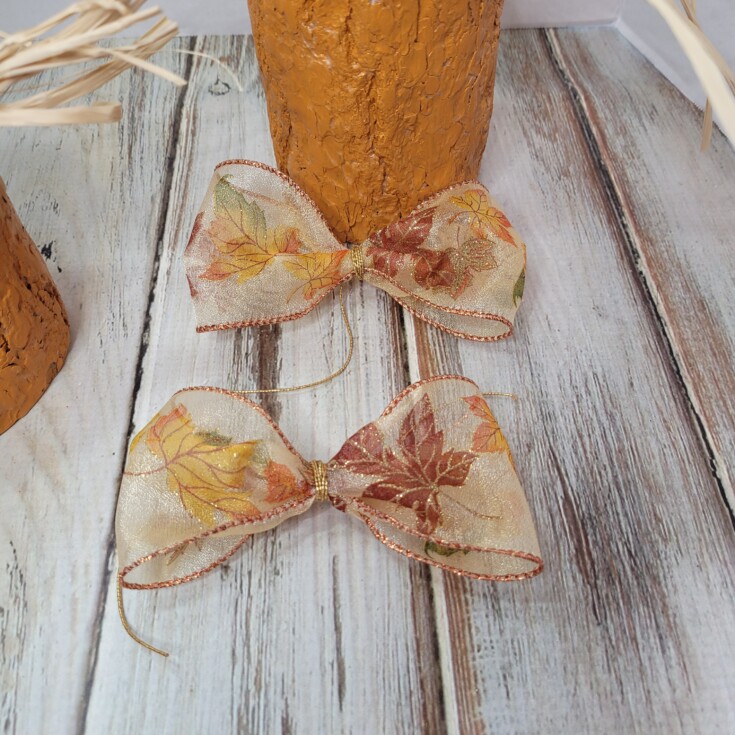 A few pieces of raffia were tied above and below each bow then crinkled up.
Thinking that the log pumpkins needed a little something else added to the bows. I decided to hot glue a dark brown wood button to the center of each bow.
And that's it for these two cut log pumpkins. Perfect for sitting on a mantle or even adding to a Thanksgiving table centerpiece.
Cut Log Pumpkin Supplies
Wood log
Pumpkin chalk paint
Sandpaper
Paintbrush
Mod Podge
Wood stems
Raffia
Fall ribbon
Scissors
Wire
Wire cutters
More Fun Pumpkins!
Fall is in the air pumpkin
Decoupaged Pumpkin
Pastel Pumpkins
Wood block pumpkins