Hi all! Today I have a fun farmhouse style project to share. A Cutting Board Funnel Planter, which is a faux planter made from a Thrift store cutting board and a metal funnel that I picked up a while back on one of our junkin trips. I don't keep many of my projects, but this one is a keeper. It is going in the master bath.
***This post contains affiliate links… We are a participant in the Amazon Services LLC Associates Program, and affiliate advertising program designed to provide a means for us to earn fees by linking to Amazon.com and affiliated sites at no extra charge to you. Please read my full advertising disclosure for more info. Thanks so much for your support!***
Supplies For This Project
Wood cutting board
Metal funnel
Black chalk paint
Laser printer
Reverse image transfer
Mod Podge
Twine
Black and white ribbon
Faux flower sprigs
White chalk paint
Craft sander
Paint brush
Scissors
Small screw
Screwdriver
Black leather cord
Hot glue
DIY Cutting Board Funnel Planter
Start by giving the cutting board a sanding, then give it a coat of black chalk paint.
Once dry give it two coats of white chalk paint, then go back with a craft sander and distress the edges so that some of the black paint shows through.
I used a reverse image that I made on my laser printer "Fresh Cut Flowers". (But you could use a stencil instead.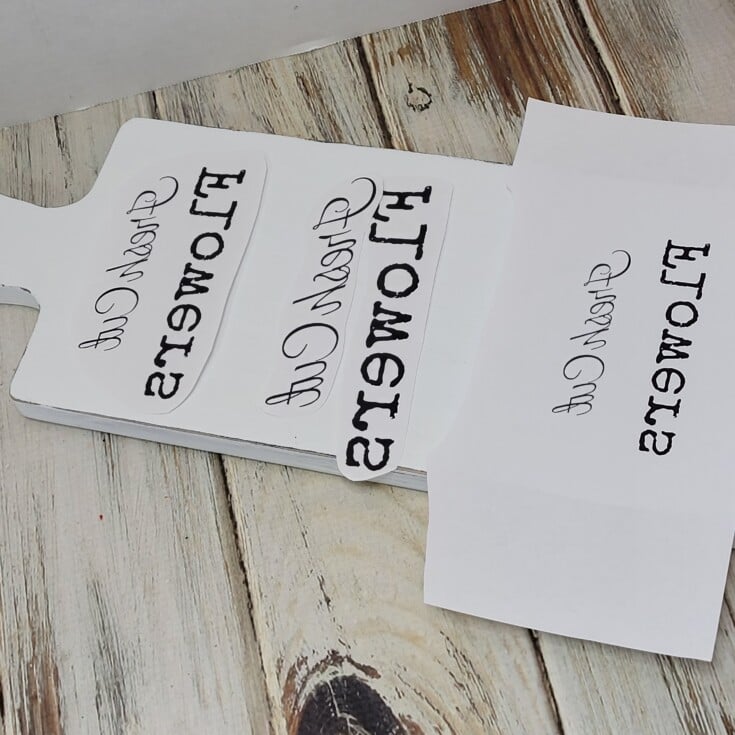 Cut the image out and use a thin coat of Mod Podge and place at the top of the cutting board.
Press down firmly and work out any air bubbles or wrinkles.
Give it a few hours to dry then dampen the back of the transfer paper and rub gently until only the transfer is left showing on the cutting board funnel planter.
Give the cutting board a coat of Mod Podge to seal and protect.
To attach the funnel, drill a small hole in the top of the funnel. Then position the funnel where you want it on the cutting board, and screw the screw in firmly with a screwdriver.
Wrap some twine around the handle about 8-10 times.
For the bow I cut a piece of black and white plaid ribbon around 8" long, and several smaller black, white ribbon and twine about 4" long.
Fold the larger piece to where the two ends overlap in the middle then flip over. Stack the smaller ribbons and twine on the top of this one, then gather the ribbons up in the middle to form the bow. Tie another piece of ribbon around the middle and tighten it to form a bow and hold it secure.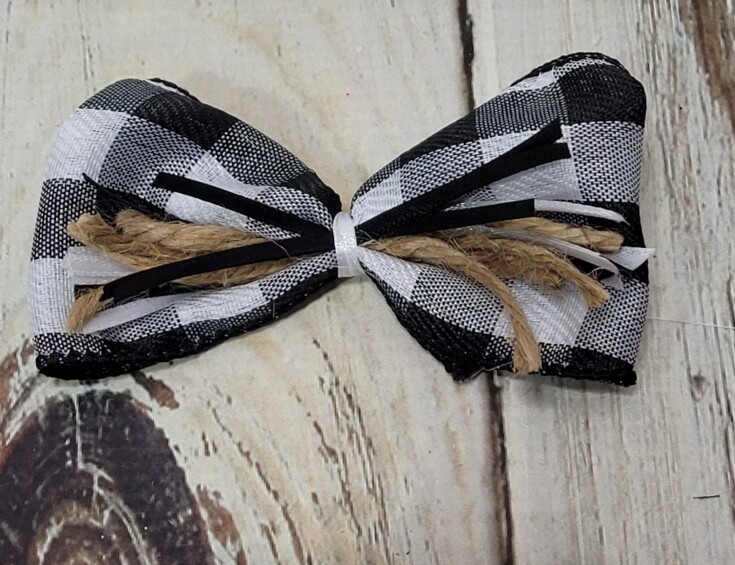 Hot glue the bow onto the wood cutting board right above the twine.
Black leather cord was used to hang the cutting board funnel planter by, but twine could be used as well.
Trim off the bottom of the faux flower sprigs until they fit into the funnel.
That's it for this farmhouse style wood cutting board funnel planter! I love how it turned out. Definitely a keeper. Now we just need to get around to finishing the master bath by getting rid of the pink tub and ugly floral walls that's been here since we moved in.
More Fun Cutting Board Upcycles
Repurposed cutting board and rusty grater
Repurposed cutting board sign
Wooden cutting board makeover
Chalkboard pumpkin from a cutting board
Repurposed cutting board decor – Valentines day