This weeks, 1 Weeks Til Christmas Gift List feature is my handmade copper and zebra jade bracelet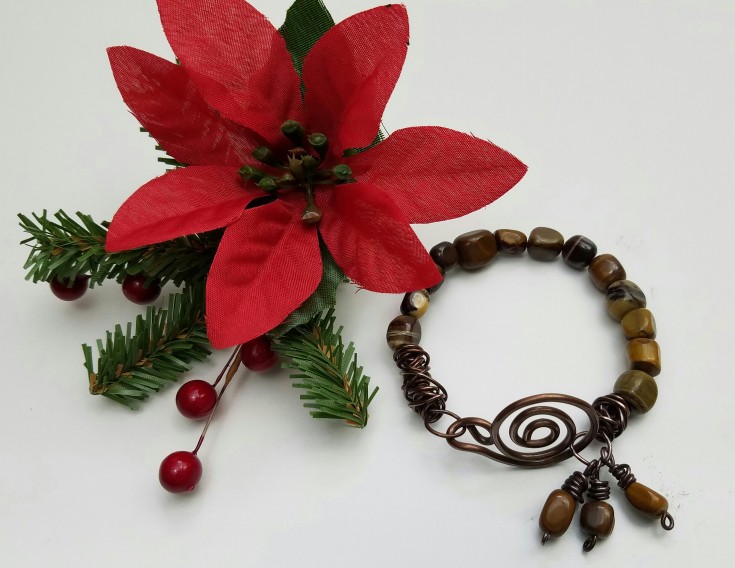 Featured 1 Weeks Til Christmas Gift List
This handcrafted copper and zebra jade bracelet is made using 100% copper wire and zebra jade nuggets.
The ends were finished off with my favor messy wire wrapped loops.
The clasp is hand-formed into a spiral, then hammered for added strength and texture.
I then attached three of the zebra jade gemstones off to one side of the clasp with hand-formed wire wrapped head pins. So they dangle from one end.
Lastly I oxidized and tumbled the bracelet to work harden and polish to a beautiful shine.
Healing properties of jade: promotes prosperity, harmony, and believed to be an emotional healer.
You can find this weeks featured, 1 Weeks Til Christmas Gift List Copper and Zebra Jade Bracelet and other handmade jewelry in my Handmade Artists Shop. I am also offering a 20% off coupon code that is good on anything in my Handmade Artists shop, just type in "Shop16" upon checkout. This coupon is good through Christmas.
Twelve Weeks Til Christmas Gift List Featured Items
Week 12 Handmade figure eight chainmaille bracelet
Week 11 Handmade copper wire cross with chain
Week 10 Stacked ring and cross necklace
Week 9 Ceramic and leather leaf charm bracelet
Week 8 Hand forged mixed metal bracelet
Week 7 Copper Bead Wrap and Glass Bead Bracelet
Week 6 Fall Leaves Necklace
Week 5 Bohemian Chic Bracelet
Week 4 Music Tile Necklace
Week 3 Aluminum Bangle
Week 2 Dainty Copper and Magnesite Bracelet
*This post contains affiliate links, if you click on an affiliate link & buy something I may receive a small commission at no extra charge to you. The affiliate money I earn helps pay the expenses to keep this site running. Please read my full advertising disclosure for more info. Thanks so much for your support!*