This weeks, 10 Weeks Til Christmas Gift List feature is my Stacked Ring and Cross necklace. This is one of my handmade pieces that's not made from copper. I love the silver with the blue gemstones, beautiful piece.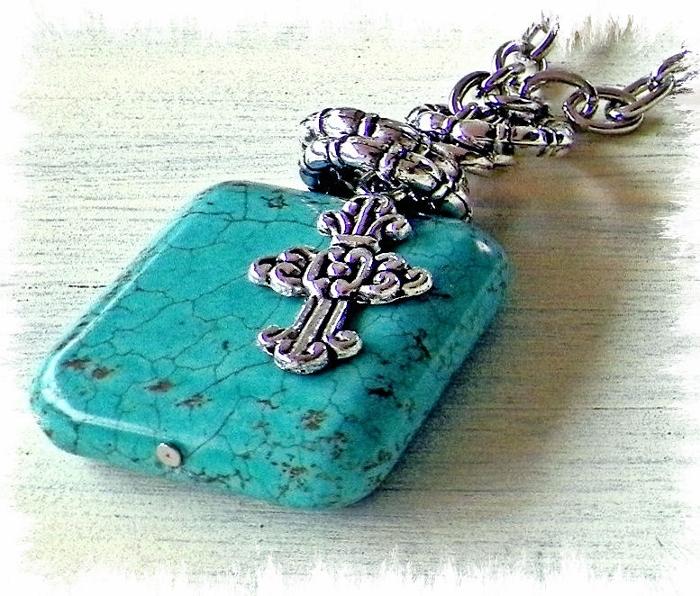 Featured 10 Weeks Til Christmas Gift List
Beautiful handcrafted necklace that's great for everyday wear. Howlite gemstone, and turquoise chips were used in making this lovely piece.
A silver cross hangs down over the howlite gemstone forming the pendant. Four silver rings are stacked on top of the pendant. The turquoise gemstone chips were added about half way up both sides of the silver chain.
Howlite and Turquoise Gemstones
Howlite is a white gemstone with grey veining throughout the stone. Often dyed blue or green to resemble turquoise. Is known as a super-calming stone, and worn to relieve stress. It is suppose to help in relieving insomnia due to an overactive mind (This I did not know and will have to give it a try).
Turquoise is known as the oldest gemstone in man's history, and is believed to be a purification stone known for protecting the wearer from negative energy, and bringing peace to the home. Turquoise is a symbol of friendship, and considered a lucky stone that brings good fortune.
You can find this weeks, 10 Weeks Til Christmas Gift List featured stacked ring & cross necklace, and other handmade jewelry in my Handmade Artists Shop. I am also offering a 20% off coupon code that is good on anything in my Handmade Artists shop, just type in "Shop16" upon checkout. This coupon is good through Christmas. Last weeks 11 Weeks Til Christmas Gift list was my handmade wire wrapped cross necklace.
Twelve weeks til Christmas gift list featured item is my handmade copper figure eight chainmaille bracelet with a jade dangle.
*This post contains affiliate links, if you click on an affiliate link & buy something I may receive a small commission at no extra charge to you. The affiliate money I earn helps pay the expenses to keep this site running. Please read my full advertising disclosure for more info. Thanks so much for your support!*