This year I am going to start a 12 Week Til Christmas Gift List. In this gift list I will be sharing one piece of handmade jewelry. Each week I will share a different piece, and I will be offering a 20% off coupon code as well, that can be used on anything in my handmade shop.
Christmas Gift List Week 12
Week twelve I am sharing this pretty handmade copper figure eight chainmaille bracelet with a jade dangle. Beautiful piece all handmade by me. Each link was cut, and hand-formed from 100% copper wire.
One of my favorite gemstones dangle from one end of the bracelet, a green jade.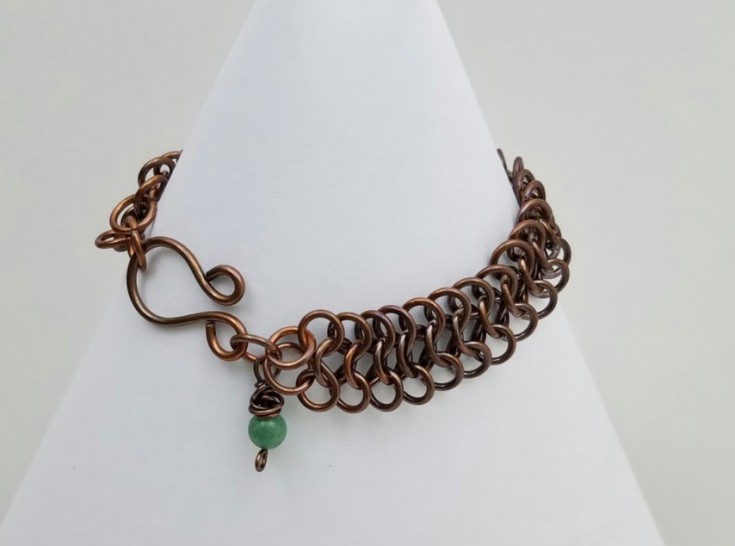 The gemstone jade comes in many colors, but the most common and familiar color is green.
Dating far back in history the Chinese valued jade for its beauty, and the powers of healing and protection. Jade is believed to assure a long life, and a peaceful calm death.
Jade is know as a balancing, calming, and lucky stone. It is calming and healing to the nervous system, emits healing energy to the liver, bladder, gallbladder, and kidneys. It also offers good health, wealth, and love.
This copper bracelet can be found in my handmade artists shop. I am offering a 20% off coupon code that is good on anything in my shop, just type in "Shop16" upon checkout.
Don't forget to stop back by next week for week eleven of my "12 Weeks Til Christmas Gift List" count down.
To Request a FREE Catalog from my favorite online jewelry supplier, Fire Mountain Gems.
*This post contains affiliate links, if you click on an affiliate link & buy something I may receive a small commission at no extra charge to you. The affiliate money I earn helps pay the expenses to keep this site running. Please read my full advertising disclosure for more info. Thanks so much for your support!*