This repurposed wood chair turned shelf is a curbside rescue that I made for my guest bath. Therefore I made it using scrapbook paper with the animal print theme to match the guest bath.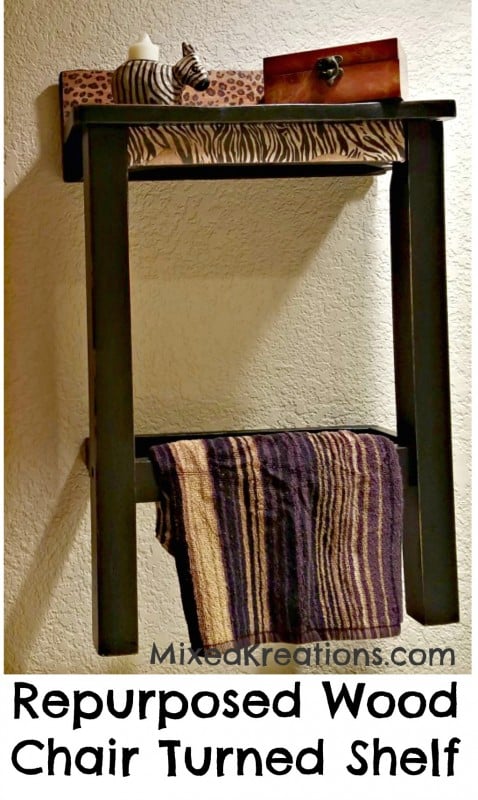 Here is just one of my curbside rescue wooden chairs.
Diy Repurposed Wood Chair Turned Shelf
First of all you will want to take the seat off of the frame. (I'm sorry somehow I forgot this photo)
Cut the seat for the depth that you want your shelf to be. I cut mine at 6″. Then place the cut seat back onto the frame and mark it, then cut the frame.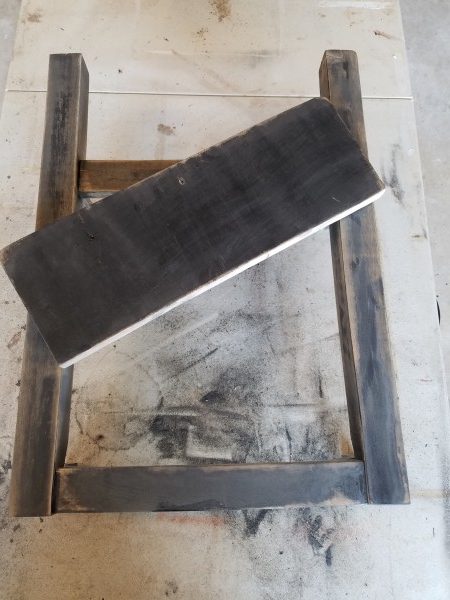 While the chair was still apart I used my palm sander to sand the chair seat, and the chair frame.
Now I placed the wood seat back in place onto the cut chair frame, then screwed it down tightly.
I had to drill a couple more holes to screw down the frame so it would be secure.
Next I added a piece of scrap wood to the top back of the chair, and one to the bottom back part of the frame to help keep it steady against the wall. (sand the scrap wood before attaching it)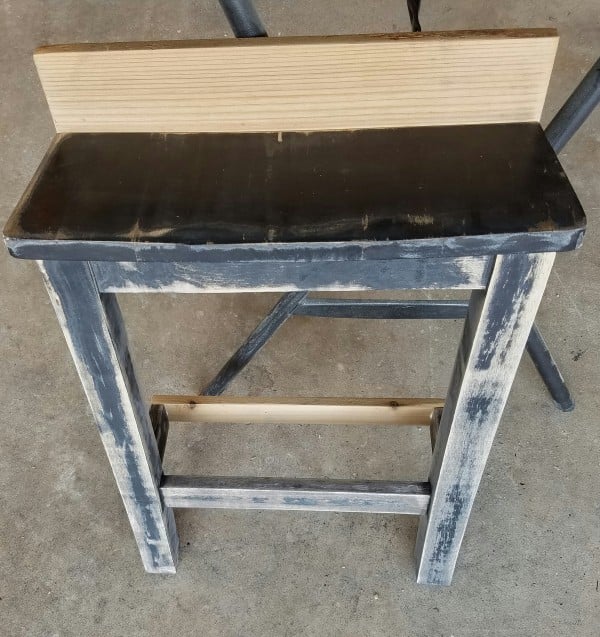 Here is the front of my repurposed wood chair turned shelf after I sanded it, and put it back together.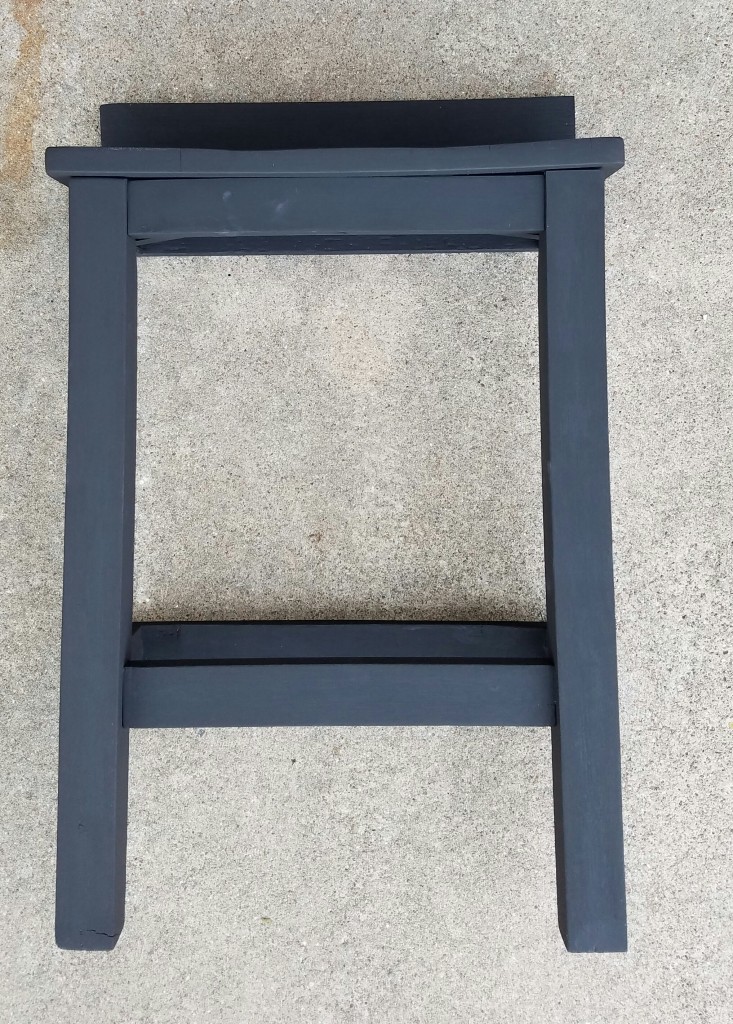 Using the Waverly brand chalk paint I gave it two coats of the color ink.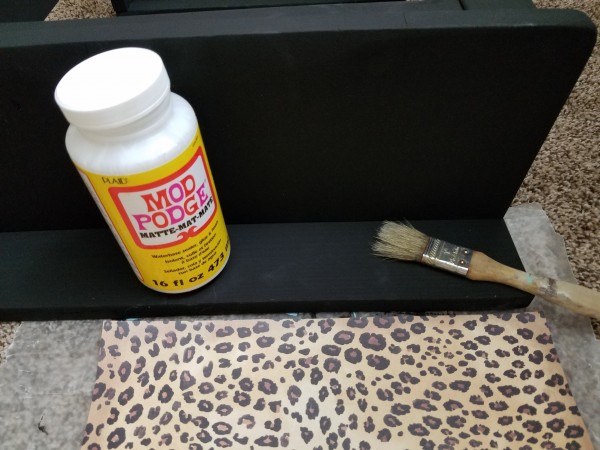 Then I added my animal print (zebra and leopard) scrapbook paper securing it to the wood with Mod Podge. I got the idea of adding some scrapbook paper from a super cute scrapbook shelf over at "A Crafty Mix blog".
Once dry I sanded all edges of the wood including the edges of the animal print scrapbook paper. I very lightly ran my sanding block over the scrapbook paper to give it a worn effect.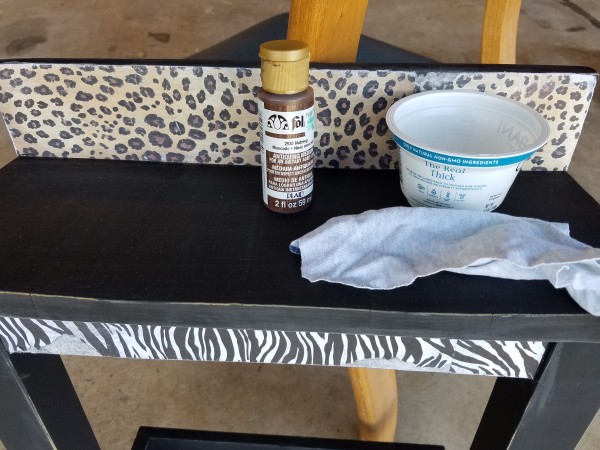 Wanting to darken the sanded edges of the wood, and the scrapbook paper I used my FolkArt antiquing medium.
Using a damp rag and a little of the antiquing medium I rubbed the medium on the wood edges and over the scrapbook paper. I used a paper towel to wipe off any excess antiquing medium till I got the desired look that I wanted.
Now comes a coat of mod podge to seal and protect my repurposed wood chair turned shelf. To hang the shelf I added a wire hanging hardware.
Due to poor lighting in my guest bath I took this picture before I hung it up.
Here's is my new repurposed wood chair turned shelf hanging in it's new place in the guest bath.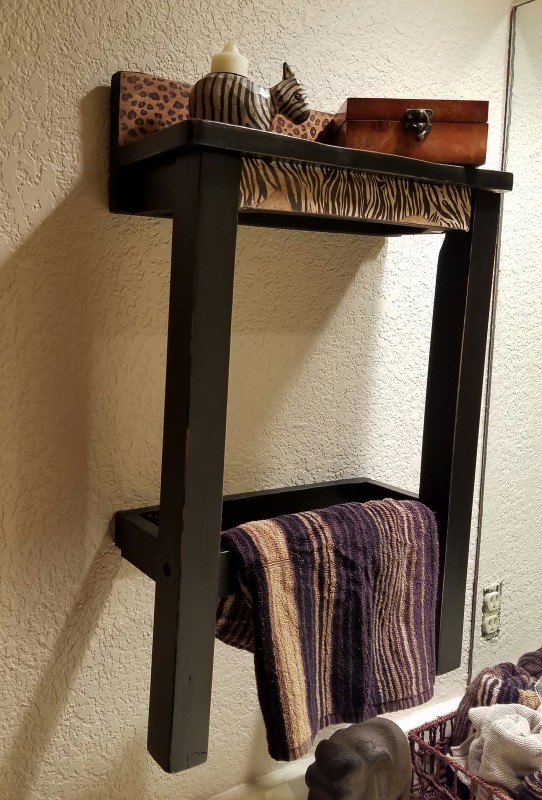 ***This post contains affiliate links, if you click on an affiliate link & buy something I may receive a small commission at no extra charge to you. The affiliate money I earn helps pay the expenses to keep this site running. Please read my full advertising disclosure for more info. Thanks so much for your support!***
Supply List
old wood chair
palm sander
paint brush
circular saw This is like the saw the hubby bought me.
Cordless drill
block sander This is like the one I have
mod podge must have for every crafter
waverly ink chalk paint
FolkArt antiquing medium Love this stuff
annealed wire Comes in handy for lots of crafts
scrapbook paper
screws
scrap wood
screwdriver
taper measure
pencil
How do you like my repurposed wood chair turned shelf? I Really LOVE how it turned out! If you enjoyed this project, please don't forget to share it with your friends and/or save it to Pinterest.
More Projects You May Enjoy!
Repurposed wood shutter message memo board
Repurposed louvered door wall art
Repurposed handsaw into a honey do magnetic board