Hi All! Today's project is a repurposed chippy chair back. My cousin asked me if I wanted this chippy wood chair back, Heck yeah! I love the chippy look, and boy was this one chippy! Before I could even start to work on it, I had to use a spray sealer to stop the chipping of the paint. My idea for this chair back was to make a door wreath for my front door.
***This post contains affiliate links… We are a participant in the Amazon Services LLC Associates Program, and affiliate advertising program designed to provide a means for us to earn fees by linking to Amazon.com and affiliated sites at no extra charge to you. Please read my full advertising disclosure for more info. Thanks so much for your support!***
Repurposed Chippy Chair Back
Started off using a wire brush and gently knocking off any loose paint left after spraying on the polyurethane sealer to stop the chipping. Then I added another coat of the polyurethane to help seal the chipping.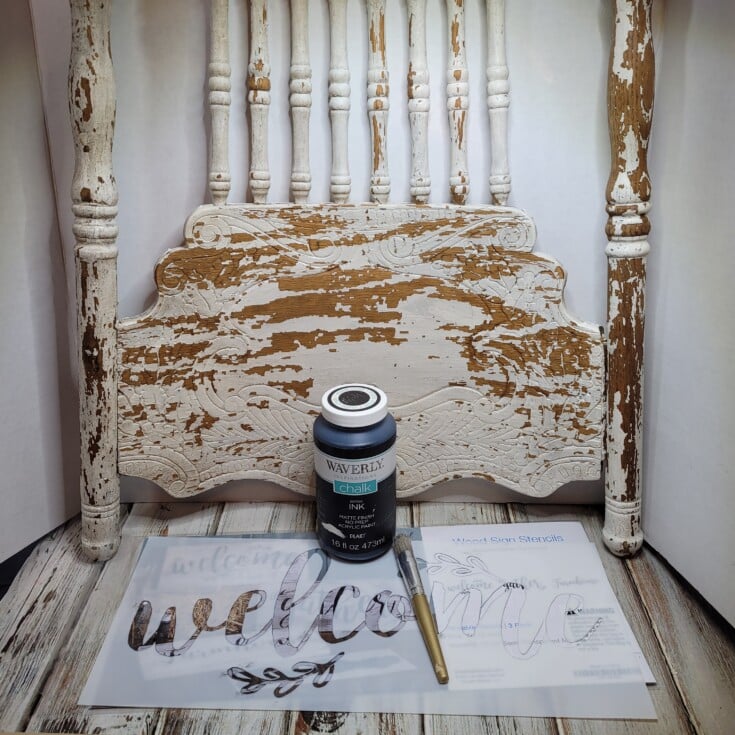 Once dry the chair back was flipped upside down and I then stenciled the word Welcome on the lower section of the inside curve of the chair back.
Next, for the repurposed chippy chair back I attached a wire wreath to the upper portion of the chair back with some floral wire. I also added a wire loop to the back for hanging the repurposed chair.
This was a fun and easy way to repurpose a chair back where the floral stems can be changed out for the season or holidays. Since the chippy wall décor was too large to hang on my door as planned, I hung it on the brick wall beside our front door.
Do you think my repurposed chippy chair back needs a bow at the top or do you think that the floral stems are enough?
Supplies for Chippy Wall Decor
Chippy chair back
Polyurethane
Welcome Stencil
Stencil brush
Floral wire
Floral sprigs
Wire cutters
Pliers
More Fun Ideas!
Repurposed wood chair turned shelf
Repurposing a cabinet door into a tray
Repurposed cutting board and rusty grater