This weeks, 8 Weeks Til Christmas Gift List feature is my Hand Forged Mixed Metal Bracelet. This piece was hand forged from aluminum, and copper then put together using the cold connection technique.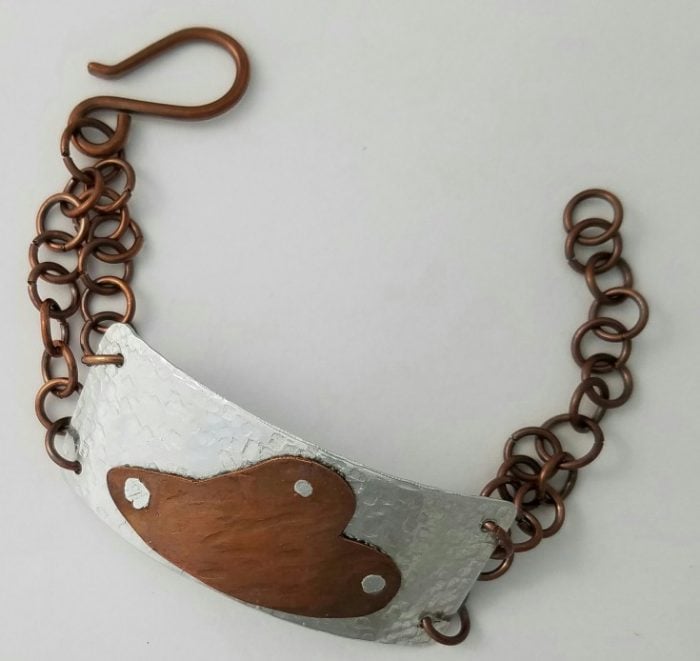 8 Weeks Til Christmas Gift List
I first cut my aluminum blank, then formed and textured the blank with my texturing hammer. Next I cut, formed and textured my heart.
I used some hole punch pliers to add the holes, then made my own rivets to attach the heart to the blank from aluminum wire, after I dipped it in the liver of sulfur.
The chain and clasp was made from copper wire. I make and cut my own jump rings for my chains.
Before I attach my chain I dip it in liver of sulfur to oxidize the copper so that it will have a beautiful earthy tone once polished.
Next I run the hand forged mixed metal bracelet through the tumbler to work harden and polish the metal to a beautiful shine.
You can find this weeks 8 Weeks Til Christmas Gift List featured Hand Forged Mixed Metal Bracelet, and other handmade jewelry in my Handmade Artists Shop. I am also offering a 20% off coupon code that is good on anything in my Handmade Artists shop, just type in "Shop16" upon checkout. This coupon is good through Christmas.
Twelve Weeks Til Christmas Gift List Featured Items
Week 12 Handmade figure eight chainmaille bracelet
Week 11 Handmade copper wire cross with chain
Week 10 Stacked ring and cross necklace
Week 9 Ceramic and leather leaf charm bracelet
*This post contains affiliate links, if you click on an affiliate link & buy something I may receive a small commission at no extra charge to you. The affiliate money I earn helps pay the expenses to keep this site running. Please read my full advertising disclosure for more info. Thanks so much for your support!*