Gardening And Yard Work
Last week it rained on our weekend so we were unable to do some much needed gardening and yard work.
But this past week on our days off we had two beautiful days for gardening and yard work.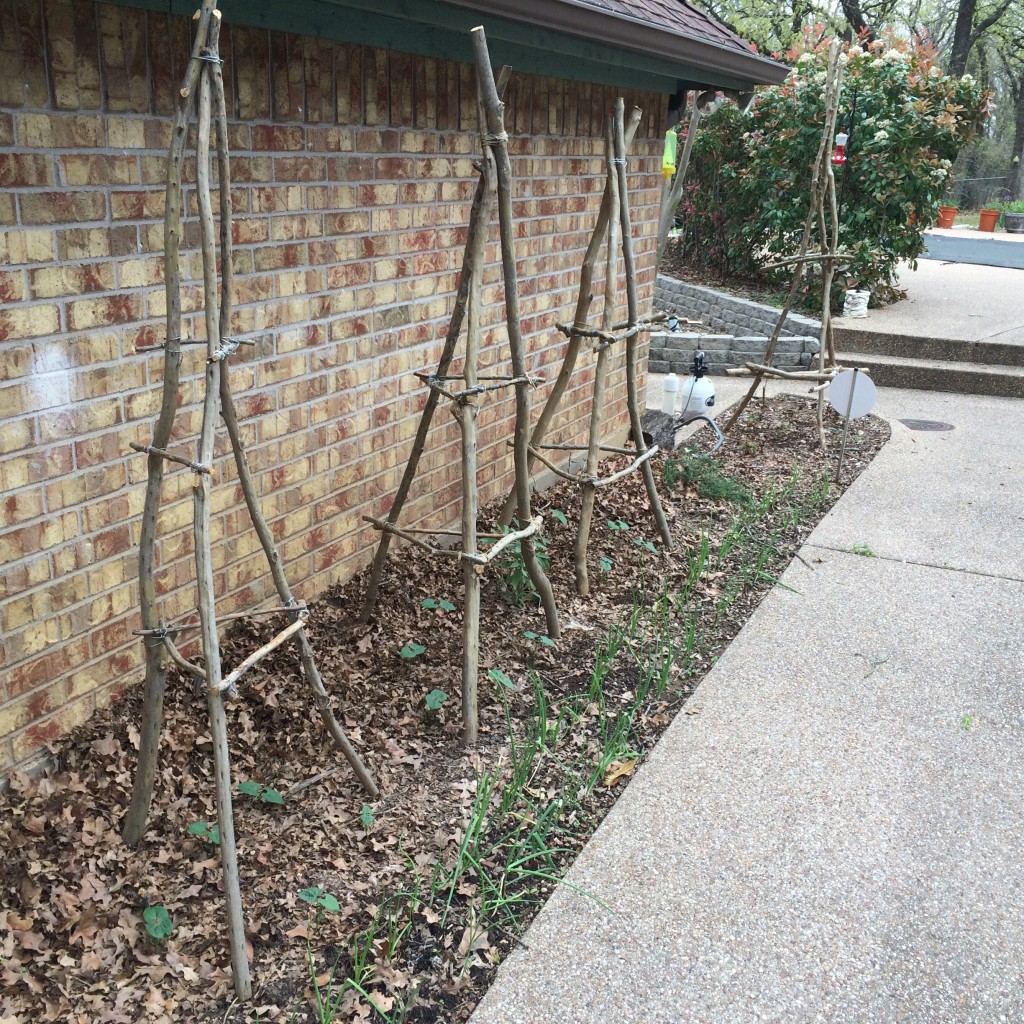 This year it doesn't look like I'm going to get my garden plot tilled again because we still have work in the house that we are doing, plus plenty or work to do on negected flowerbeds from previous elderly lady.
So as I'm weeding I am putting my veggie plants in the flower beds, like above I transplanted my pole beans under my tripod trellises that I made from limbs that the hubby trimmed down.
In the front along the sidewalk is my green onions, and the little plant between two of the trellises is the herb sage.
I bought some bulbs a few weeks ago and planted most already, and here's one of my hosta's popping up.
I still need to mulch this flower bed, and plant some of my astilbe, and gladiolus here as well.
More pole green beans, with my cannas coming up behind them.
Need to weed some more, and then mulch heavily.
Our last house as soon as I got the weeding under control, and my flowerbeds how I wanted them the hubby wanted to sale and get our future retirement home.
So now here I am starting over with a lot more yard to maintain so it will take me a few years to get it under control.
I do have my compost started so I can have a regular supply of mulch. It's way back behind the wishing well. You can see a small orange bucket hanging on the post in the picture above.
Got lots of irises and day lilies with blackberry vines mixed in that I've been working to remove.
There every where but they don't seem to produce any berries. They just like to bite me when I'm weeding.
This flowerbed has a pretty good layer of mulched so I didn't have too many weeds to pull.
I planted a couple of mamouth elephant ears, and a canna in this bed. Plus I have a few perennials that I hope come back.
I finished weeding the side of the house, and got some bulbs planted and I have a lantana planted here as well.
This is just one of my front flowerbeds. I have a little bit of weeding to still do, then I will need to apply a heavy mulch to this one.
I have rose bushes and bulbs planted here, and I will probably plant my squash here this year.
That's it for this past weeks day of gardening and yard work. Have you started your spring yard cleanup?
*This post contains affiliate links, if you click on an affiliate link & buy something I may receive a small commission at no extra charge to you. The affiliate money I earn helps pay the expenses to keep this site running. Please read my full advertising disclosure for more info. Thanks so much for your support!*