Hi All! I hope you are all staying cool. It has been miserably hot here in Texas. It's been in the triple digits this week, making it really hard to get motivated to do anything except site in the house where it's cool. Today I want to share How to Add Color to a Wooden Crate Hubby style.
If you remember my post Junkin at Antique Alley, this is the crate the hubby bought to use in raising the vintage bucket up some in the red wagon. Hubby didn't like it plain so he added some color.
***This post contains affiliate links, if you click on an affiliate link & buy something I may receive a small commission at no extra charge to you. The affiliate money I earn helps pay the expenses to keep this site running. Please read my full advertising disclosure for more info. Thanks so much for your support!***
Supplies Needed
wood crate
wood stain
3 different colors of paint (your choice)
hammer
crowbar
paint brush
Thompson water sealer
How to Add Color to a Wooden Crate
First using a crow bar and hammer he distressed the wood crate.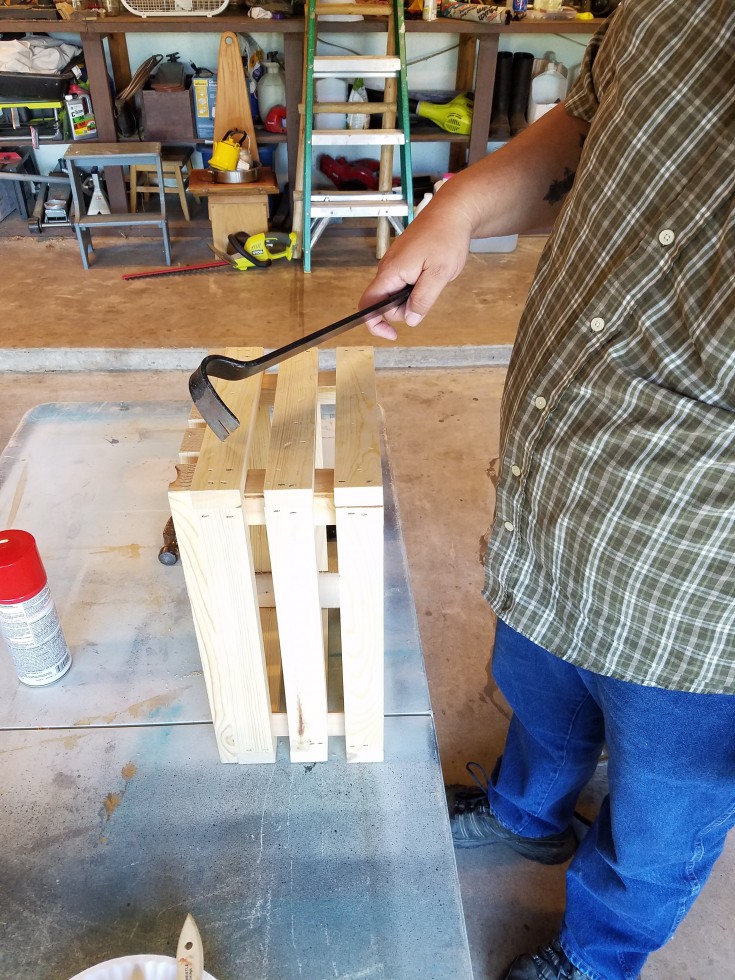 Then he used some Polyshade stain to help age the crate. I myself would have added the stain or homemade aging solution after adding the paint colors. But this is his project so he can do as he pleases.
Once he has the crate completely covered with the stain and is dry. He starts adding the color to the sides and bottom of the crate by dry brushing it on not covering it completely. Letting some of the stain show through.
After the wooden crate is dry he sealed it with Thompson Water Sealer.
Left to dry for a few hours before putting it in the little wagon.
That is how to add color to a wooden crate the hubby way. How did he do?
More of the Hubby's Projects You May Enjoy!
How to make a diy solar light chandelier
Texas sign made from old license plates