Today I want to share Andes Mint Chocolate Cake cookies, a cookie that my granddaughter came up with. This cookie came about one weekend when my youngest daughter, and family came down for a couple days. I was up early as usual when my granddaughter got up, and she must of had cookies on her mind.
I didn't have any cookie, so she asked if we could make some. Well I didn't have everything that I needed to make my favorite cookies, Roly Poly's. But I did have a box of Duncan Hines Devil's Food cake mix. Which makes a delicious chocolate cookie, like my easy chocolate cake cookies.
There quick, and easy to make! That way she could make them before everyone else got up. My daughter had a pretty busy day planned out so we would be on the go pretty much all day, so these would be perfect.
We needed something to add to them to make them different then the regular chocolate cake cookies. So, I was pulling out my tub that I keep my chocolate chip, almond bark, caramel chips, and other things for making candy. When my granddaughter's eyes zeroed in on the Andes Mint Chips. I've never used Andes Mint chips in cookies, but why not. Who doesn't like chocolate, and mint.
After mixing up the cake mix, she then added the Andes mints. Once mixed in she dropped them onto the cookie sheet, and popped them in the oven. All the while our mouths watering by just smelling the delicious aroma of mint chocolate cake cookies baking in the oven.
Once done I had to make her wait until the cookies cooled. But once they did ooweee those Andes Mint Chocolate Cake Cookies were so delicious! The cookies were all gone by the time they left to go home.
***This post contains affiliate links, if you click on an affiliate link & buy something I may receive a small commission at no extra charge to you. The affiliate money I earn helps pay the expenses to keep this site running. Please read my full advertising disclosure for more info. Thanks so much for your support!***
Andes Mint Chocolate Cake Cookies
* 1 Box cake mix
* 2 eggs
* 1/3 cup vegetable oil
* 1/4 cup Andes mint chips
* Mixing bowl
* Measuring cup
Preheat oven to 350 degrees
Combine oil and eggs in mixing bowl, then add cake mix. Blend well.
Add Andes mint chips and blend.
Form mix into 1" balls, and place on lightly greased cookie sheet.
Bake 10 minutes, and let cool 5 before removing from the cookie sheet.
Makes approximately 3 dozen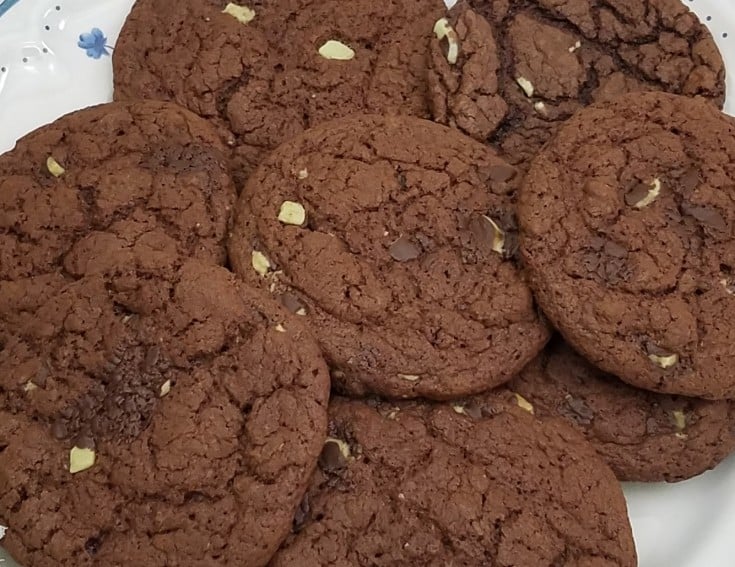 What is your favorite homemade cookie recipe?