With the summer heat upon us no one wants to cook a hot meal in the oven, so today I would like to share with you a delicious Black Bean and Doritos Salad recipe that's great for the hot summer days.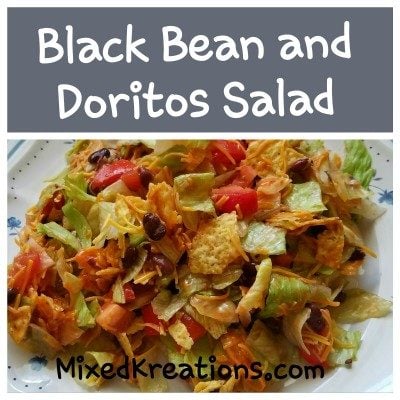 I remember my mother making a similar salad when I was younger, but haven't had it since, until my daughter starting telling me that I needed to try this salad recipe.
My mother's version had kidney beans in it, and it was good but I'm just not a big fan of kidney beans. My daughter's version has ground beef with taco seasoning. Which I'm sure is really delicious as well, but we are trying to not eat as much red meat.
I therefore made my own version using black beans that I made in my new Ninja Slow Cooker (affiliate) that the hubby bought for me.
One of the best things about this salad is I get my chips fix. YUM!!!
*This post contains affiliate links, if you click on an affiliate link & buy something I may receive a small commission at no extra charge to you. The affiliate money I earn helps pay the expenses to keep this site running. Please read my full advertising disclosure for more info. Thanks so much for your support!*
Ingredients For Black Bean and Doritos Salad
* 1 head of iceberg lettuce chopped
* 1 large tomato chopped
* 1 cup black beans (affiliate) rinsed
* 4 ounces shredded sharp cheddar cheese
* 4 ounces Doritos broken into bite sized pieces.
* 1 cup lite Catalina dressing
Place chopped lettuce into a large bowl.
Blend in tomatoes, beans, and cheese.
Add Catalina dressing, blend.
Then add crumbled chips, blend.
Serve up your Black Bean and Doritos Salad with some sliced avocado for a cool, and delicious meal. If you enjoyed this recipe, please don't forget to share it with your friends and/or save it to Pinterest.