This copper wire wrapped paper bead is not only unique, but is fun to make as well. It was made by using copper wire and paper. These beads would be great for making unique pieces of jewelry whether your making a bracelet or necklace.
How To Make Copper Wire Wrapped Paper Bead
The first thing you need to start making your copper wire wrapped paper bead is to find an old book with aged pages than tear out a few of the aged pages. If you don't have an old book than you can check out my post (To age your own pages.) Than take your paint brush and adhesive/sealant of your choice. Coat both sides of you pages, twice, let dry between coats.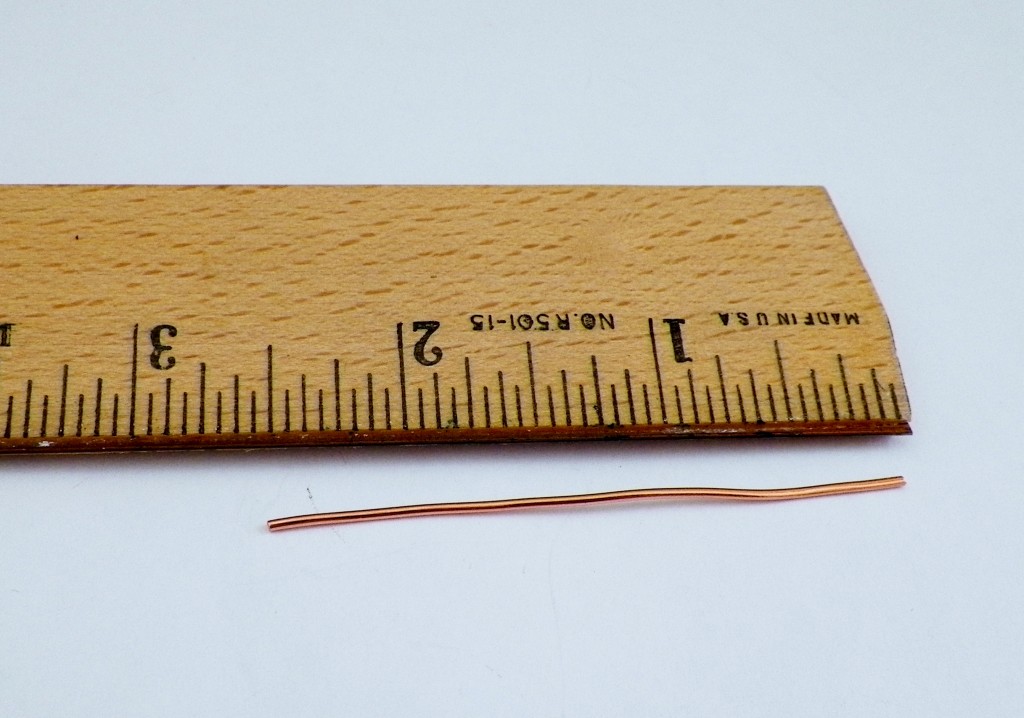 Cut 2 ½ inch pieces from your 18 gauge copper wire for however many beads that you want to make.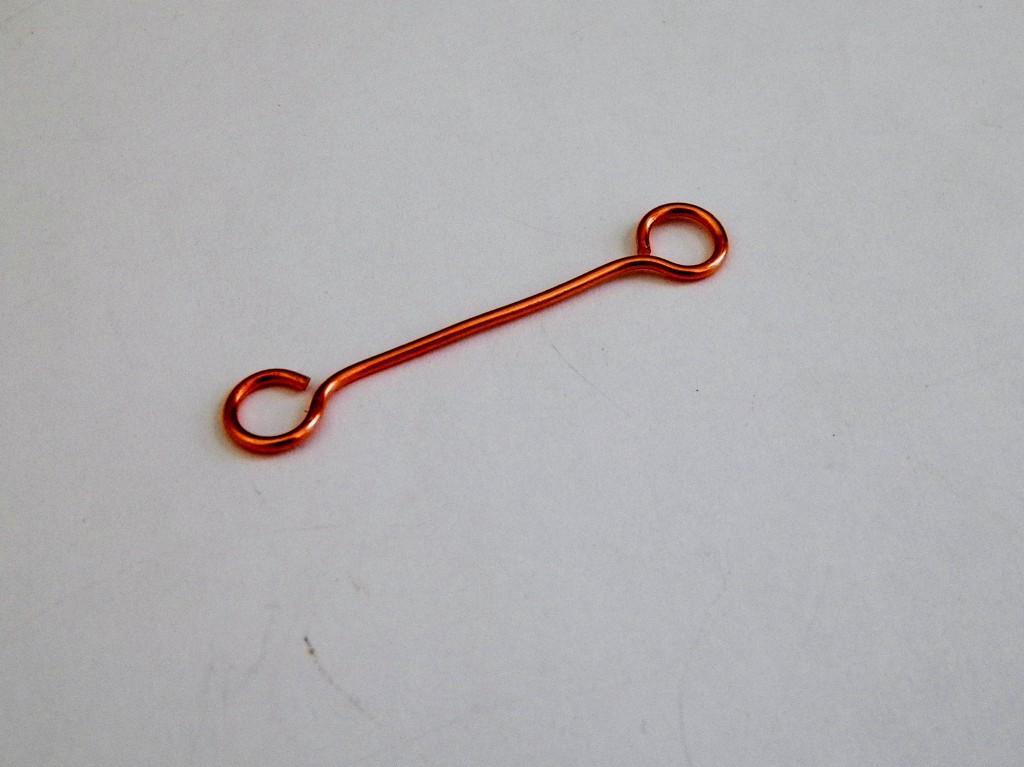 With the 2 ½" wires you just cut make simple straight loop links. When you get all your links made, and you would like them to be oxidized. Then now is the time to apply your liver of sulfur. Go ahead and cut 3 – 4 pieces of your 20 gauge copper wire approximately 1 ½ to 2 feet long (you can wrap 3 or 4 beads with 2 ft. pieces. Apply the liver of sulfur to these pieces as well. Use steel wool to clean and polish. Your links can go in a tumbler if you have one.
Cut your aged paper into strips, long ways. Cut them just a little smaller than the area between the loops on your links, approximately ¾". So that you will have plenty of room to make a wrap on each side of the loop, between the link loop and the paper.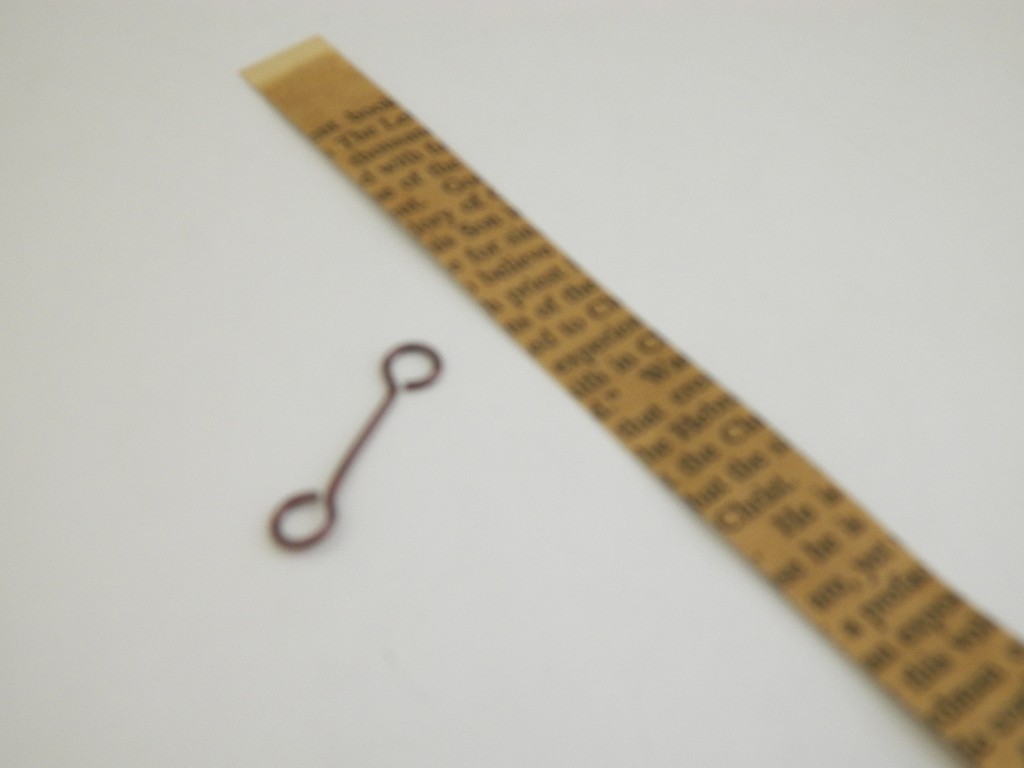 Start rolling one end of the aged paper strip (just enough to get a little curl in the end to make it easier to get started rolling). Unroll, and now place the link at the end of the paper in the little curl and start rolling. Roll as much as you want, depending on the size of bead that you want.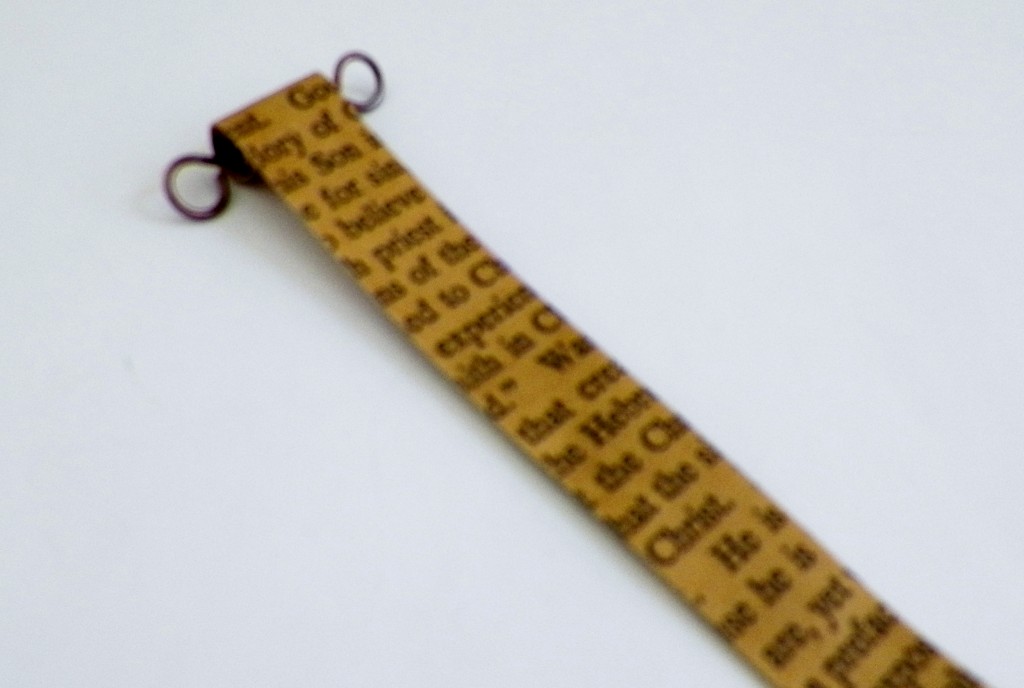 Be sure to keep the paper straight as you roll.
When you get to where you have about an inch left to roll, apply some of your adhesive/protector to the underside and finish rolling. Wipe off any excess, hold for a little bit till it starts to stick, then set your first wire wrapped paper bead to the side to dry, and repeat step #5 till you finish rolling the rest. Let dry overnight.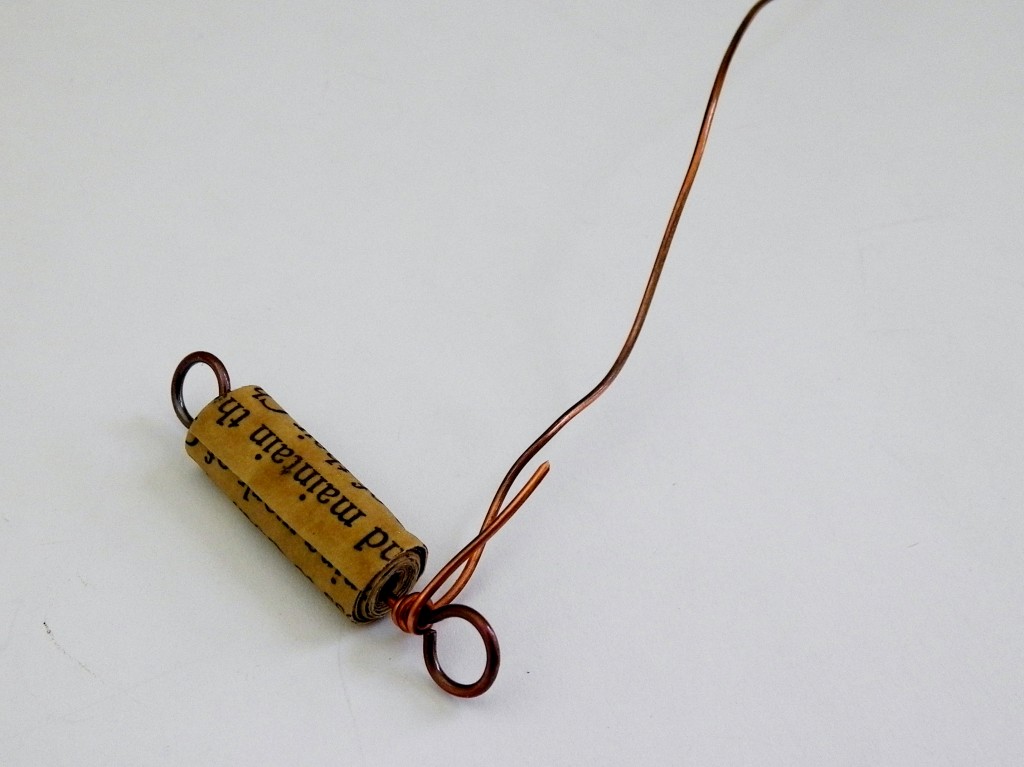 Now take your long pieces of wire and make two wraps in between the link loop and edge of the paper
Continue wrapping up onto the paper for 4 or 5 wraps than back down to the wire link, the area between the paper and loop.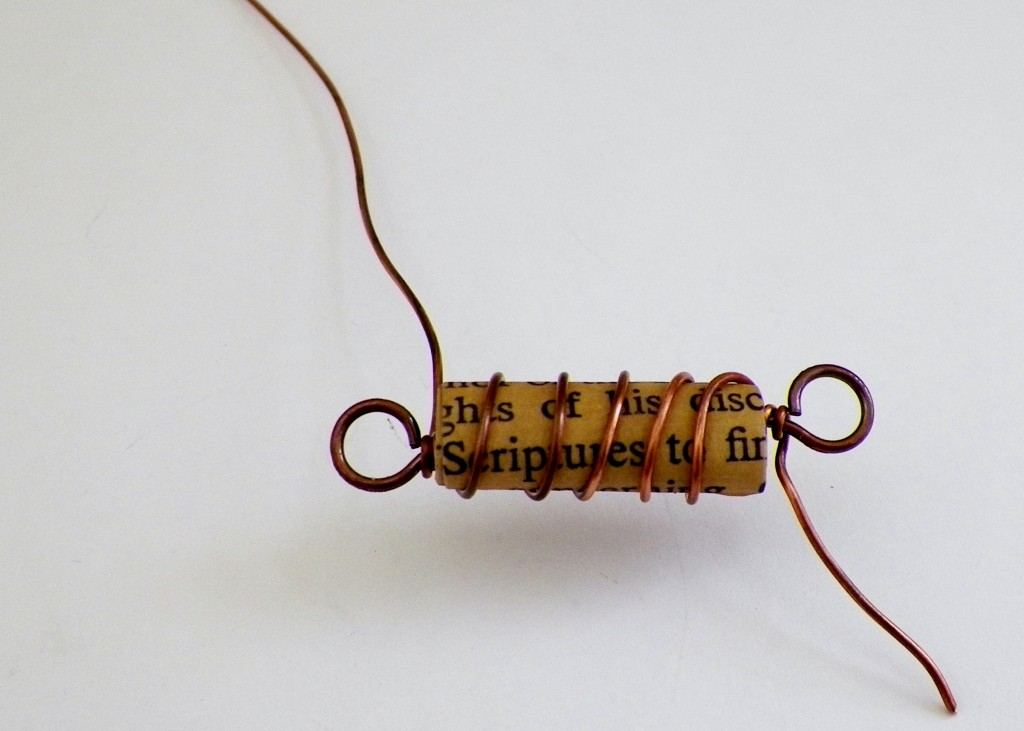 Make a couple of wraps with the wire to secure the wire and paper in place.
Cut the ends of the wire, than press down the ends tightly so that you will have a neat wrap. Continue each step until you have all the copper wire wrapped paper beads done.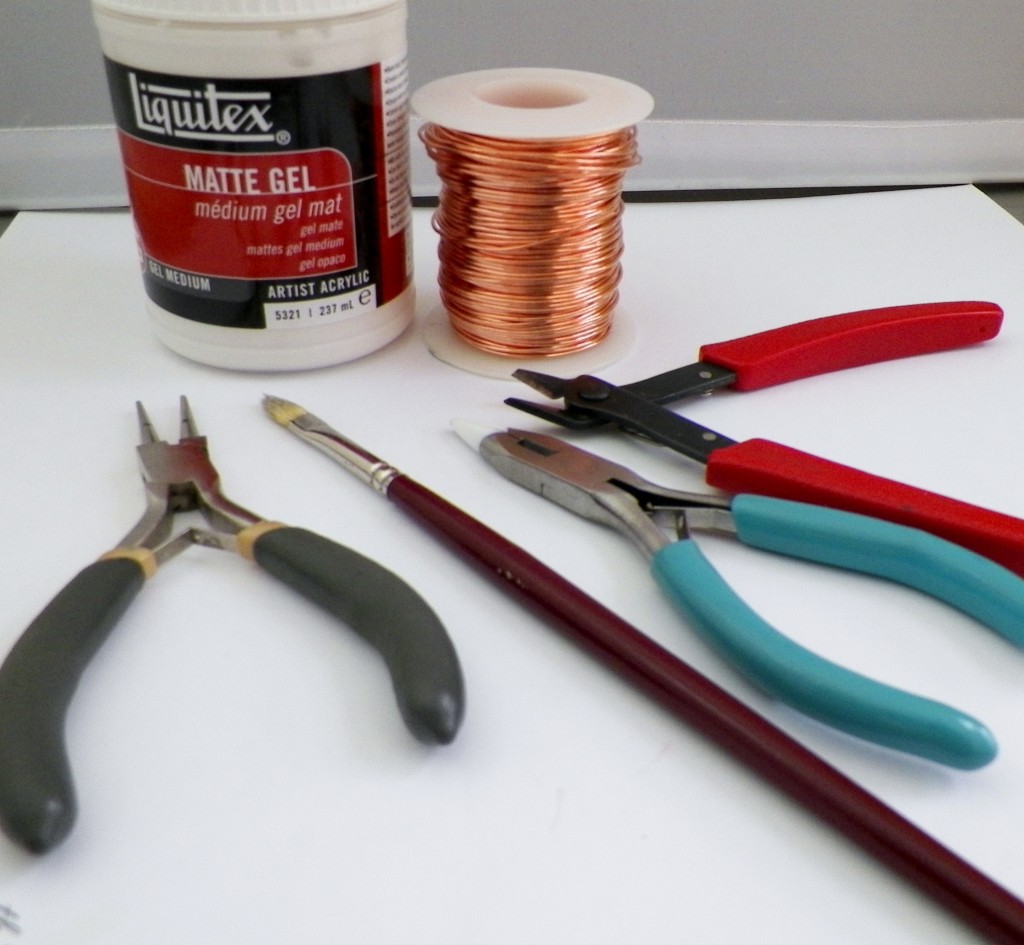 ***This post contains affiliate links for your convenience. Please read my disclosure for more info. Thanks so much for your support!***
Tools & Supplies
* Round nose pliers
* Flush cutters
* Chain nose pliers
* Ruler
* Copper wire 18 gauge and 20 gauge
* paint brush
* Adhesive sealant and protector for decoupage (such as Mod Podge or Liquitex)
* Aged Book Page
* Steel Wool
* Optional: Liver of sulfur
Do you make jewelry? If so what media do you use most? Wire, stringing, etc.
If you found this post helpful, Please share, or Pin for later. Thanks!
Other Post You May Like
Handmade copper and turquoise bracelet
Wire Wrapped copper beads
Copper tube beads