This Craft And Recipe Roundup is for the months of June and July. I've combined the two months because I have been struggling lately just to keep up with everything. I'm away from the house 11 hours a day for my full time job, then coming home with work to do around here inside and some days outside, which doesn't leave much time left for anything else.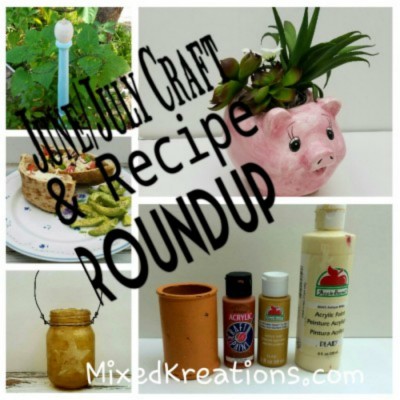 Being so short on time I have had to cut back on my post, I try to do what I can at work during slow times but that doesn't always work out.
Then lately we've been having a roll of bad luck. You know how they say bad luck comes in 3's? Well ours comes in 6's, and one of those was a new hard drive for my laptop.
Without further ado let's get back to the craft and recipe roundup.
June Craft And Recipe Roundup
Crockpot Chicken Enchilada Soup
Makeup Brush Holder – Repurpose Jar
How To Make A Shabby Animal Print Valiance
Black Beans and Corn Salsa Stuffed Pita
How to make a primitive lantern
July Craft And Recipe Roundup
Pig planter with faux succulents
8 recipes of chocolately goodness
*This post contains affiliate links, if you click on an affiliate link & buy something I may receive a small commission at no extra charge to you. The affiliate money I earn helps pay the expenses to keep this site running. Please read my full advertising disclosure for more info. Thanks so much for your support!*