Hi All! Today I am going to share a Kleenex box cover makeover. This is the box cover that the hubby picked up when we were on our Wimberley trip. He wants it for his desk at work, and he wants his two favorite teams on it. So, I will be making over this tissue cover box into a Dallas Cowboys Texas Rangers tissue box cover.
Since it has four sides and each team has two uniform colors, I will be painting the sides to match the team's colors.
Dallas Cowboys Texas Rangers Tissue Box Cover
To get started on this project I first washed and dried the box. Then gave it two cots of white chalk paint. I chose chalk paint because it adheres to almost anything. With the contact paper that's already on it I will need something that would stick to it and cover it well before adding the acrylic paint colors.
Once dry I proceeded to add the team's colors. Dark blue on one side, leaving the opposite side white. Than for the Rangers, one side was painted red, and the opposite side a bright blue.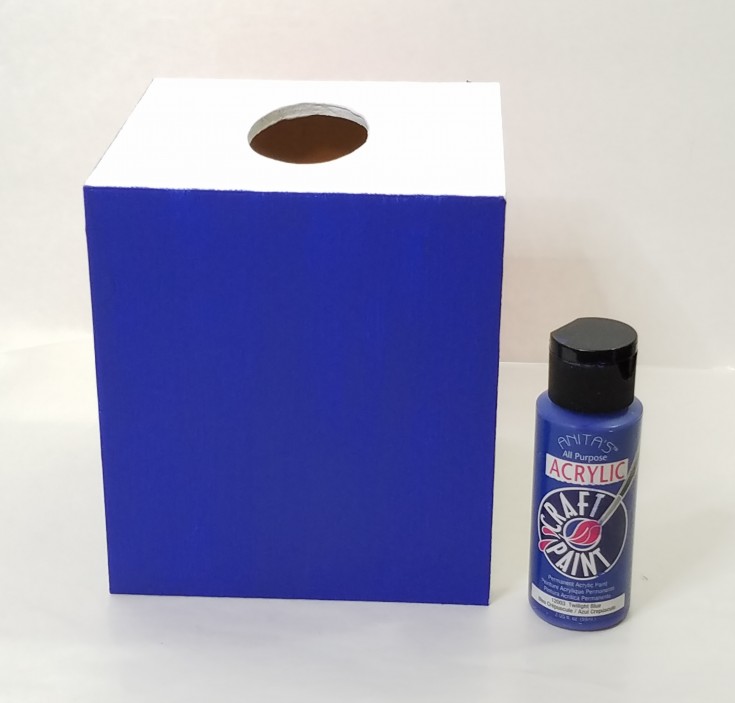 Since I didn't have the correct size of fonts of the letter T stencil I made my own in the size and font needed. Then I just traced around them and filled them in with white. The T is for the Texas Rangers baseball team and goes on the red and bright blue sides.
Once the T's were dry I then added the details with the red on blue along side of the white T, and blue on red alongside of the other white T.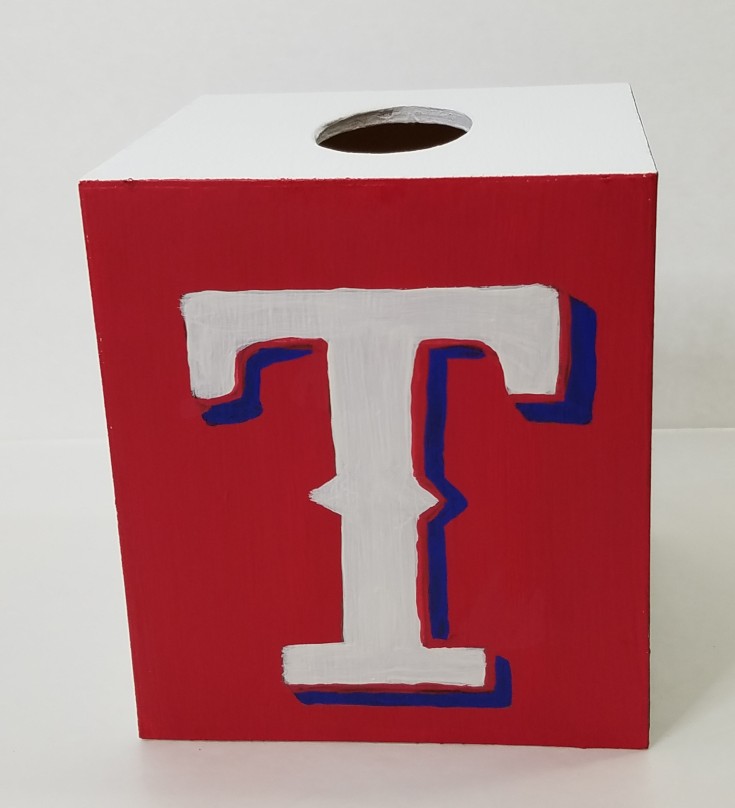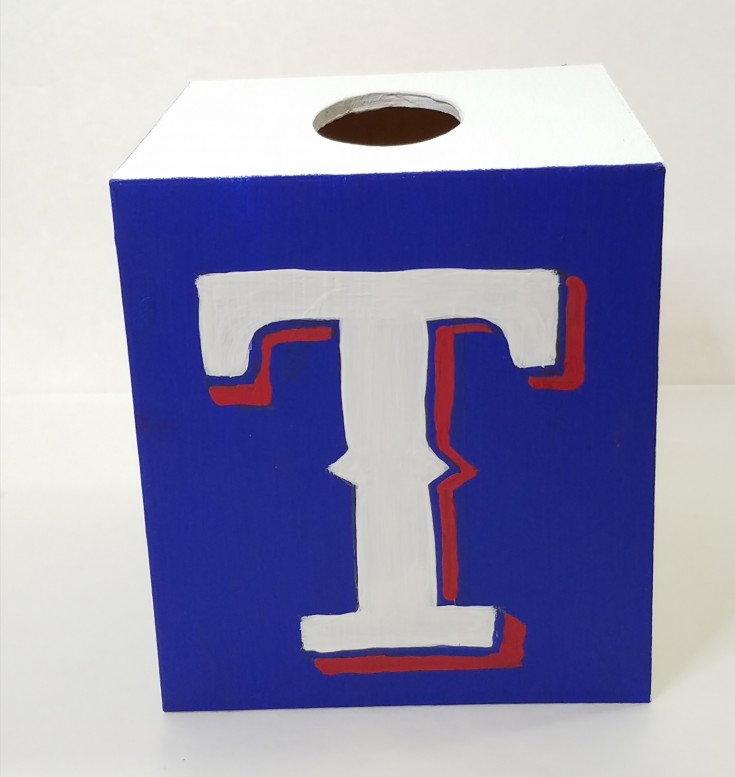 For the Dallas Cowboys I cut a star out the size that I needed then traced around it on the white side of the tissue box cover, and one on the navy-blue side.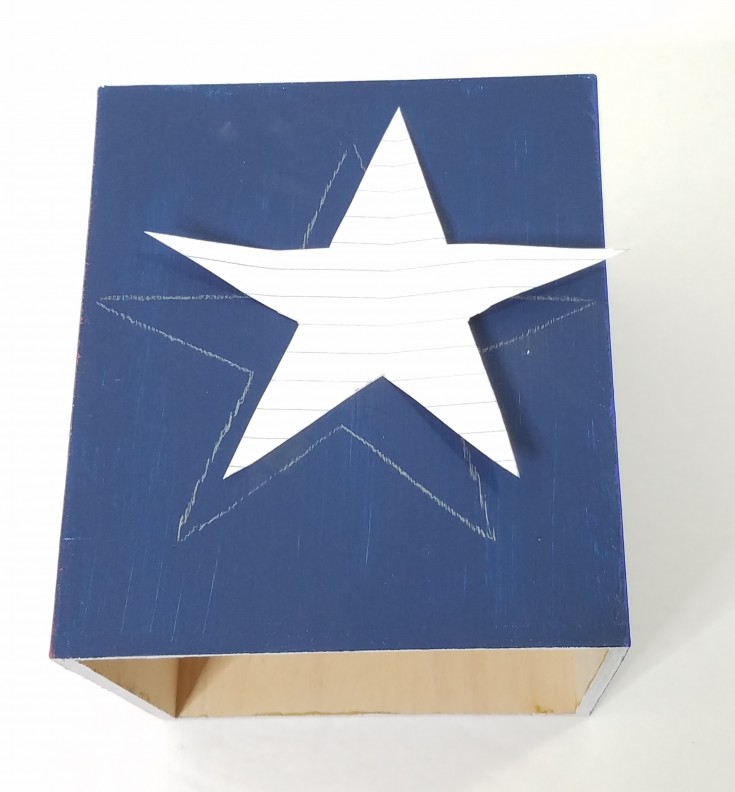 For the details I just used a small brush and added an outline of a white star inside the blue star. On the blue side I outlined two white stars. One inside the other.
Just a couple more things to do to the Dallas Cowboys Texas Rangers Tissue Box Cover.
If you have been following along with me for a little while than you know that I love my antiquing medium. So, I watered some down and added it working on one side at a time then wiping some of it off. I antiqued the top as well.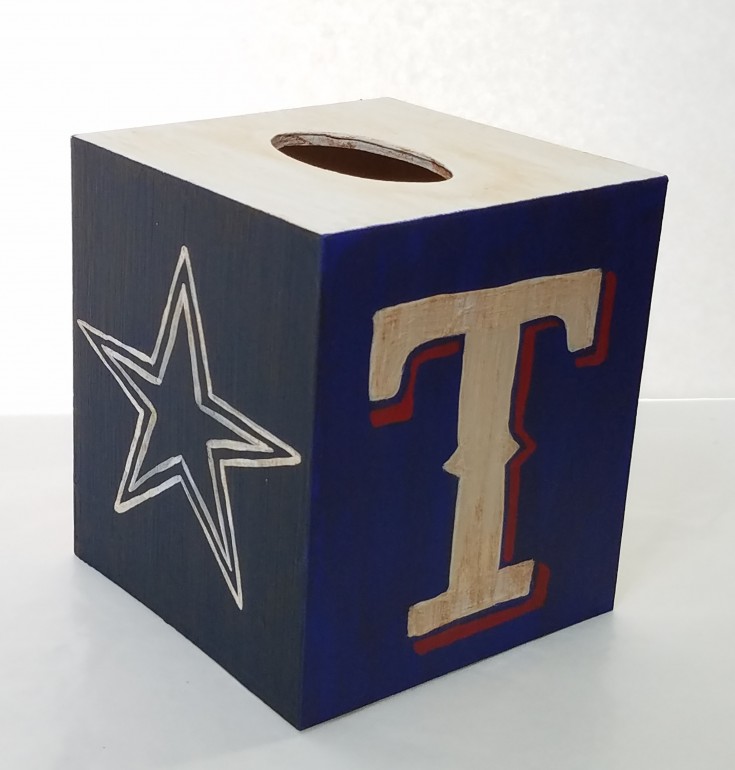 The white side and top absorbed the antiquing a little more then I wanted. But I think it came out ok, and the hubby loved it. So that's all that matters, after all it's for him.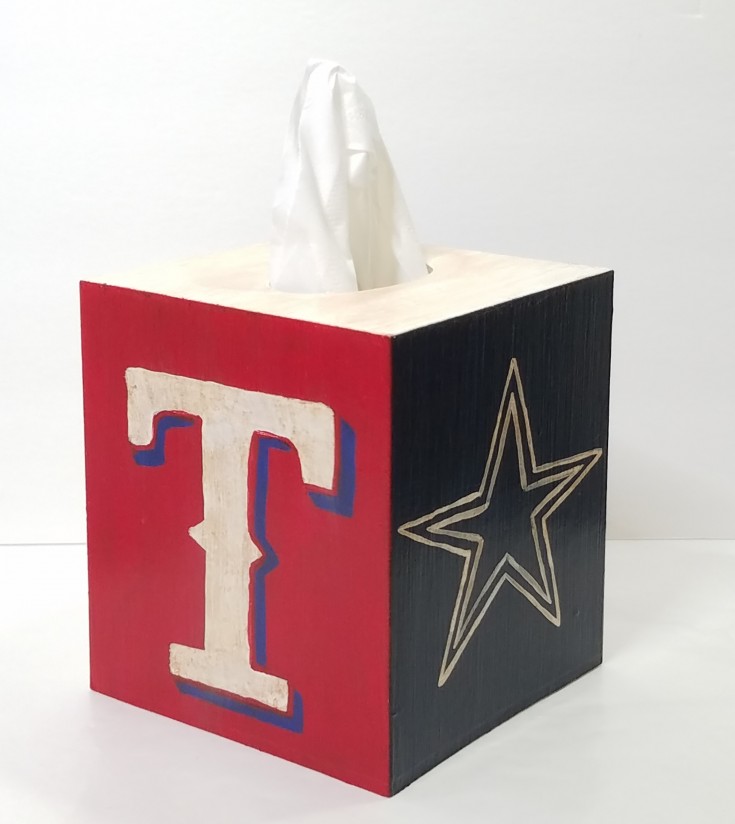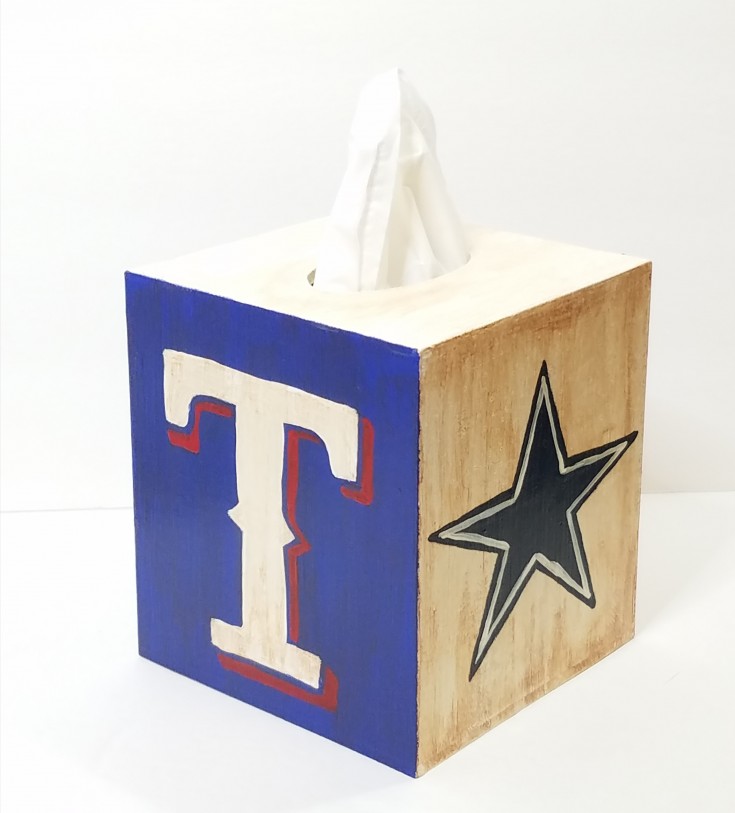 Last came the Mod Podge, can't forget that. Great for sealing and protecting, and that's it for the Dallas Cowboys Texas Rangers Tissue Box Cover.
Have you made over a tissue box cover before?
***This post contains affiliate links, if you click on an affiliate link & buy something I may receive a small commission at no extra charge to you. The affiliate money I earn helps pay the expenses to keep this site running. Please read my full advertising disclosure for more info. Thanks so much for your support!***
Supplies for Dallas Cowboys Texas Rangers Tissue Box Cover
Tissue box cover
White chalk paint
Red, navy, and bright blue acrylic paint
Paint brushes
T Stencil or can make your own
Star stencil or make your own
Antique medium
Mod Podge
More Fun Diy Projects for Sports Enthusiast!
Diy Dallas Cowboys tile coasters
University of Oklahoma home decor
Dallas Cowboys tin can pencil holder
OU home sign