Hi All! Hope you all had a wonderful Thanksgiving! I enjoyed visiting with my daughters and family. Now with Christmas creeping upon us, it's time to start thinking about your diy Christmas gifts. Time is running out if you like to make your own gifts. Today I am going to share a quick and easy diy gift idea for the sports fanatic.
***This post contains affiliate links, if you click on an affiliate link & buy something I may receive a small commission at no extra charge to you. The affiliate money I earn helps pay the expenses to keep this site running. Please read my full advertising disclosure for more info. Thanks so much for your support!***
The ones that I am sharing today are for "OU" (Oklahoma University) college football fans. These diy coasters are inexpensive to make, and can be customized for the receiver, and who doesn't like coasters. Not only can they be easily be customized for sports fans but there is so many ways to decorate a coaster for anyone on your gift list. A design can be stenciled on them instead of lettering like these fleur de lis coasters, or painted like my Texas flag coasters, or even decoupaged like these Dallas Cowboy tile coasters (I have some big sports fanatic in the family). There are so many pretty napkins or stencils out there you are bound to find something to make the perfect gifted coaster set. So grab some travertine tile and let's get started making some easy diy coasters for gift giving.
Diy Gift Idea for the Sports Fanatic
First, decide whether to stencil, paint or decoupage your coasters. For these, I will be stenciling the letters of Oklahoma University which is "OU". I chose Pintura (a dark red) acrylic because that is the closest that I have in the school colors.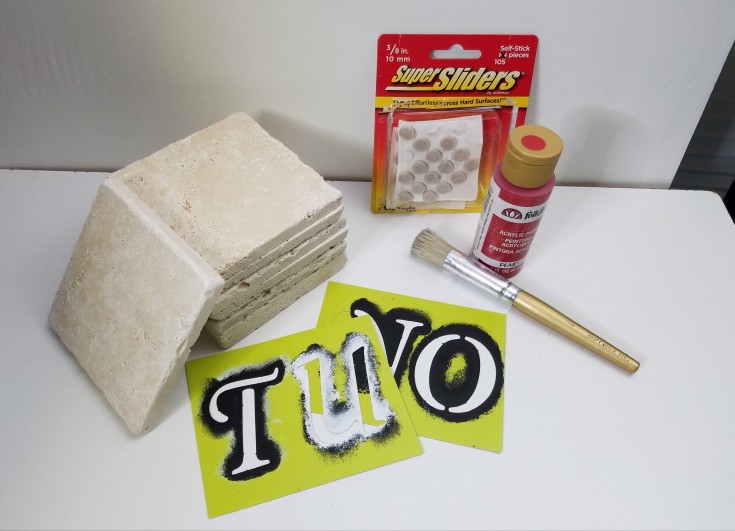 Grabbing my Travertine tile, paint, letter stencils, and favorite stencil brush I get started stenciling in the "O" on each tile.
Once dry position the "U" in place. (You can always go to Pinterest for help with colors and positioning of letters).
Let that dry thoroughly then add some small super sliders to the bottom four corners of each tile using clear gorilla gel. This will protect your furniture from getting scratched from the coasters.
Next use Mod Podge to help protect the letters on top of the tile by applying two coats. Let dry thoroughly before wrapping.
That's it for these diy coasters! Perfect Diy Gift Idea for the Sports Fanatic! Do you like to give homemade gifts at Christmas?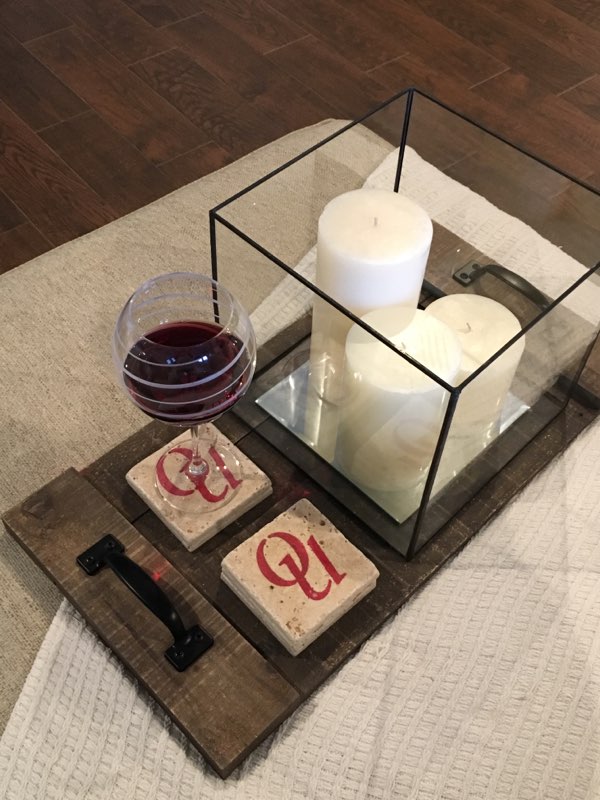 More Diy Coasters You May Enjoy!
Easy diy terra cotta coasters
Easy diy tile coasters
Diy Dallas Cowboys tile coasters
Texas tile coasters