When I ran across this pretty little picture frame I knew if would be the perfect frame for my diy jewelry tray project.
First start by finding a cute little wood frame, then removed the glass and cardboard from the frame by opening the window in the back. Then close the little window back in place.
I then flipped the wood frame over and glued the wooden plugs in the four corners on the bottom of the frame.
Then I painted the frame, wood plugs and the edges of the back of the frame (cardboard backing) with antique white acrylic paint.
Next I watered down some of my favor antiquing medium and covered the frame by working in sections. Then wiping off any excess till I got the desired look that I wanted.
While that was drying I cut my piece of scrapbook paper the same size as the glass from the frame.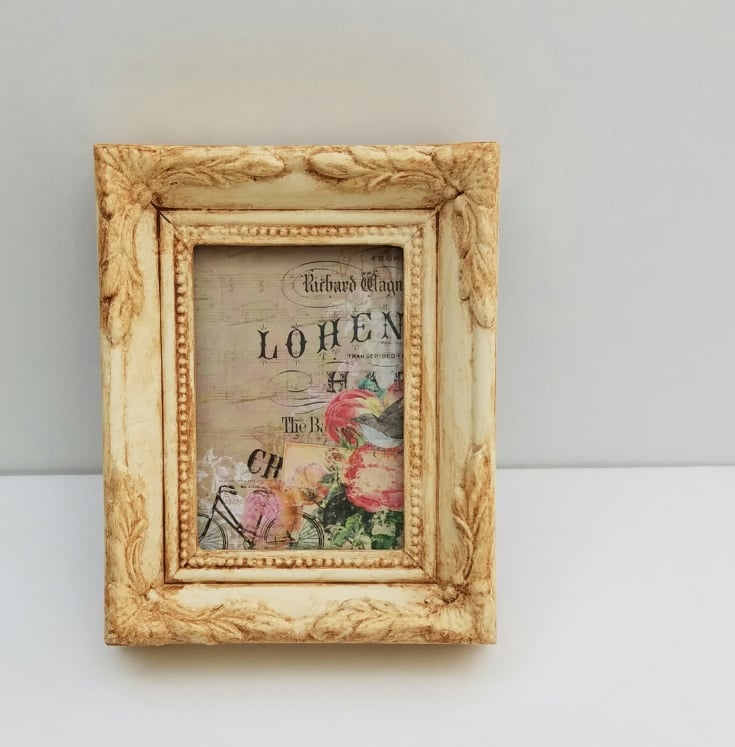 Now it's time to put the scrapbook paper in the little diy jewelry tray.
This pretty little diy jewelry tray is great for holding rings and things. I love how it turned out, and I think that the scrapbook paper looks perfect in the little frame. What do you think?
*This post contains affiliate links, if you click on an affiliate link & buy something I may receive a small commission at no extra charge to you. The affiliate money I earn helps pay the expenses to keep this site running. Please read my full advertising disclosure for more info. Thanks so much for your support!*
Diy Jewelry Tray Supplies
Small wood picture frame (I picked up at Goodwill)
Scrapbook paper to fit frame (Hobby Lobby, Michaels, and JoAnn's have a great section)
4 wooden plugs
Wood glue (I use gorilla wood glue, pretty good stuff)
Antique white acrylic paint
Antiquing medium