Hi all! Today I want to share with you my Diy Patriotic Sign Made Out of a Fan Blade. A few weeks back I had a chance to go to Habitat for Humanity, and I never pass up on a chance to go there or any thrift store. The prices have gone up but I still found a few items like this crackled finish fan blade for $1. I bought all 6, I just love this crackled finish, don't you?
Since I need to get busy on my Patriotic projects before the 4th of July comes and goes, like Memorial Day did for me. When I seen these fan blades with the crackled finish I thought to myself that it would be perfect in some kind of patriotic decor.
I was afraid with the slick finish that it wouldn't hold paint very well. So off to my favorite store, Hobby Lobby! I picked up some unfinished wood letters USA, and a cute wood star ornament already painted like the American flag. Which would be perfect for my project that I had in mind.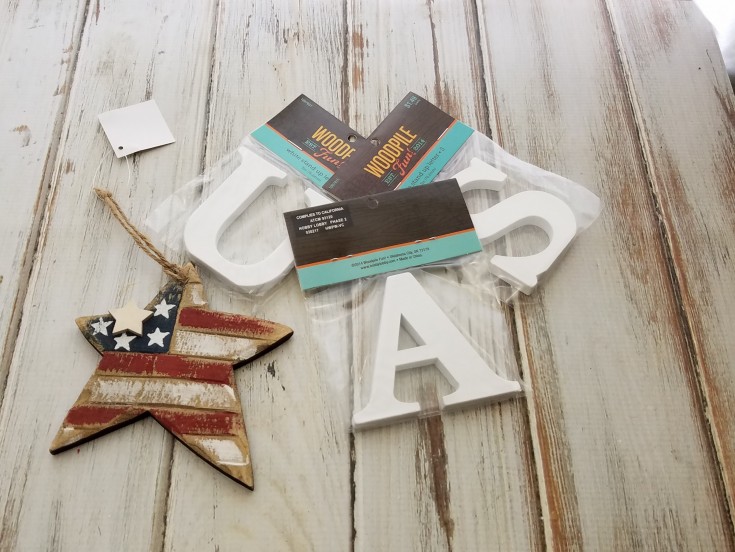 ***This post contains affiliate links for your convenience. Please read my full disclosure for more info. Thanks so much for your support!***
Diy Patriotic Sign Made Out of a Fan Blade
Project list at the bottom of this post
Once home I cleaned my fan blades.
Next, I painted the letters with two coats of acrylic paint using red, and blue. They came already painted white.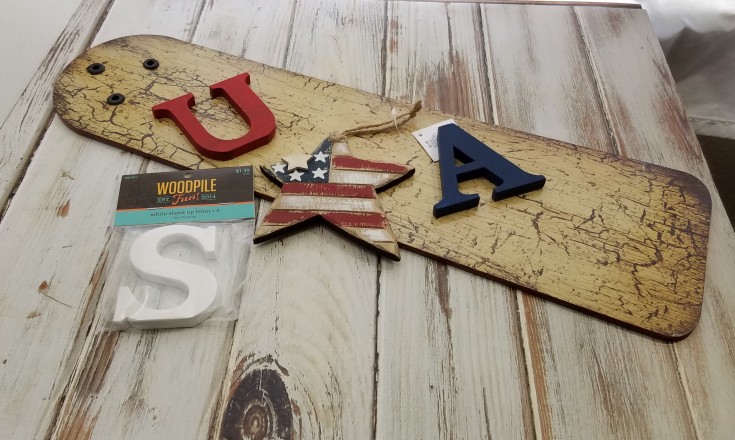 Then I laid them out in place on my fan blade.
Using Gorilla Glue, I glued each one down in place.
I first removed the twine from the American flag ornament before gluing it to the bottom of my fan blade.
Using the twine that I removed from the ornament I strung it through the top hole of the fan blade for hanging the Patriotic sign. This Diy Patriotic Sign Made Out of a Fan Blade was another simple project, just a little painting, gluing, and all done.
Looks like I'm going to have to make another one if I want to take one to my craft booth. The hubby is ex-military and very Patriotic, once he's seen my Patriotic sign he laid claim to it. Good thing I have five more fan blades.
How do you like my Diy Patriotic Sign Made Out of a Fan Blade?
Project List
Fan blade
Wood letters 3 inches
Red, white, and blue acrylic paint
Star ornament
Gorilla glue
Paint brush
Twine
More Patriotic Post You May Enjoy!
July 4th spindle firecrackers
Upcycled bottle into fourth of July vase
America Patriotic home decor
If you don't have time to make your own Patriotic Decor, here's a few of my favorites that I picked out for you.