8 Fun Diy Patriotic Wreaths
Here's a round up of 8 fun diy Patriotic wreaths that are perfect for celebrating any Patriotic holiday in your home.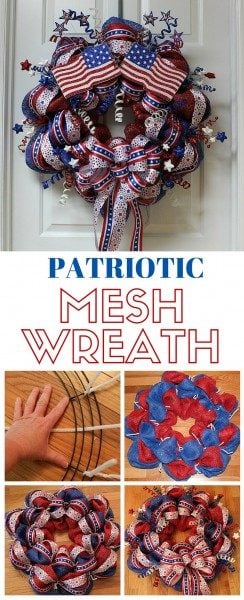 This Beautiful Patriotic Mesh Wreath at The Crafty Blog Stalker is unique full of the red,white, and blue Patriotic colors, and just the right amount of Patriotic colors.
Capture the Patriotic spirit with this easy paper wreath at Blooming Homestead
If you love burlap and denim like myself then you are going to love this Burlap Denim Ruffled Patriotic Wreath over at The Scrap Shoppe Blog
I LOVE this Patriotic wreath pin found at "The Scrap Shop Blog". It is made from burlap and denim and is So Cute!
I found this pretty Patriotic wreath over at Todays Creative Life. It is an inexpensive wreath made with starry scarves.
Here's another beautiful Patriotic burlap wreath that I found over at a blog called Kenarry. The mixture of burlap, and two different accent ribbons give this wreath a folksy appearance.
This pretty Patriotic wreath found over at Create And Babble is another quick and easy Patriotic Wreath that only requires three items. Love it!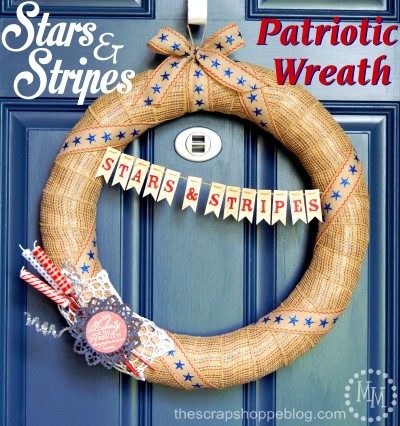 The last Patriotic Wreath in my round up is again found at The Scrap Shoppe Blog, complete with Stars ribbon, bunting, and some firecracker accents. Full of Cuteness!
Any one of these Patriotic wreaths found be a great way to show your support on any Patriotic Holiday!
I hope this post has given you some inspiration for your next Patriotic project. I know while gathering this collection I have had a few ideas that I want to put together.
Need more inspiration? Check out some of my Patriotic crafts!
Patriotic Angel
How to make a Patriotic sign
Spindle Firecrackers
Upcycled Fourth of July Bottle Vase
4th of July Mason Jar Decor
America, Patriotic Home Decor
Thanks for stopping by! I would love to hear any comments you may have, and I hope you stop back by again!
*This post contains affiliate links, if you click on an affiliate link & buy something I may receive a small commission at no extra charge to you. The affiliate money I earn helps pay the expenses to keep this site running. Please read my full advertising disclosure for more info. Thanks so much for your support!*