A while back I wrote a post on my jewelry gift bags that I make for my jewelry sales. Well today I found a easy and quick tutorial for pillow gift boxes, at a new blog that I had found "Jewelry Tutorial HeadQuarters" , and they are very cute.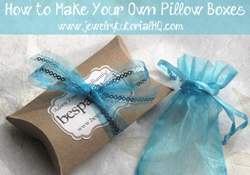 I will be making some of these in different sizes to keep on hand for my jewelry sales. I can store them flat, then put them together real quick with each sale. With Christmas coming soon I will be ready. I have card stock, now I need to make some stickers and go find some pretty ribbon, then I'll be all set.
Do you have any easy gift bags or box tutorials that you would like to share?