Air plants are new to me, new because I've never had one before, but have always thought they were neat plants. Recently Michelle a good friend of mine over at "A Crafty Mix" shared a tutorial for Knitting up a planter for an air plant, or Tillandsias. Ever since I read the post it has made me want one even more, and I will also need a Rustic Air Plant Planter.
But now that I have been on the lookout for one I haven't been able to find one, until one day when we went to the First Monday Flea Market in Weatherford. A lady there was selling them. Now wishing that I had of bought two of the air plants, but not knowing if I would kill it or not I only got one. I really dislike killing plants.
From what I've read they are supposed to be really easy to grow. They don't need soil, and for water give them a misting about once a week. What makes them so neat is they can be attached to pretty much anything and hang anywhere. You can let your imagination go wild when it comes to planters for air plants.
Now that I have my new air plant it needs a container. I want something simple and rustic. Since I love mason jars that I can paint, and distress for the rustic style I love. I went with a small mason jar for my planter.
***This post contains affiliate links, if you click on an affiliate link & buy something I may receive a small commission at no extra charge to you. The affiliate money I earn helps pay the expenses to keep this site running. Please read my full advertising disclosure for more info. Thanks so much for your support!***
Supply List
Small mason jar or any glass jar with rim
Chalk paint
Paint brush
Sandpaper
Strip of fabric
Pebbles
Tillandsias air plant
Diy Rustic Air Plant Planter
First wash your mason jar in hot soapy water, then dry.
Next give the jar two coats of chalk paint. Letting each coat dry thoroughly.
Use coarse sand paper to distress the jar to your liking.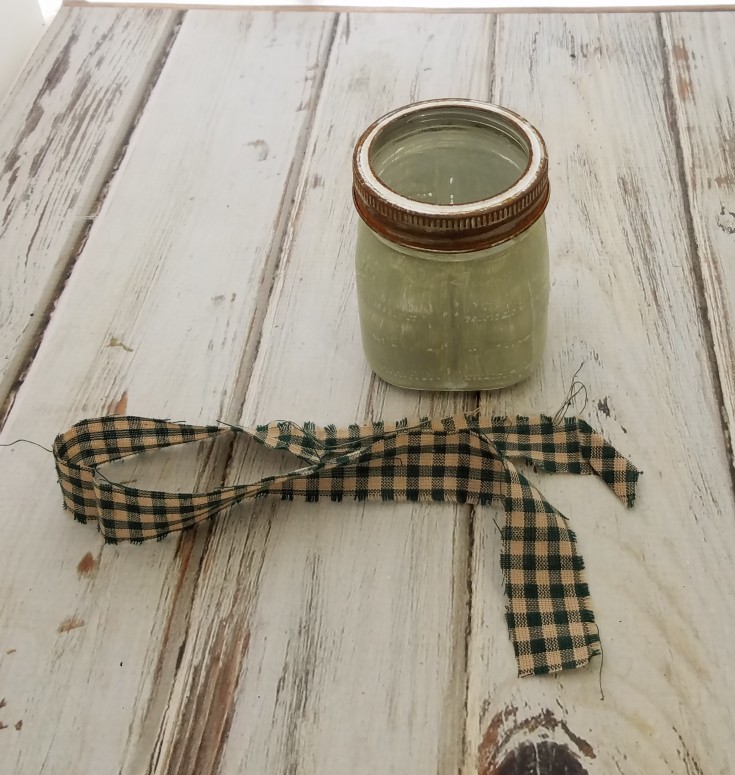 I used the salt and hydrogen peroxide technique to rust the mason jar rim.
Once the jar rim is rusted to your liking, then put it back on the rustic planter. Then tie a piece of scrape fabric around the neck of the jar.
Fill the new planter with pebbles almost all the way to the top.
Then lay the air plant on top of the pebbles and spread its roots out. Then add a few more pebbles to help hold the plant down in place.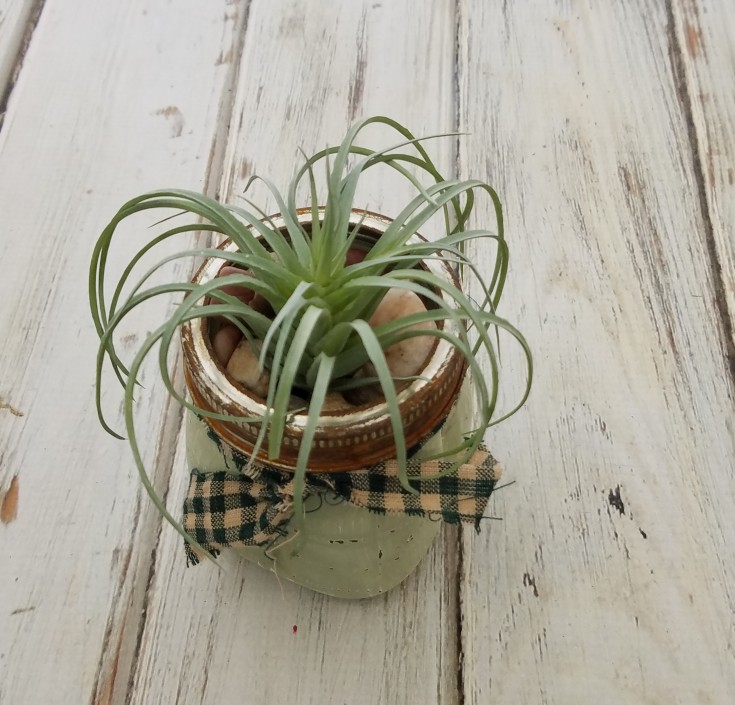 Giving the air plant some water by misting it, then to find a home for my new rustic planter where it will get bright indirect light.
On a shelf in the kitchen window with evening sun.
Kitchen window seal. I'm afraid that it may get to much light here.
Or on the cutting board at the kitchen counter/breakfast bar. Gets evening sun from two windows.
That is how to make a rustic air plant planter. Do you have an air plant? What kind of planter do you have for your air plant?
More Planters You May Enjoy!
Rusty can succulent planters
Faux succulent planter
Pig planter with faux succulents