I am a little behind on getting this diy Valentines pink with white hearts love sign out for Valentine's Day! The photos to this project actually got pushed back behind another project photos, and I forgot about it. But I wanted to go ahead and post it so that it will be there for next year, when everyones in the Valentine day craft mood.
Diy Valentines Pink With White Hearts Love Sign
For this project I first started off with an aged piece of a scrap two by four about six inches long.
If you don't have any aged wood, no problem. Check out my tutorial for making your own wood aging solution.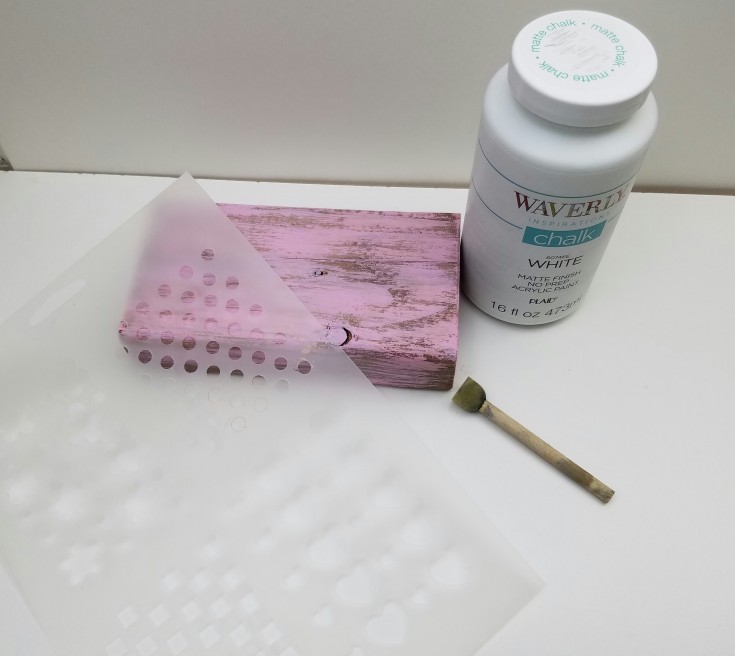 Start off by dry brushing your paint on, leaving some of the aged wood showing through. Paint front, sides,and ends.
Next use a stencil with small hearts and add the hearts here and there onto your wood. Scatter them about on your wood, add as many as you like.
Once everything was thoroughly dried,I gave my wood two by four a quick sandings.
Using a pencil I lightly wrote the word Love onto the wood. Then I used black paint to go over the penciled in letters.
Another light sanding and that it for this easy diy Valentines pink with white hearts love sign.
*This post contains affiliate links, if you click on an affiliate link & buy something I may receive a small commission at no extra charge to you. The affiliate money I earn helps pay the expenses to keep this site running. Please read my full advertising disclosure for more info. Thanks so much for your support!*
Materials Need
Six inch two by four
Pink, white, and black paint
Paint brushes
Heart stencil
Stencil sponge
Sandpaper
More Fun Valentines Day Projects You May Enjoy!
Diy arrow love block
Shabby You & Me heart block with key
Pink polk a dot love sign
You are loved wood sign