Don't you just hate clutter all over your counter tops? I know I do, that's why a while back I made the decorative coffee station tray for the hubby to keep his coffee fixin's all in one place instead of it spread all over the kitchen counter. Now it's time to declutter the rest of the counter tops, and this is where the dollar store container makeover comes in.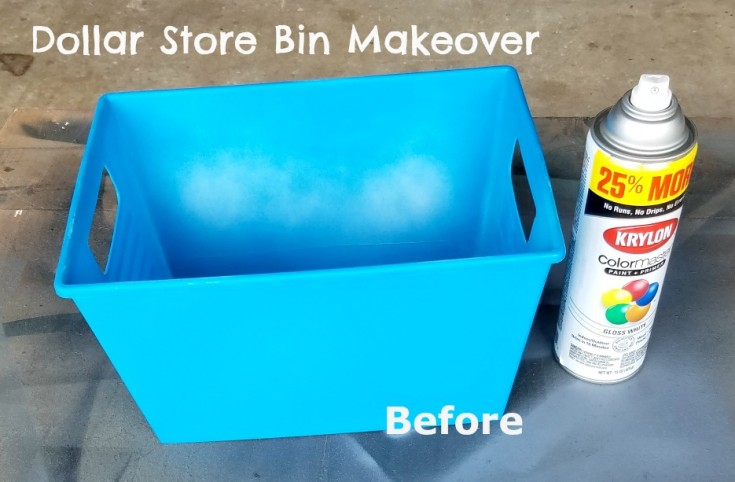 I know I'm not the only one that has their mail thrown all over the counter. We try to keep it in one stack, but it seems to get spread out into several stacks, bills, other mail to go through, and junk that the hubby seems to hold onto instead of throwing in recycle bin.
Then there's the bar area that I have my laptop and all my blog stuff spread out that needs some decluttering as well.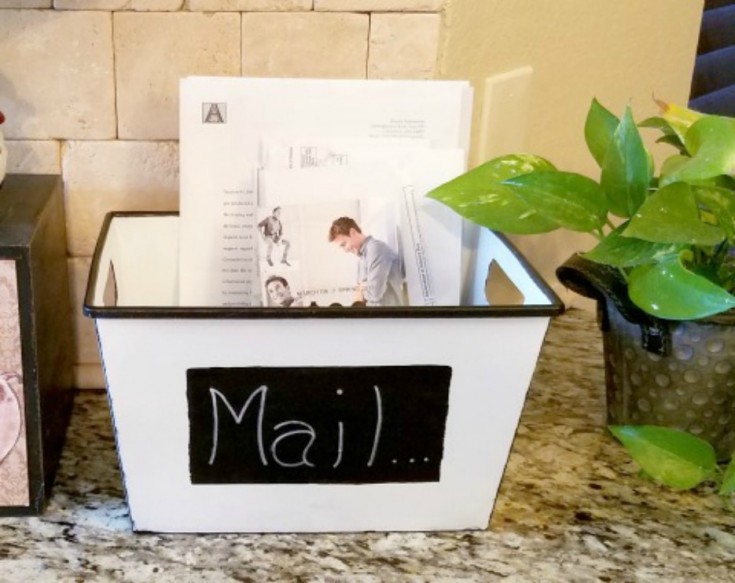 Well no more! After seeing the awesome dollar store container makeovers at Lovely Etc. I decided to do something about my mess by making pretty storage containers myself.
So I ran out right away and picked up several from the dollar store. Only a dollar a piece. You cannot beat that for making your own cute storage containers.
Faux Enamel Dollar Store Container Makeover
The first container is my faux enamel container for holding the mail, and any papers that need going through at a later date. I got the idea for making one of my containers using this faux enamel technique from One More Time Events, and decided to give it a try on this dollar store tub.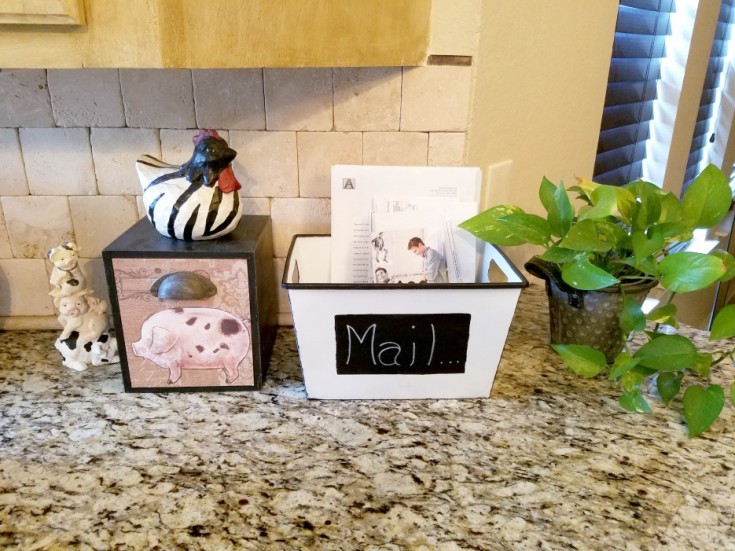 Loving how it turned out, and it was so easy. All I did was spray paint it with a glossy white, then went over the edges with my black acrylic paint. I used black chalk paint to add the chalkboard label on one side. Then I added the word mail using my paint marker. Super duper easy, and so cute!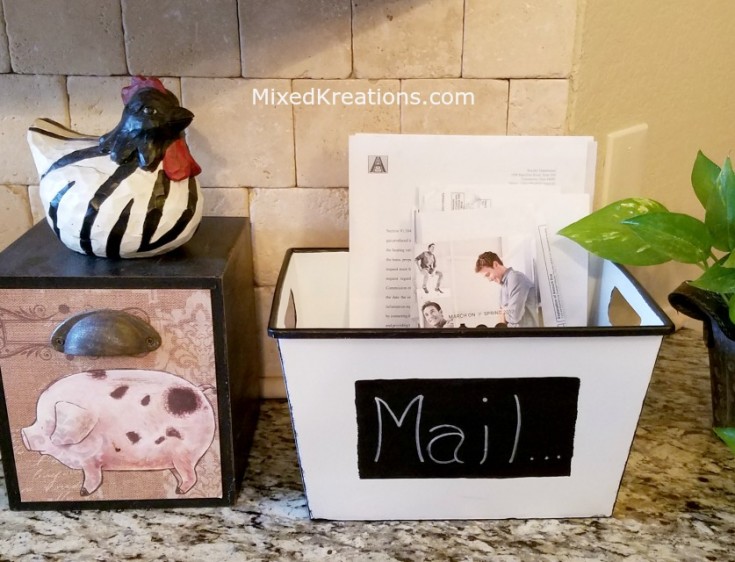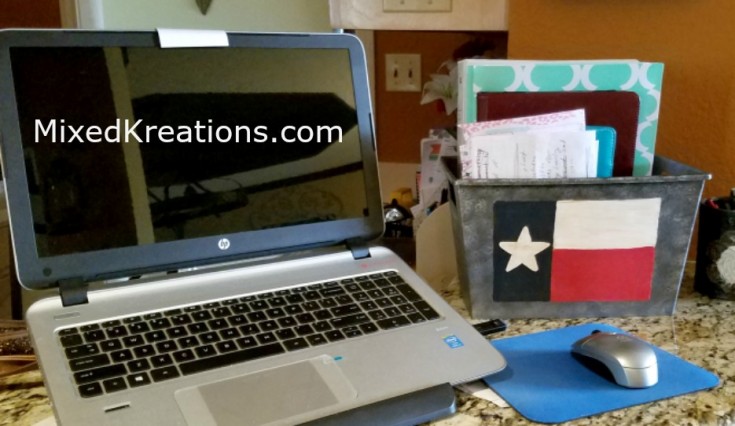 Faux Galvanized Dollar Store Container Makeover
The next of my repurposed dollar store containers is my faux galvanized container with the Texas flag. I got this idea at Lovely Etc. I kind of combined some of her paint technique along with my faux galvanized metal technique to come up with this one. And I got to say I'm pretty happy with the outcome.
To get the faux galvanized look I first spray painted the tub grey, then working in small areas I painted on some black acrylic paint, then dabbed some of it off using a paper towel. Once I finished the whole tub I let it dry thoroughly.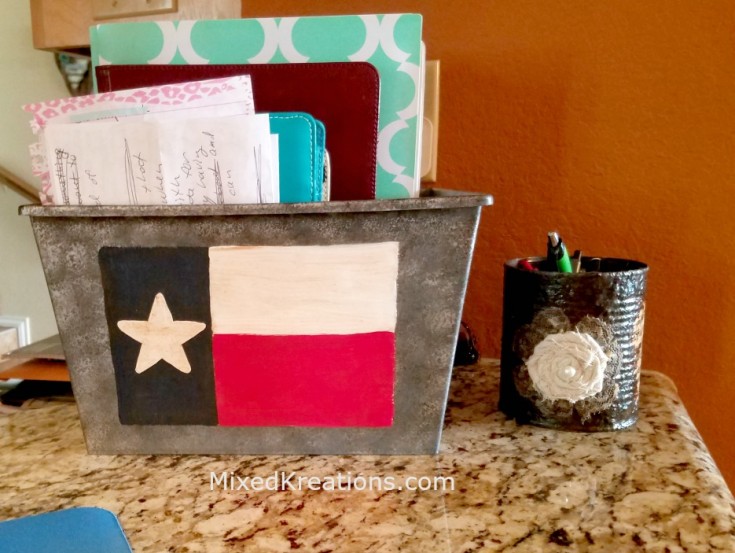 Next I dabbed on some metallic silver using a paper towel. Once I got the desired effect I set it aside to dry. Then I added the Texas flag using my acrylic paints.
After that it was looking pretty good, only needed one more thing. My antiquing medium on the flag. The antiquing medium always adds that extra nice touch to a piece. Giving it an aged look that I love.
That's all there is to making this containers. Now no more mail scattered all over the counter, or computer/blogging stuff on the bar.
Now I need to make one more for the hubby's stuff then the counter tops will be neat and orderly, which makes me a Happy camper.
Now it's your turn to do a Dollar Store container makeover? Would love to see what you've come up with.
***This post contains affiliate links, if you click on an affiliate link & buy something I may receive a small commission at no extra charge to you. The affiliate money I earn helps pay the expenses to keep this site running. Please read my full advertising disclosure for more info. Thanks so much for your support!***
Material List For Faux Enamel Container
Glossy white spray paint
Glossy black acrylic paint
White paint marker
Paint brushes
Material List For Faux Galvanized Metal Container
Dollar Store bin
Grey primer spray paint
Black acrylic paint
Metallic acrylic paint
Red acrylic paint
White acrylic paint
Blue acrylic paint
Antiquing medium
Paint brushes
Paper towels
More Makeovers You May Enjoy!
Dollar Store bin
Wooden chalkboard crate
Wooden potato/onion bin
Repurposed plastic container