Years ago, when I first got into woodworking, and painting on wood I had my cousin save me some of the old wood shingles that she was having removed, and replaced on her roof. I still have a small stack that I pull from when inspiration hits. Like this shingle sign Dream Don't Work Unless You Do!
When I ran across a pack of 25 stencils at Walmart for $10.00 I just couldn't pass them up.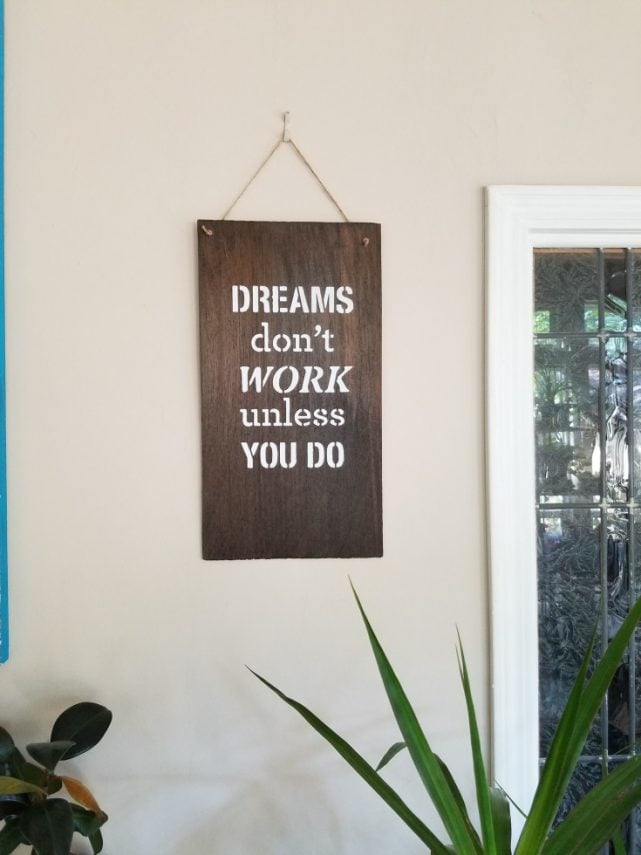 I thought that a wooden shingle would be perfect for one of the stencil quotes, that is if I had one left that was large enough. I was in luck, I did have one large enough for the quote shingle sign.
***This post contains affiliate links, if you click on an affiliate link & buy something I may receive a small commission at no extra charge to you. The affiliate money I earn helps pay the expenses to keep this site running. Please read my disclosure for more info. Thanks so much for your support!***
Material List For Shingle Sign
Wood shingle
Aging solution or stain
Old paint brush
Sanding Block with sandpaper
Drill and bit
Stencil brush
Stencil Quote
Twine
White acrylic paint
How to Make a Shingle Sign
So, I pulled it out and used my sanding block to smooth the shingle down enough to stencil on.
I wanted the shingle darker so, I used some of my homemade aging solution to darken the shingle.
Then I centered the stencil on the shingle. When centering makes sure the thicker part of the shingle is up at the top, then stencil the quote using white acrylic paint.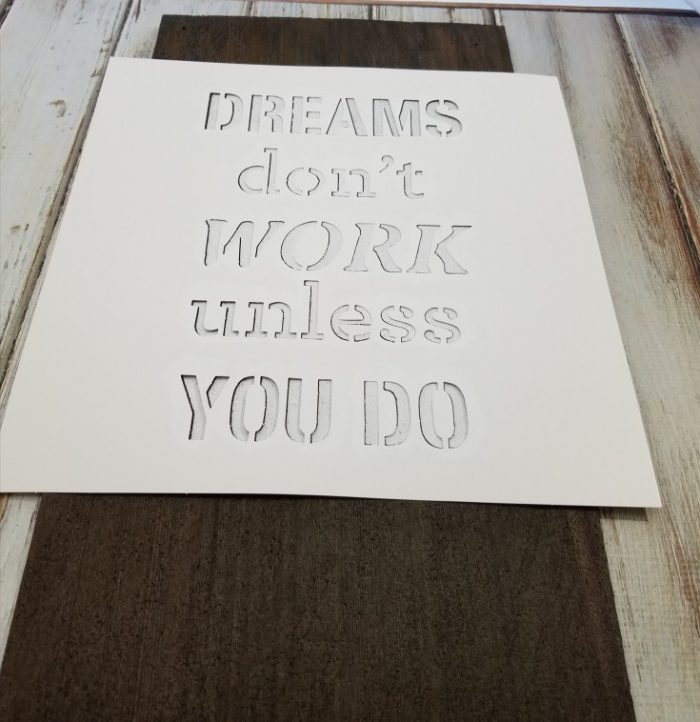 Since shingles are too thin to add a sawtooth hook I drilled two holes at the top of the shingle sign, on each side. Then added a piece of twine for hanging.
Great Quote! It makes me think of the dreams for my blog, and for dreams to come true one has to work at it. They don't just happen. My Dreams help to keep me going.
More Projects You May Enjoy!
Fish and Chicken chalkboards on a shingle
Handmade Message board
Spring garden centerpiece