I love working with cedar pickets since I have a hard time getting my hands on reclaimed wood. Their fairly inexpensive, and make nice signs. I can use my aging solution to make them look weathered. So today I am sharing three of my Easy Handmade Wooden Fall Signs. Two are from pickets, and the other is from a drawer front.
How To Make Easy Handmade Wooden Fall Signs
I started out with one that was already aged, and the other I had to use the aging solution on.
Next I dry brushed some white onto the front, and sides of both pickets.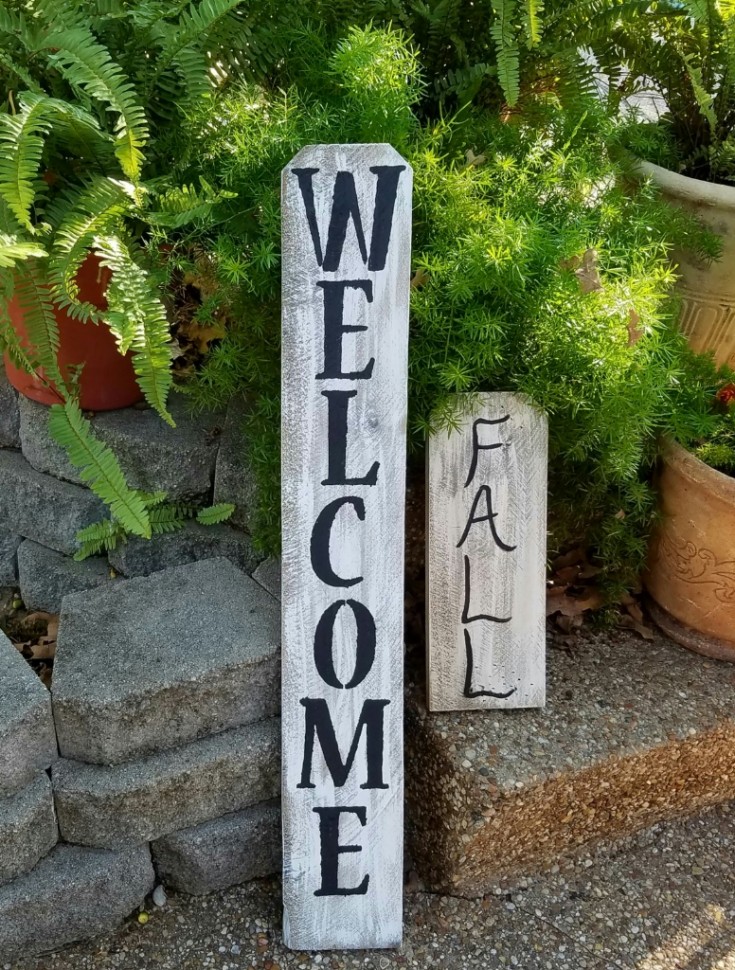 The larger picket I was able to use stencils on to add Welcome. For the smaller one I had to hand paint the word Fall myself because my stencils were either to large or to small.
That's it, can't get any easier then that.
Fall Sign Made From Drawer Front
This next sign was made from a drawer front that I had picked up at Habitat For Humanity.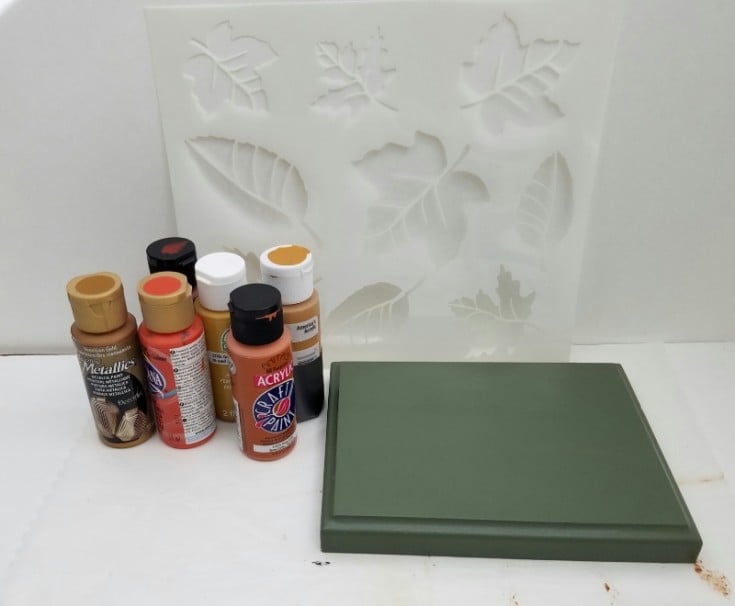 *This post contains affiliate links, if you click on an affiliate link & buy something I may receive a small commission at no extra charge to you. The affiliate money I earn helps pay the expenses to keep this site running. Please read my full advertising disclosure for more info. Thanks so much for your support!*
I started out by painting it with my 50 cent Home Depot bargain of green paint. WooHoo, I love a bargain!
Next I broke out my leaf stencils, and a variety of acrylic paint in fall colors.
I added a little bit of each color to each of the leaves.
I forgot to take my finished pictures before I took the sign to the craft mall. So this was a quick shot from my booth.
Once the leave were dry I added a coat of CeramCoat Glitter Ice to make the leaves shimmer.
After that I used white acrylic paint and added the word Fall.
That's it for these 3 easy handmade wooden fall signs.
Thanks for stopping by! Leave a comment below, and tell me what you have been working on for the holiday's.
More Fun Fall Projects You May Enjoy
Happy Fall Y'all Cedar Pickets Sign
Easy Diy Tin Can Pumpkins
Another Happy Fall Y'all Sign
Diy Fall Wreath