Hi All! Today I am going to share How to make a Family Photo Display Sign. This is a super easy sign, and a fun way to display a family photo.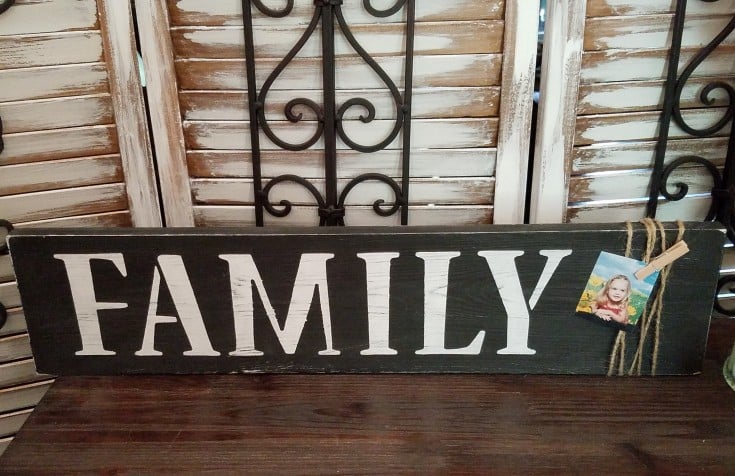 Sorry I guess I must have deleted some photos, but like I said it is super easy so I will just walk you through the steps.
Diy Family Photo Display Sign
Start off with a clean sanded 1" x 6" piece of wood 24″ in length. Give it a coat of black chalk paint.
Then stencil the word Family off to the left side of the board using white chalk paint.
Once it's dry take it out and distress it. By sanding the edges, and lightly sanding the top.
Now grab some twine/jute and start wrapping it around the other end. About 5 times misshapenly pretty tightly, then flip the sign over and staple it down to hold it in place.
Add a small clothespin to hold a family photo and your done. Wasn't that the easily family photo display sign ever?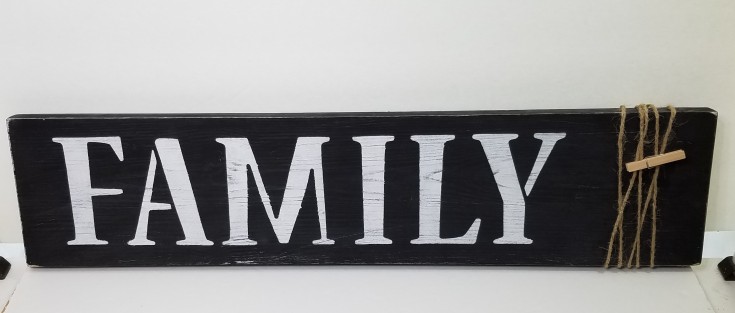 Keep for yourself or give as a gift!
Are you bad about misplacing, deleting, or even forgetting to take your photos for your tutorial steps? I know I am.
More Fun Signs You May Enjoy!
Handmade personalized family name sign
How to make a large monogram letter sign
Personalized family name sign – repurposed frame
***This post contains affiliate links, if you click on an affiliate link & buy something I may receive a small commission at no extra charge to you. The affiliate money I earn helps pay the expenses to keep this site running. Please read my full advertising disclosure for more info. Thanks so much for your support!***