Hi All! I've been a little slow getting started on my Christmas projects. Because of having my daughters over visiting and playing with my looking glass spray paint. But I did manage to get this faux mercury glass salt shaker ornament made. I think it came out adorable!
Since playing with the looking glass spray paint I have tried two different techniques to try and achieve the faux mercury glass. Only one worked for me, and I will be showing you both techniques in a later post.
Faux Mercury Glass Salt Shaker Ornament
For this faux mercury glass Christmas ornament you will need one small glass salt shaker washed and dried. I found mine at Goodwill.
You will need to work in a well-ventilated area. I started out in the garage with a piece of cardboard to set my mini shaker on.
Have a mist bottle with half vinegar and half water solution on hand, and a clean paper towel.
Shake the can of looking glass spray for about two minutes to make sure that it is mixed well.
Now for the technique that I found to work best for me ( video ).
Spray a light coat of the looking glass paint inside the salt shaker and then rotate the shaker around coating the inside of the shaker with the looking glass spray.
Therefore it will take a little rotating of the shaker to get it completely covered.
Next, spray a fine mist of the vinegar mixture inside of the salt shaker.
Wait approximately 30 seconds.
Then use your clean paper towel and a dowel or skewer to dab off some of the paint on the inside. It will come off easily where you had sprayed the light mist of vinegar. Don't wipe but dab!
Let dry for a few minutes then repeat the same steps until you get the desired mercury glass effect you are looking for. I repeated the steps for this faux mercury glass salt shaker ornament just twice.
If you get any of the spray paint on the outside of your shaker or on the rim just wipe it off with a paper towel and the vinegar mixture.
Once dry I took my cute little salt shaker ornament back inside to add the wire for hanging, and some bling.
Adding Bling to the Faux Mercury Glass Salt Shaker Ornament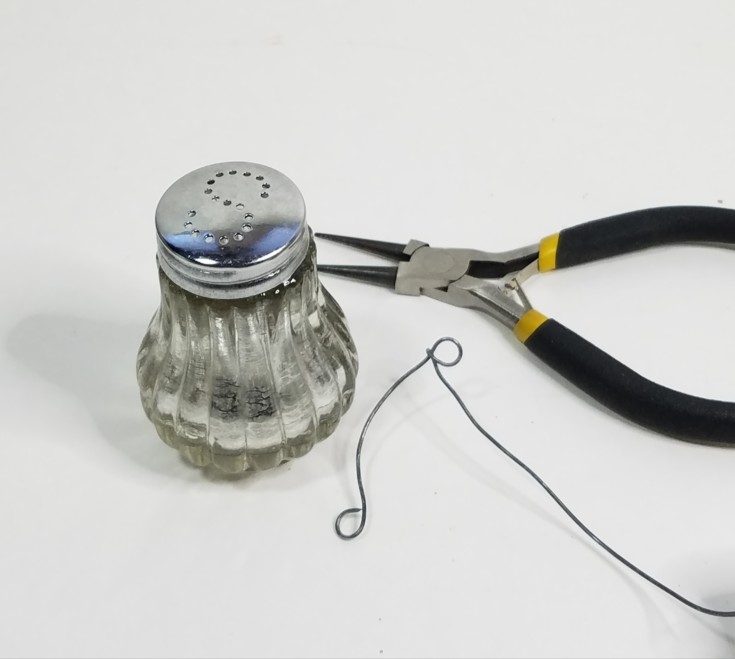 I added the wire to hang my ornament by first making a piece with a loop on each end that will go approximately halfway around the neck of my shaker, leaving a tail.
Next, wrap the loose end around the other side of the shaker neck and run it up through the other loop, and back up through the loop a second time to secure it in place. Make sure the wire is pulled firmly around the neck.
Now bring the loose end up and over the faux mercury glass ornament to form a handle to hand it by. Securing it by running it through the other loop and wrapping its end around the wire. Press the loose ends down firmly.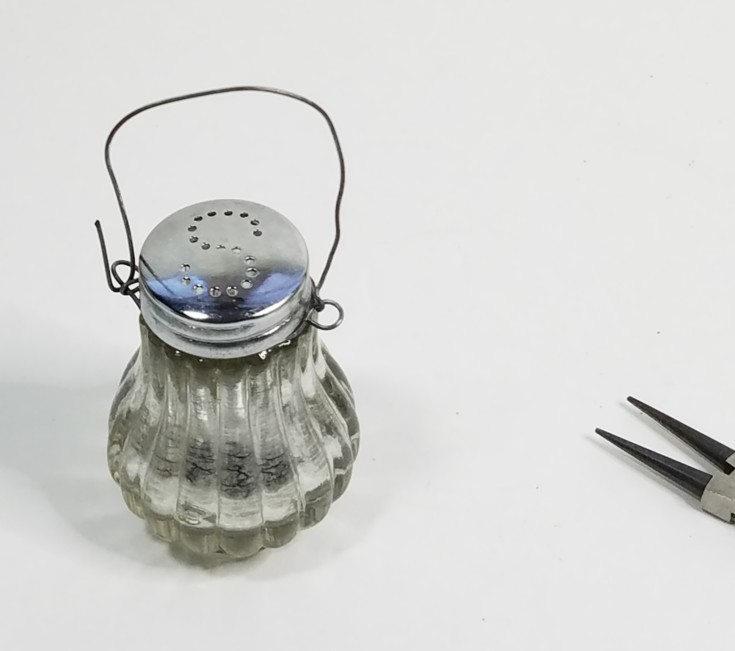 Now add the bling by threading beads, charms, etc. on headpins and forming loops on the ends.
These can be hung from the handle using a jump ring.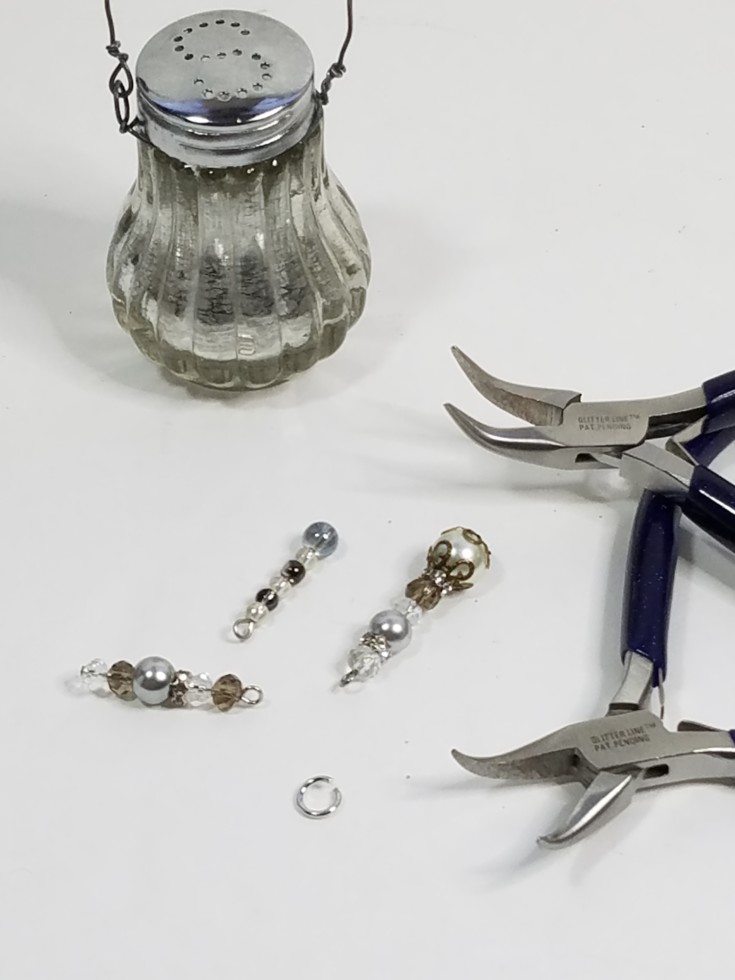 Put the top back on and that's it for this cute faux mercury glass salt shaker Christmas ornament. I think it turned out super cute!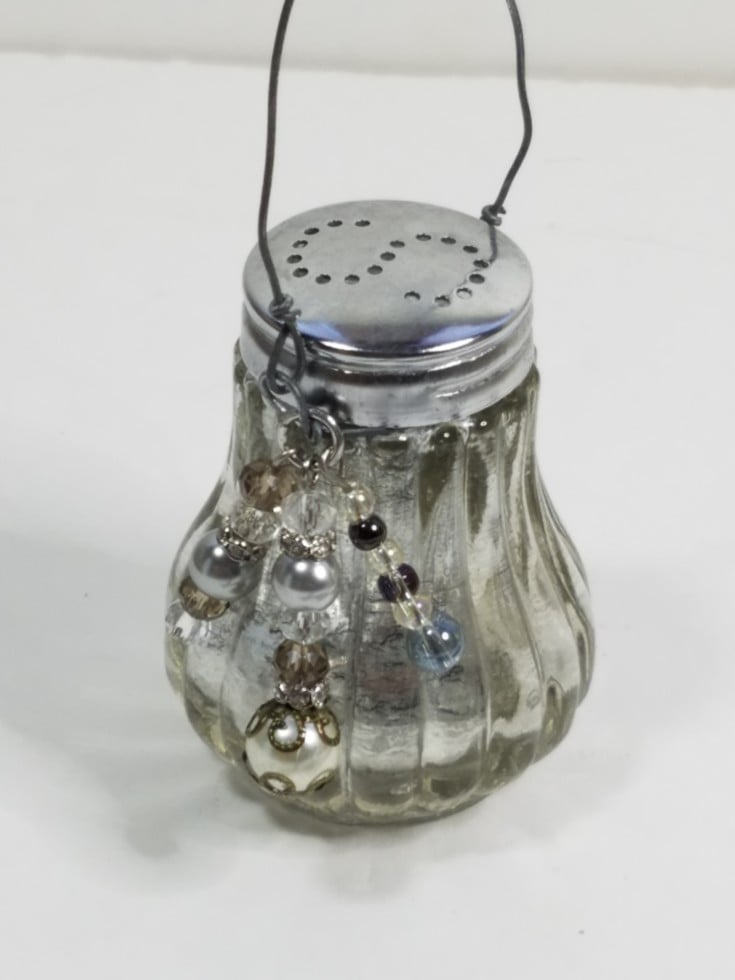 Check back in a couple of weeks for more faux mercury glass. I will be showing how it looks by using the spray inside or outside of a jar. Have you ever played around with looking glass spray paint? If so, do you have any tips that you would like to share? If so I would love to hear them.
***This post contains affiliate links… We are a participant in the Amazon Services LLC Associates Program, and affiliate advertising program designed to provide a means for us to earn fees by linking to Amazon.com and affiliated sites at no extra charge to you. Please read my full advertising disclosure for more info. Thanks so much for your support!***
Supplies Needed
Small glass salt shaker
Krylon Looking glass spray paint
Wire
Wire cutters
Round nose pliers
Two curved nose pliers
Paper towel
Dowel or skewer
Mist bottle
Vinegar
Water
Beads, charms, etc.
Headpins
Jump ring
More Fun Christmas Ornaments
Diy scrap wood snowman ornaments
Snowman garland on wire
diy rustic Christmas tree ornaments
Easy rag star ornament