This old rustic truck with faux vintage oil can turned into a faux succulent planter was made from items we picked up at Hobby Lobby, our "Gettin Place".
We call it our getting store because we both had gone through a divorce and left a lot of things behind (him especially).
So when we got together it was like starting over. We bought furniture, kitchenware, decor, etc. Most of the decor we bought was from Hobby Lobby, and we would go there at least once a week. As a joke it became known between the two of us as our gettin place.
Great store to buy things at pretty good prices, if you buy when 50% off. If it's not on sale one week then go the next week and it usually is. If you just can't wait download the app and use the 40% off coupon on your smartphone.
You can get some great ideas for decorating there as well.
The hubby had picked up the truck a while back, then one day while in out gettin place I ran across the oil can and got the idea of turning it into a faux succulent planter.
How To Make A Faux Succulent Planter From A Old Truck And Vintage Oil Can
So I bought the faux vintage oil can and some faux succulents, already had Spanish Moss on hand.
*This post contains affiliate links, if you click on an affiliate link & buy something I may receive a small commission at no extra charge to you. The affiliate money I earn helps pay the expenses to keep this site running. Please read my full advertising disclosure for more info. Thanks so much for your support!*
When I got home I added a couple rocks to the bottom of the can so that it wouldn't tip over easily. Then filled with Spanish Moss(Affiliate).
Then I added my faux succulents, and placed the vintage oil can(Affiliate) in the back of the old truck.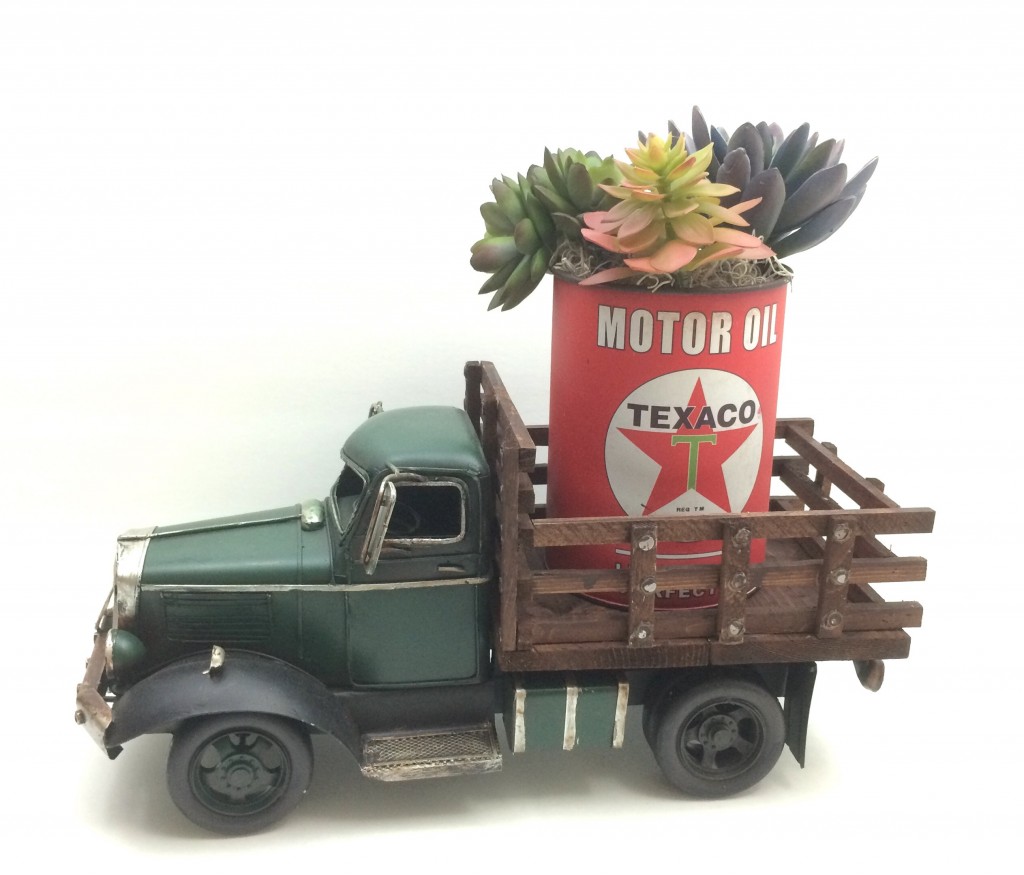 That's all there is to making this faux succulent planter. Quick and easy project, and I think that it turned out adorable. But shh don't tell the hubby, he wouldn't like his truck being adorable.
What kind of vintage planters do you have?