I have been wanting to make my own faux Zinnias out of pine cones since I have seen them on Pinterest. So while visiting my daughter last month I was able to gather some pine cones for my Zinnia project with the help of my granddaughter and grandson.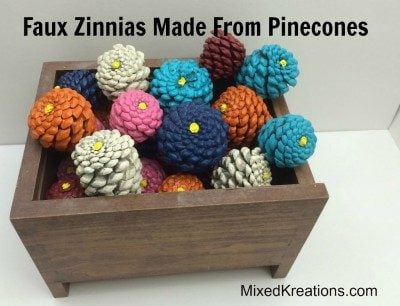 How To Make Faux Zinnias From Pine Cones
A while back I ran across some faux Zinnias on Pinterest, I believe the pine cones were dipped in different colors of paint, but I decided to take the easy way out and just spray paint the pine cones. I have plenty of spray paint that I've had leftover from previous projects.
I placed 6 pine cones on a piece of card board and starting painting them with some orange spray paint.
I continued spray painting the pine cones 5 to 6 at a time with different colors of spray paint until I got all my pine cones painted.
Dipping them in paint would have gave them a better covering of paint. But for me spraying painting was quicker and easier, and who doesn't like quick and easy.
Next I used some yellow acrylic paint and added a little yellow center to each of my faux zinnias.
I love all the different colors.
I had this box that I picked up at Goodwill so for now that's what I have them in. I may paint the box later and keep them in there or find something else to put them in.
I think my faux zinnias turned out pretty cute! What do you think? Should I keep them in the box and just paint it?
*This post contains affiliate links, if you click on an affiliate link & buy something I may receive a small commission at no extra charge to you. The affiliate money I earn helps pay the expenses to keep this site running. Please read my full advertising disclosure for more info. Thanks so much for your support!*