I love how my previous Happy Fall Y'all sign turned out so much that I decided to make another. This Happy Fall Y'all cedar pickets sign is made from five leftover scrap Cedar pickets. That I have connected together from the back using two pieces of scrap trim (sorry I forgot to get the photos).
Diy Happy Fall Y'all Cedar Pickets Sign
First I used my aging solution on the cedar pickets then I penciled in my pumpkins and painted them Orange, and the stems brown.
Next came the detail work. I used a dark brown and floated around the pumpkins and added the lines down the middle.
Then I used black and floated around the stems. Green for the tendril's and a few black lines on the stems. The white dots were adding using my stylus tool.
Now using my stencils I added the lettering.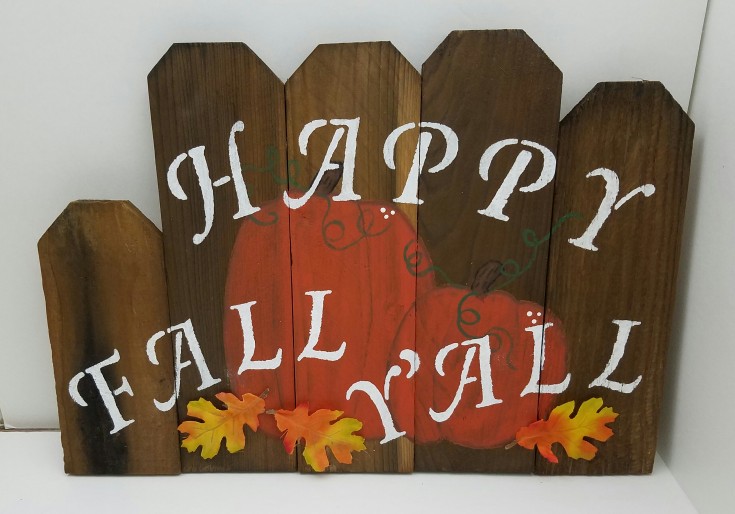 One dry I hot glued my fall leaves in place. That's it for this super cute and easy Happy Fall Y'all cedar pickets sign.
*This post contains affiliate links, if you click on an affiliate link & buy something I may receive a small commission at no extra charge to you. The affiliate money I earn helps pay the expenses to keep this site running. Please read my full advertising disclosure for more info. Thanks so much for your support!*
Supplies Needed
Cedar Pickets
Trim or scrap wood to connect the pickets
Wood screws
Letter stencils
Acrylic paint orange, dark brown, green, white
stylus tool
Hot Glue gun
Fall leaves
What kind of Fall projects have you been working on ?
More Fall Projects You May Enjoy
Happy Fall Y'all Sign
Easy Diy Fall Leaves
Diy Fall Pumpkins