This past week we changed the way we eat and started a healthier eating plan. It's not a diet it's just changing what we eat by cutting out most processed foods and animal protein and fats. We started eating more of the good things. Like beans, lentils, salads, veggies, especially green ones, more fruit, seeds, nuts, and whole wheat bread. This black bean & corn salsa stuffed pita is part of our healthy eating.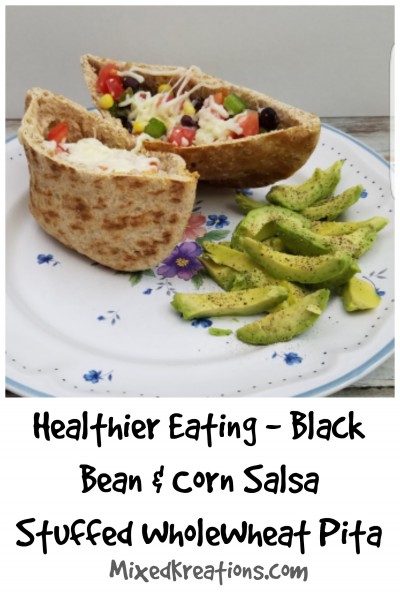 This has been a big change for us because we eat out quite a bit (or should say used to). This change came about last Saturday when we just got back to my mom's house from our regular going out to eat with my mom routine.
She turned the TV on and an info Commercial caught my eye. It was about the benefits of eating a nutritional diet. Now when I young I didn't really think about my eating habits. I could eat whatever I wanted and stayed skinny as a rail. Now that I'm older it's a different story, and it's hard to get the weight off even if you don't have that much to lose.
***This post contains affiliate links, if you click on an affiliate link & buy something I may receive a small commission at no extra charge to you. The affiliate money I earn helps pay the expenses to keep this site running. Please read my full advertising disclosure for more info. Thanks so much for your support!***
But my biggest concern is health, eating a nutritional diet will help you stay healthier and feel better as you get older (at least that is what Dr. Fuhrman says in his book affiliate), and maintain a healthier weight.
So with that said the hubby and I started a healthier eating plan that will include this black bean & corn salsa recipe. Now we haven't cut out everything, like the hubby loves his smoked chicken but is limited to one piece a day, and we do use some cheese we just cut back on the amount, and we aren't going to cut out our Saturday routine of eating out with my mom.
As of this post (4 days ago), I have lost 2 1/2 pounds, and the hubby almost 8, and we really don't feel hungry in between meals. If we do we just nibble on a few nuts, or eat some fruit, ignoring the chips in the cupboard that's calling my name daily.
I'm hoping in a couple of weeks that we will be able to feel a difference in how we feel, like less tired, more energy, and less inflammation in our body's. 
Here is one of the first recipes that we tried out of Dr Fuhrman's cookbook (affiliate). Of course I adjusted it to our liking!
Black Bean & Corn Salas Stuffed Pita
1 – 15oz. can of Black Beans
1 1/2 cup frozen corn (thawed out)
3-4 fresh tomatoes chopped
1 small onion chopped
2 jalapeños chopped
2 tablespoons of lime juice
1/2 teaspoon cumin
1 teaspoon garlic powder
1 teaspoon minced garlic
Whole Wheat Pita Pockets
1/2 avocado sliced
Shredded mozzarella cheese
Combine black beans, corn, onion, jalapenos, lime juice, cumin, garlic powder, minced garlic in a large bowl. Refrigerate for up to a week.
Stuffed Pita's For Two
For a healthier eating dish cut two whole wheat pita pockets in half, open up, stuff each half with the black bean and corn salsa mixture. Top with tomatoes and just a little mozzarella cheese, place in the toaster oven for approximately 10 minutes. Remove from oven an top with sliced avocados for a delicious healthy dish. Enjoy!!!
I do believe this black bean & corn salsa will definitely be a regular dish on our new healthier eating plan.
What is one of your favorite healthy dishes that you eat on a regular basis?