Hi All! Today I am sharing two thrift items that I combined into one. A vintage pitchfork that I picked up a couple of days ago at an estate sale for $2. WooHoo, a steal! Solid metal and very heavy and rusty. I love rust. The other item is a wooden box thingy that I picked up at Goodwill a while back, and it looks like a birdhouse. Not sure what it was for, maybe a wine bottle carrier. I purchased it for $2.99.
My plan was to add a roof and use it as a birdhouse. After all, it looks like a birdhouse, I just wasn't sure how or where I wanted to hang it until I ran across the rusty pitchfork. Therefore the Vintage PitchFork and Birdhouse was born. A person can never have too many birdhouses for feathered friends, or cute rustic yard art for the flowerbeds.
Vintage Pitchfork and Birdhouse
Didn't have to do anything to the rusty pitchfork. So I jumped right into adding a hole to the side instead of the front of the birdhouse for the little birdies to come in through. Using a screw as a perch.
I started out by cutting an old wooden shingle that I had then gluing and tacking it down with small nails.
I wasn't really happy with the outcome so I decided to use some of the thin copper sheeting that I had. Cutting the sheeting to fit the roof over the wood shingles and enough to fold down over the edges. Putting a slit at the peak of the roof to make it easier to fold over.
I had some small copper tacks that I tried to use to secure the roof but ended up using my handy staple gun. Not really happy with the roof but hoping once the copper get a nice patina it will look better.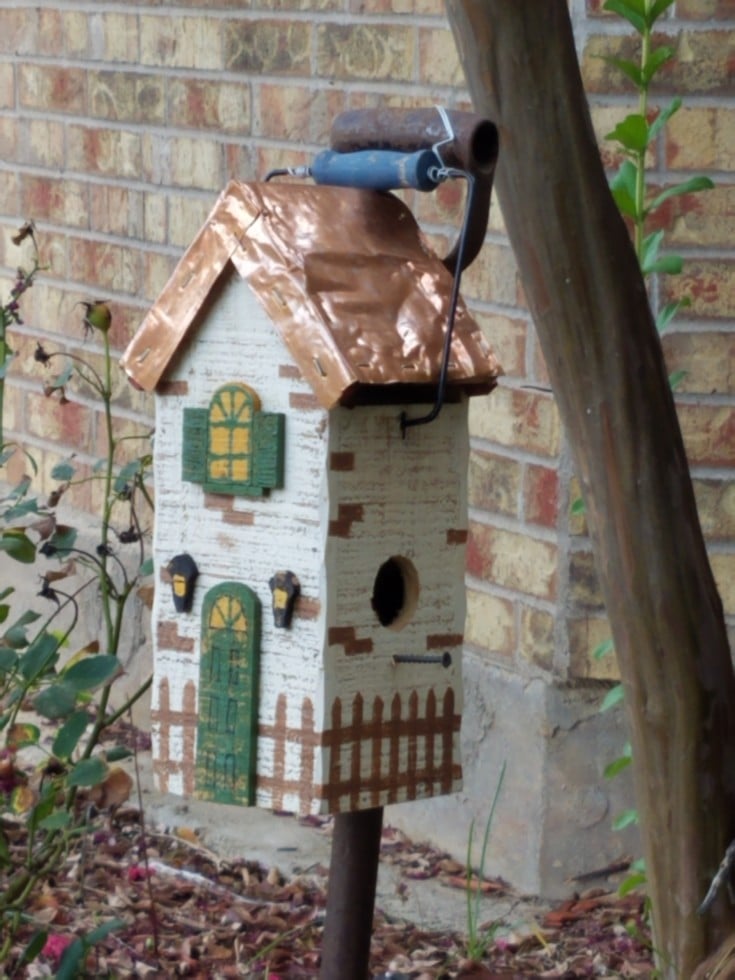 Next, I gave the birdhouse a couple of coats of clear sealer for protection. Leaving the copper untreated so that it can form a pretty patina overtime to hide the stapes that I used.
The only thing left is to wire it to the pitchfork, and then find a place in one of my flowerbeds to place my vintage pitchfork and birdhouse for some of my feathered friends to find and make their home.

More Fun Ideas!
Repurposed birdfeeder from two thrift store items
How to make a diy garden cart out of a hose cart
How to make a rolling smoker cart
***This post contains affiliate links… We are a participant in the Amazon Services LLC Associates Program, and affiliate advertising program designed to provide a means for us to earn fees by linking to Amazon.com and affiliated sites at no extra charge to you. Please read my full advertising disclosure for more info. Thanks so much for your support!***