Hi all! Today I wanted to share with you how to make a large monogram letter sign. If you have been following me than you know that my youngest daughter, and her husband are some of my biggest fans. As she has matured her taste has changed to be more like mine, and she even tries little do-it-yourself projects on her own, every once in a while. I'm hoping one day she will wake up and find she is addicted to creating (like her mother) once she realizes she can do it, and she puts her mind to it.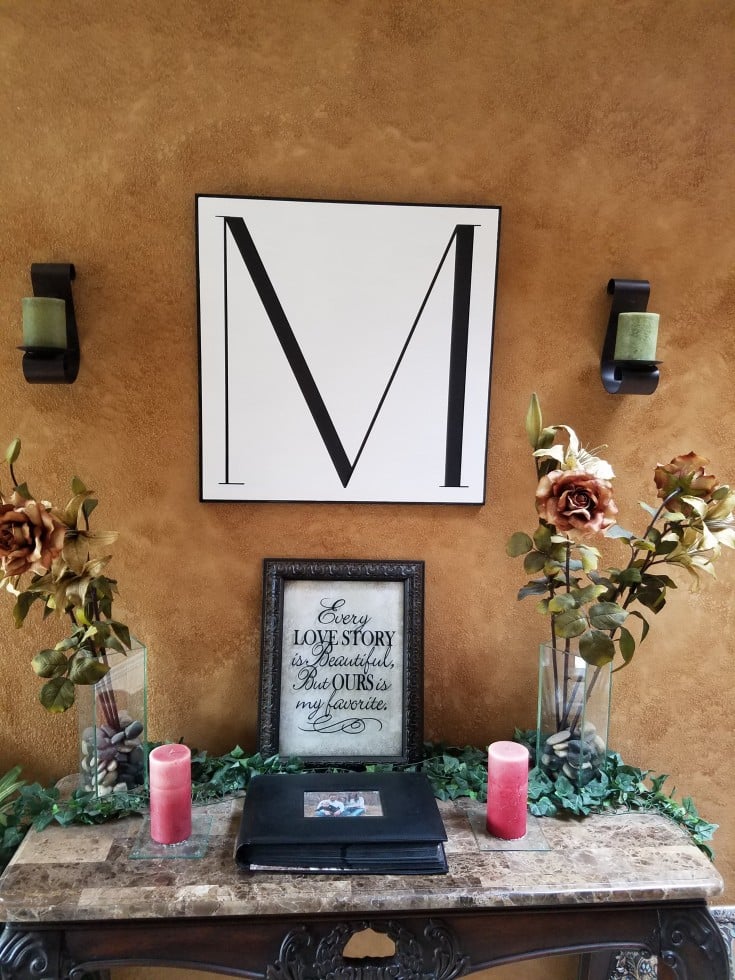 They wanted to hang it in their foyer, and they wanted it in black and white. Since they wanted it about 2' x 2', I brought a piece of pressed wood board. I don't remember my reasoning for buying pressed wood board instead of finished plywood. But maybe because of less splintering when cutting. (Woodworking tips and techniques)
You can find the project list at the bottom of the post!
How to Make a Large Monogram Letter Sign
First, I gave the wood three coats of paint, it seems to just soak it up. Next, I measured and drew off the letter M, and added the thicker parts of the letter as well. (sorry I forgot to take a photo of this step).
I used a black marker, and yardstick for adding the thin lines, and the outer sides of the thicker lines.
Then I went back and filled the thicker parts of the letter with a couple coats of black acrylic paint.
Once that dried I added a large saw tooth hook to the back for hanging, and that was it for this large monogram letter sign.
***This post contains affiliate links, if you click on an affiliate link & buy something I may receive a small commission at no extra charge to you. The affiliate money I earn helps pay the expenses to keep this site running. Please read my disclosure for more info. Thanks so much for your support!***
Project list
2' x 2'
white acrylic paint
black acrylic paint
black paint markerYardstick
Large Saw tooth hook
More Diy Signs You May Enjoy!
You are loved
Diy wood signs and farmhouse style tray
Weathered beach house sign