If I can bring new life into something that normally goes into the landfill or recycle bin then that's what I will do, like this Primitive Lantern made from a pasta jar.
This is just one of many of my Repurposed jar projects. You can find the material list for this project at the bottom of this post.
Primitive Lantern
1. To make a primitive lantern first start with a clean jar, then tape off one side of the jar with the painters tape placing the tape edges together and making it just a little larger then you want your star.
2. Draw your star onto the tape.

3. Using your X-acto knife cut the star out, and peel the excess tape off leaving the star in tack.
4. Pour about 1/4 cup of mod podge in a disposable container and add about 1 teaspoon of instant coffee grandules, and mix.
5. Paint your jar completely with the coffee and mod podge mixture.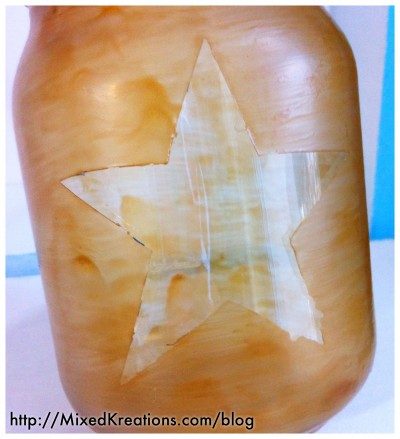 6. Let dry throughly, then gently peel the painters tape off.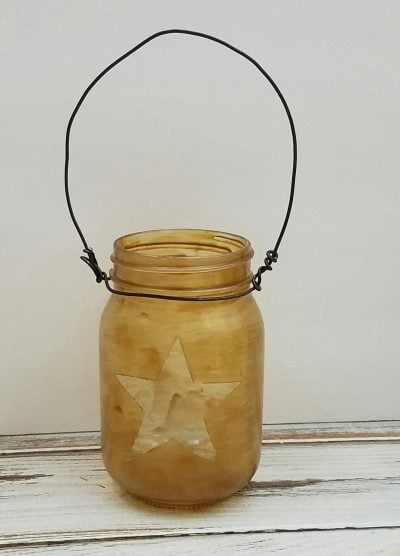 7. Use your X-acto knife to straighten up any rough edges.
8. Add your wire for hanging, and a battery operated LED tealight to your Primitive Lantern and that's it!
I am sorry that I forgot to get a picture with the tealight inside. If it's still at my booth next time I go I will try to remember to get a picture.
*This post contains affiliate links, if you click on an affiliate link & buy something I may receive a small commission at no extra charge to you. The affiliate money I earn helps pay the expenses to keep this site running. Please read my full advertising disclosure for more info. Thanks so much for your support!*
Material List For Primitive Lantern
(includes affiliate links for your convenience)
* glass jar
* mod podge
* instant coffee granules
* painters tape
* x-acto knife
* annealed wire
* wire cutters
* needle nose pliers
* small disposable cup
* battery operated LED tealight
Have you repurposed any jars into lanterns lately? I would love to see them. Leave a comment below with a link so that I can go check it out.
More Fun Mason Jar Projects
Mason jar tissue holder
Rustic mason jar storage rack
Loose change jar