With Saint Patrick's Day approaching there are other ways to decorate your home in green and show off your Irish pride. Then restricting yourself to the mischievous little men dressed in green with their pots of gold. Known as Leprechaun's.
I know we all have dreamed of finding that pot of gold one time or another. But let's face it we would have better Luck winning the lottery, so let's get that out of our heads, my head right now and get back to the Saint Patrick's Day décor at hand.
So, with the mischievous little Leprechaun's out of the way let's get started with today's project, the easy Saint Patrick Day Luck Sign. Easy enough for any new crafter.
Saint Patrick Day Luck Sign
Let's start off with one of my favorite crafting materials, the cedar fence picket. Unless you are one of the lucky ones that can get your crafty little hands onto some reclaimed wood, or even pallet wood. With me No Luck so I have grown fond of the cedar pickets. They are cheap, and you can use some of my secret aging potion, Not so secret to make the wooden pickets look aged.
(For the Not so secret aging potion)
Next dry brush some green acrylic paint onto the picket, leaving some of the aged wood showing through. Old paint brushes are great for this.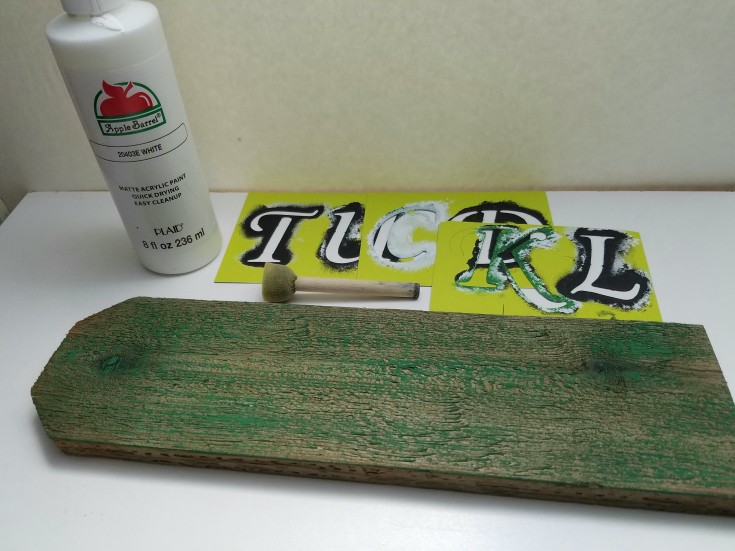 Now it's time to add the word Luck to our green picket. Pick out a letter stencil that fits your picket and the font that you want, or you could paint it free handed.
I use to do all my signs free handed because I wasn't very good at stenciling. But once you figure out a little paint goes a long way with stencils, less is best. If you add to much paint it bleeds under the stencil and then you have fuzzy lines. But then if you been nipping at the Irish whiskey then you are going to see fuzzy lines no matter what.
So just remember just dab on a little paint at a time.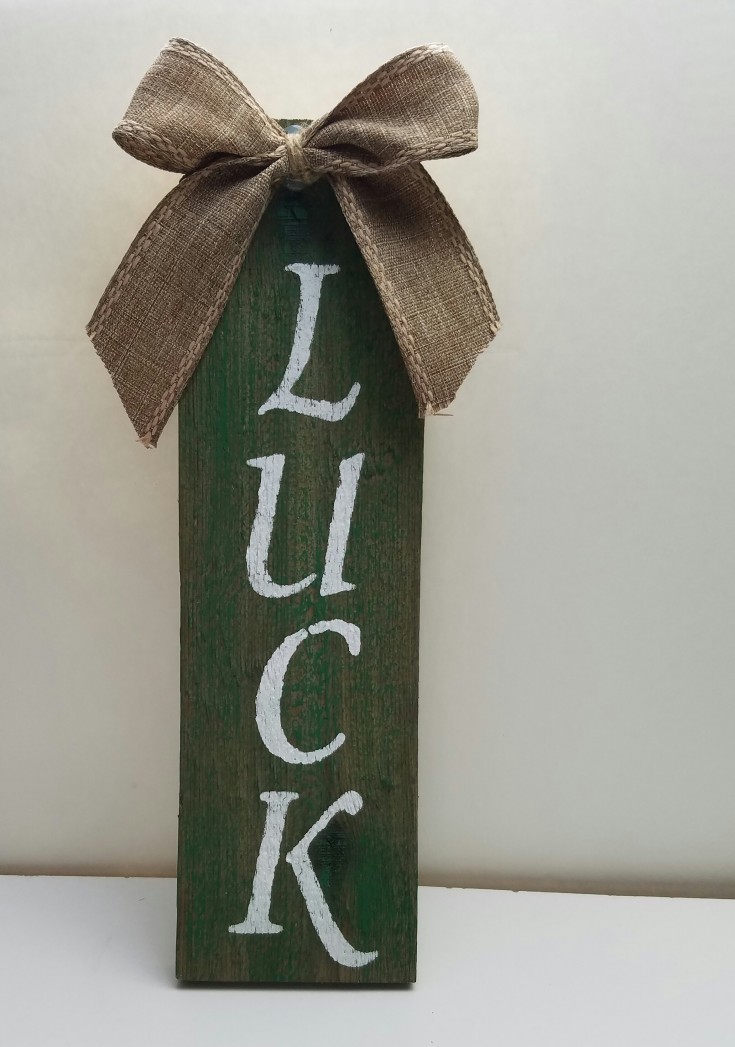 I think that my Saint Patrick Day Luck Sign needs a bit of something else. What do you think? There's not enough room for a shamrock so how about a burlap bow? Burlap makes everything better, don't you agree?
Doesn't that look better by just adding a simple burlap bow?
Now it's time to show off your easy peasy Saint Patrick Day Luck Sign. Sit it on a shelf, or even the mantle, and mix in other Saint Patrick's day deco and you are good to go. You can still decorate with green, but no need to have those mischievous little Leprechaun's, especially since they won't share their pots of gold.
What have you been working on for Saint Patrick's Day?
Other Post You May Enjoy!
Easy Saint Patricks Day Decor
Saint Patricks Day Signs on drawer fronts
***This post contains affiliate links, if you click on an affiliate link & buy something I may receive a small commission at no extra charge to you. The affiliate money I earn helps pay the expenses to keep this site running. Please read my full advertising disclosure for more info. Thanks so much for your support!***