Hi All! This WiFi password block has come in real handy, and I have to give the credit to the hubby for this project. He had seen one somewhere, and told me about it, and talked me into making one.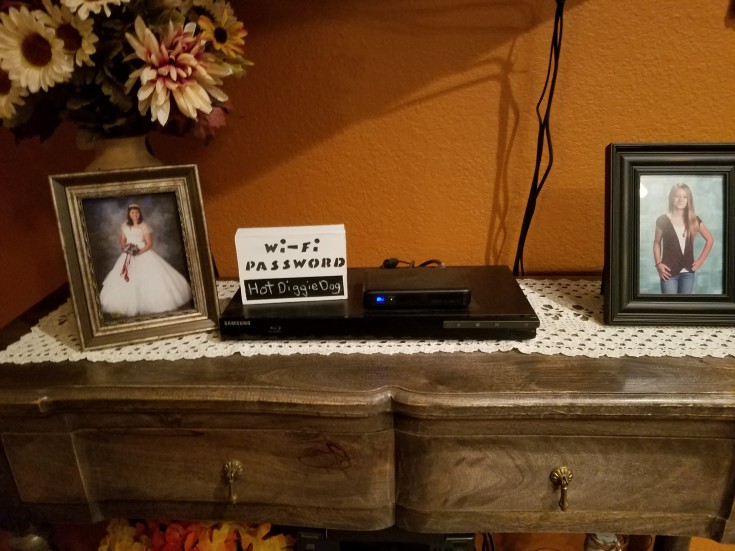 Well that's not quite true, he didn't have to talk me into it at all. All anyone has to do is ask me to make something and if it is doable, I jump on the chance.
Since I have made us one of these WIFI password block it has come in real hand on several occasions when the kids come over. They are always asking what our wifi code is so they can hook up to our wifi to play their games, watch movies, surf the web, etc.
Now it's there for them whenever they come. Convenient and cute!

***This post contains affiliate links for your convenience. Please read my full disclosure for more info. Thanks so much for your support!***
Supplies Needed For WiFi Password Block
Block of wood
White chalk paint
Chalkboard paint
Paint brush
Letter stencils
Stencil brush or sponge
Chalk
Sandpaper
Black acrylic paint
Painters Tape
These blocks can be made out of scrap wood, but these were made out of a couple art blocks that I picked up at Goodwill. Sorry I forgot the take the before photo's.
To make these I firsts painted each block with two coats of white chalk paint.
Once dry I stenciled WiFi password on each of the blocks.
Using painters tape mark off the area for your chalkboard, then using chalkboard paint add the chalkboard to the bottom of each block.
Next, I distressed the edges, and added some black to the edges.
To condition the chalk board, I coated the chalkboards with chalk then wiped off. I did this process twice.
Then added the password and that's it. The WIFI password block is good to go.
More Scrap Wood Blocks You May Enjoy!
Scrap wood paper blocks
Wooden house blocks
Vintage wood blocks
You & Me wooden heart block with key