Hi All! I would like to wish everyone a happy 4th of July! Can you believe it is already July? This year is flying by! Since it is the 4th today, I am going to share my thrift store finds turned patriotic vases from two different size of glass vases that I purchased at Goodwill for 99 cents.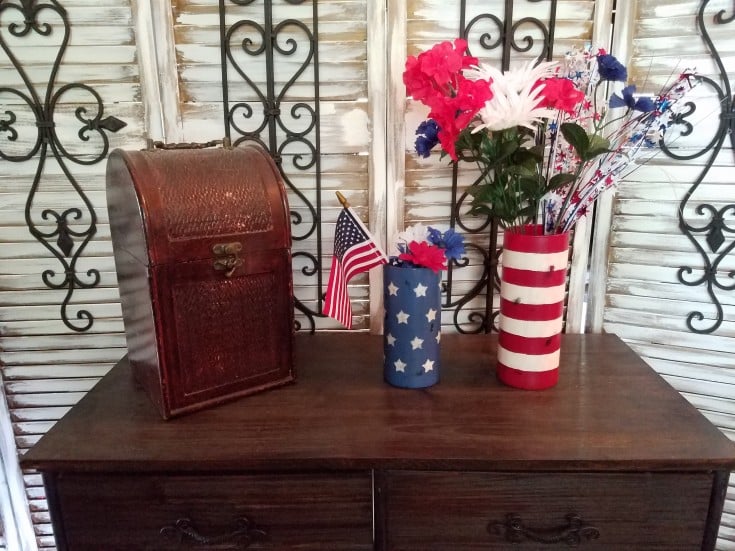 ***This post contains affiliate links, if you click on an affiliate link & buy something I may receive a small commission at no extra charge to you. The affiliate money I earn helps pay the expenses to keep this site running. Please read my full advertising disclosure for more info. Thanks so much for your support!***
Supplies For Patriotic Vases
Two glass vases
Red, white, and blue chalk paint
Antiquing medium
Sandpaper
Paint brushes
Star stencil
Stencil brush, or sponge
Painters tape (optional)
Mod Podge (optional)
How To Make Patriotic Vases From Thrifty Finds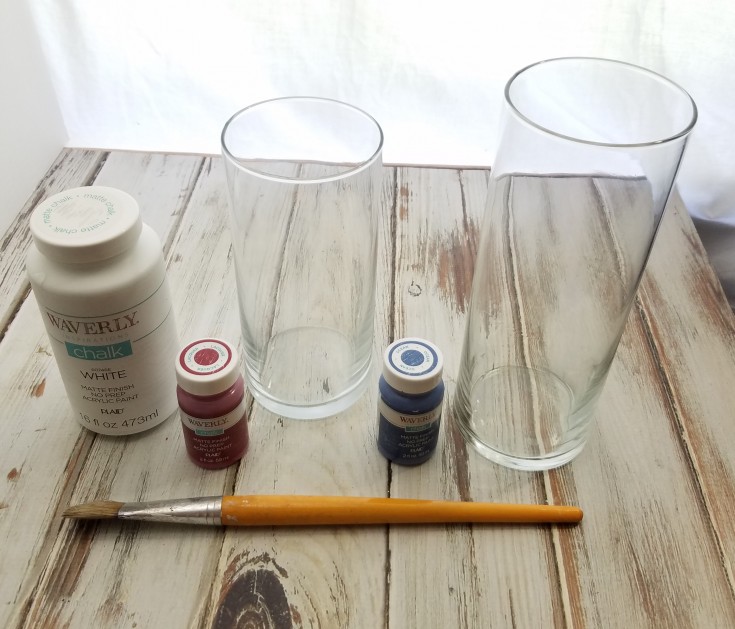 First wash them with warm soapy water, and dry.
Next painted the shorter vase with blue chalk paint, and the taller one with red chalk paint. Two coats each. If I had been thinking I would have painted the taller one white first. Red goes over white better than white over red for the stripes.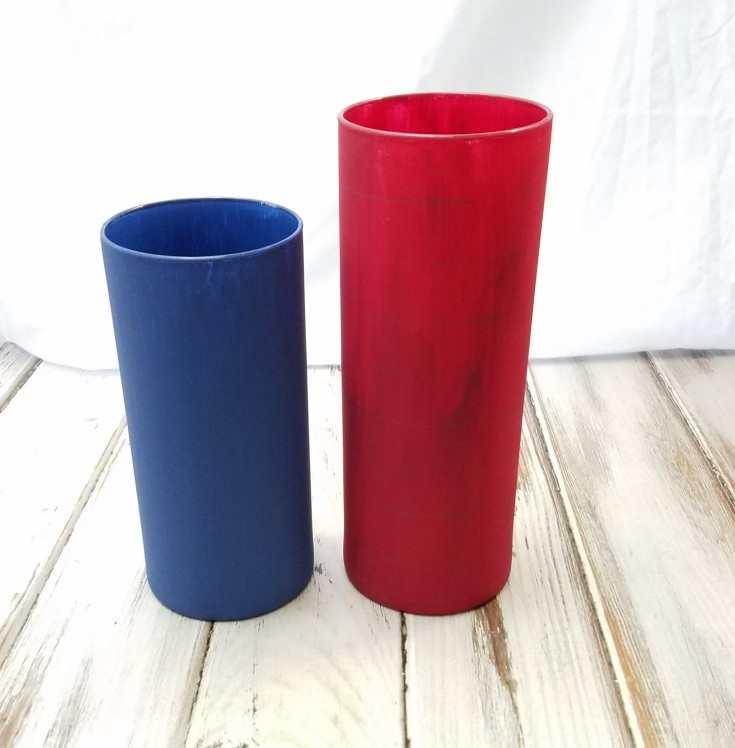 Once they were dry I free-handed the white stripes around the taller red vase. You will need to use two coats. You could use painters tape for a straighter line, but I wanted the unevenness of the lines to add to the worn aged look of the vase.
Next I stencil the Stars onto the shorter Blue Vase using a homemade Star stencil.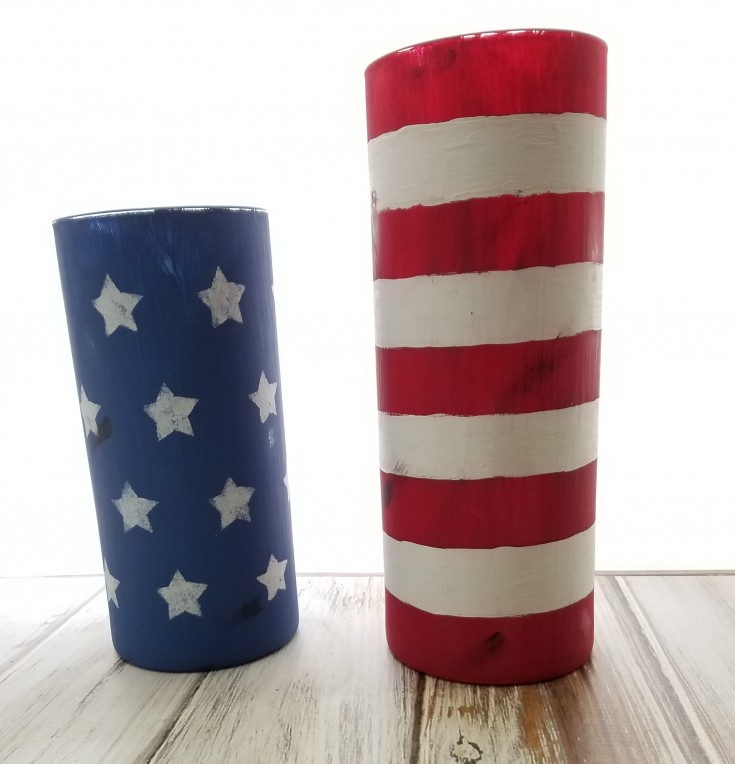 I let both patriotic vases dry thoroughly then I lightly sanded each vase to give it a worn effect.
Then I added some smeared black acrylic paint, like I did on my American shutter flag to help with the worn aged look that I desired.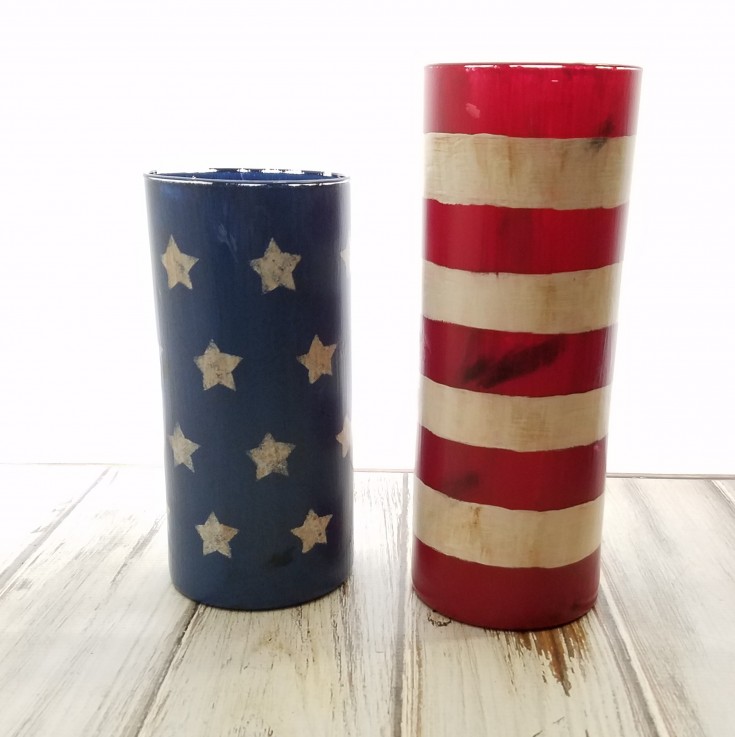 Now it's time to add one of my favorite paint supplies, the antiquing medium. First I watered it down then brushed it on covering the vase.
Next I took a dry paper towel and wiped some of the antiquing medium off.
I did both vases like this, and it gave them both the worn aged effect that I was seeking.
You can stop here, or you can add a coat of Mod Podge to help seal and protect the vases. But the Mod Podge will give it some shine.
Now fill the vases with flowers, and a flag and you have yourself a couple of pretty Patriotic Vases.
More Patriotic Decor You May Enjoy!
Independence Day Fabric Banner
Upcycled bottle, 4th of July Vase
Patriotic sign made out of a fan blade
2 sided American flag on a shutter