Today I am going to show you how to paint a snowman. This is a quick and easy project that you can paint on just about anything to add some fun holiday spirit to any home.
How To Paint A Snowman
For this project, I started out with a cedar picket that I had added some of my wood aging solution to. But you could paint this snowman on an old cutting board, tray, etc. Then I lightly sketched an outline of a snowman on my piece of wood.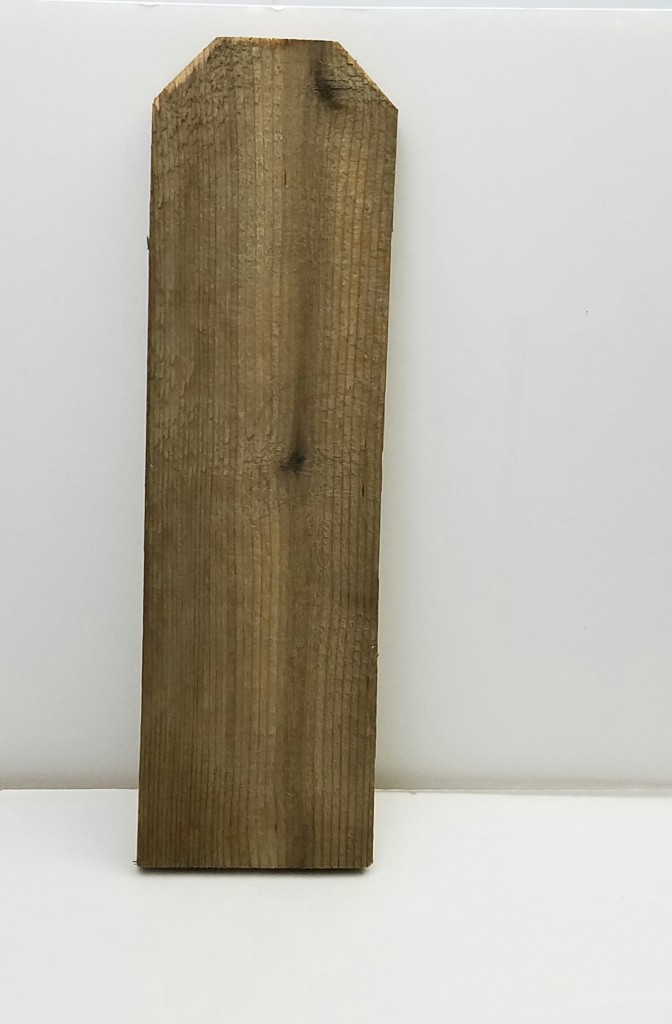 I then used some skyline acrylic blue paint and a old paint brush, and using the stippling technique I added the blue where my snowman was going to be. (Instead of using a fan brush like in the video, use a small round brush). Do not cover the area completely, let some of the wood color showing through.
Once my blue paint was dry I went back over it using white acrylic paint and using the stippling technique again to add the white over top of the blue letting some of the blue show through. My theory is that adding the blue first then the white over it gives the snowman a frosty look. After all snowmen are made from snow. Burr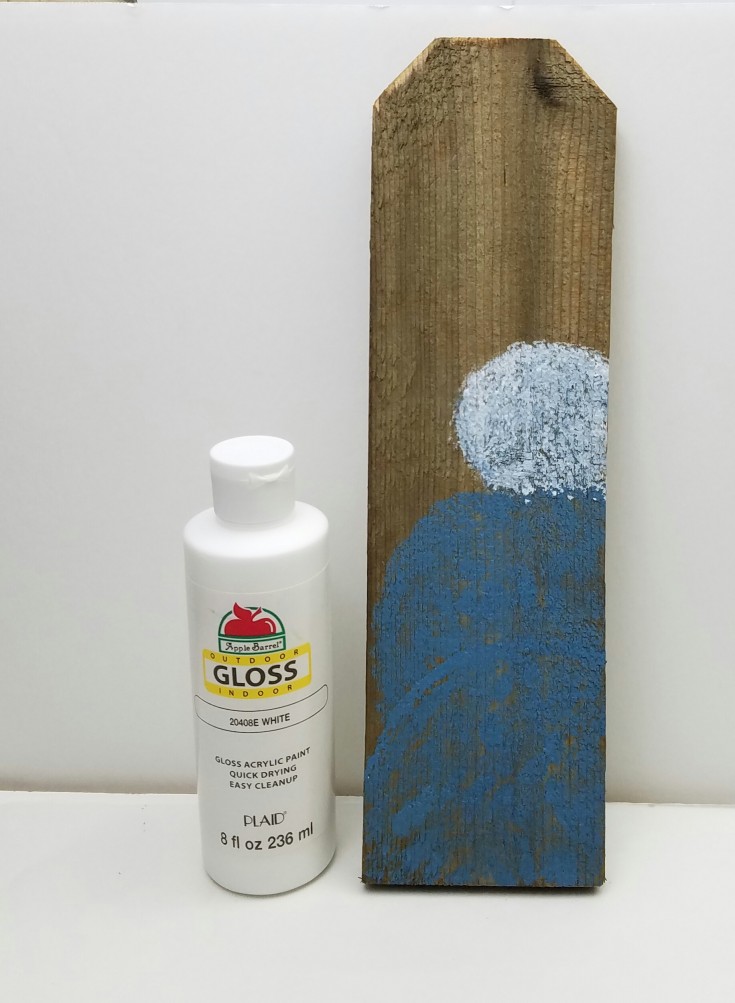 While that is drying, I added the snowflakes and lettering.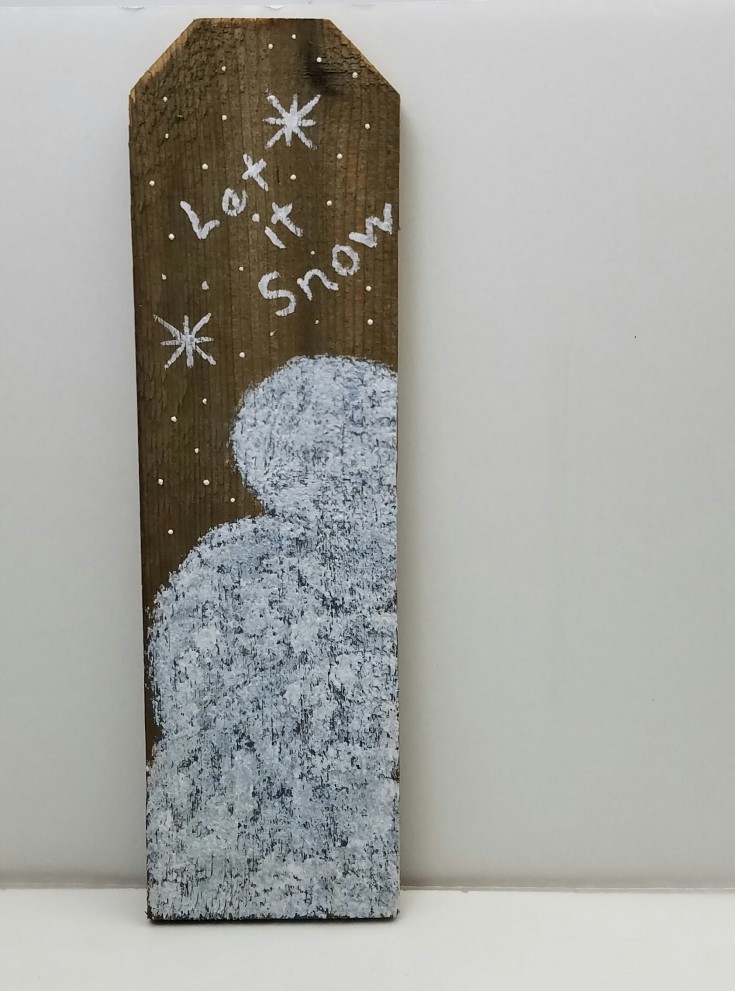 Now For The Detail Work
First, I floated some blue paint just under the belly of the snowman to distinguish one snowball from the other. Snowmen are made from giant snowballs.
Then I added the plaid scarf, first by painting it red then adding white and green lines. You may want to used a lighter green then I used so that it would of show up brighter.
Next came the snowman's cheeks, again using the stippling technique with an old paint brush. Then came the nose, eyes, and mouth. You can find some cute snowman faces on Pinterest.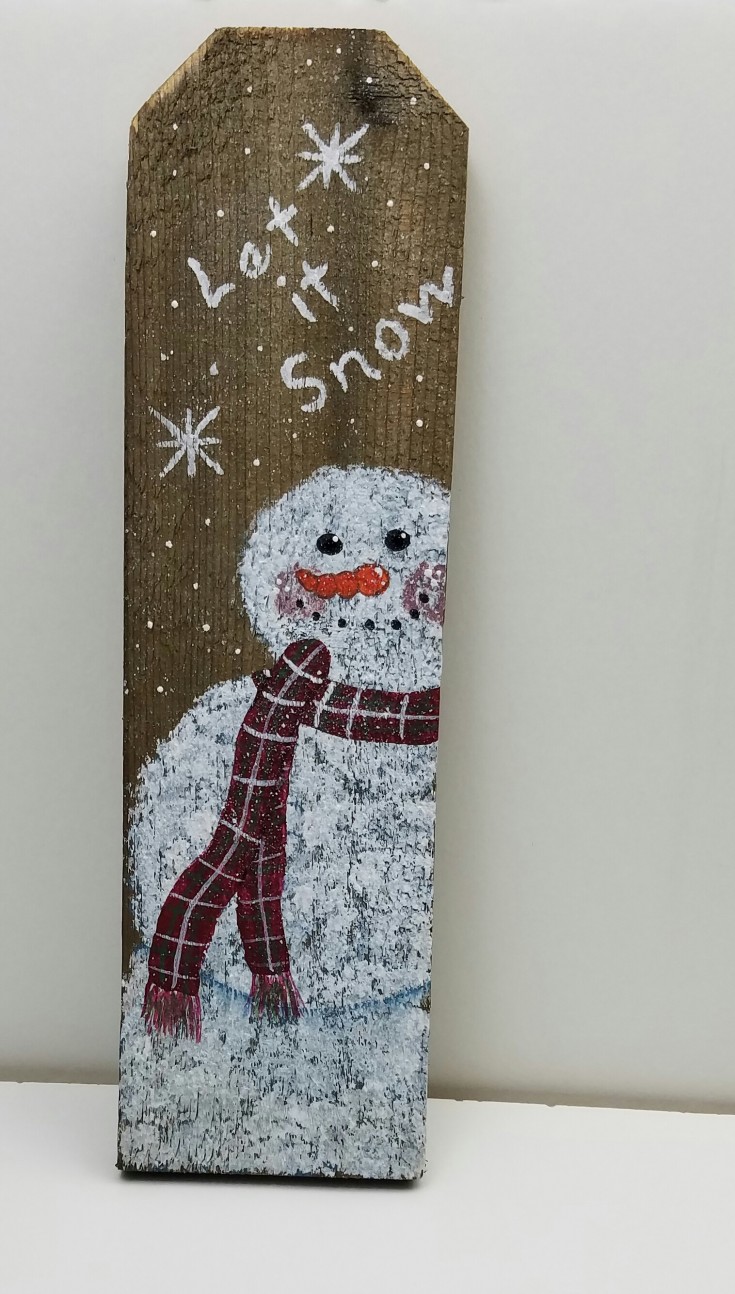 Lastly, I splattered everything using white acrylic paint and a old toothbrush. Giving the effect of small snowflakes.
That's it for my how to paint a snowman tutorial.
Isn't he adorable?
*This post contains affiliate links, if you click on an affiliate link & buy something I may receive a small commission at no extra charge to you. The affiliate money I earn helps pay the expenses to keep this site running. Please read my full advertising disclosure for more info. Thanks so much for your support!*
Material List – How To Paint A Snowman
Cedar Picket
Skyline acrylic paint -snowman
White acrylic paint – snowman, lettering, snowflakes,
Black acrylic paint – eyes and mouth
Green acrylic paint – stripe on scarf
Mauve acrylic paint – cheeks
Red acrylic paint – scarf
Orange acrylic paint – nose
Brown acrylic paint – outline around the nose
Paint brushes
Tooth brush
More Post You May Enjoy
Snowman Lantern
Rustic Wood Snowman Block
Burlap Tree On Wood Picket