A rotary rock tumbler, is a easy way to tumble and polish jewelry. The jewelry always comes out with a beautiful shine. It is best not to mix your different types of metals, and take care when tumbling gemstones. Soft gemstones may be damaged when tumbled.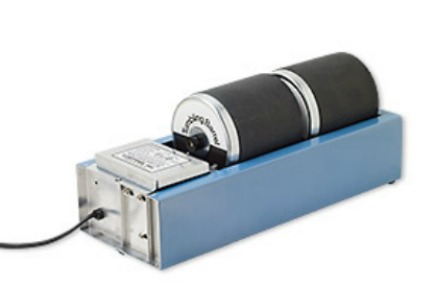 ***This post contains affiliate links, if you click on an affiliate link & buy something I may receive a small commission at no extra charge to you. The affiliate money I earn helps pay the expenses to keep this site running. Please read my full advertising disclosure for more info. Thanks so much for your support!***
Types Of Tumblers
There are two types of tumblers, vibratory and rotary tumblers. Vibratory tumblers, I am told work faster, but require more stainless steel shots, and tend to walk with the vibration, and are noisier. I use a rotary tumbler with two barrels. It stays in place, and I have it in my laundry room and shut the door to cut out the noise.
Stainless Steel Shots
It is best to purchase a bag of mixed shots, then to buy all one type. Just one type of shots will not get every nook and cranny of your jewelry pieces like a mixture of shapes will. Use approximately 2 lbs. of stainless steel shots per barrel. If you use something other than the stainless steel shots they will eventually rust. Stainless steel shots are a little more expensive, but well worth the investment.
Burnishing Technique
Tumbling is actually a very gentle and non-abrasive way to polish your jewelry. It does not remove the surface of the metal, or damage it in any way. Tumbling uses a technique called burnishing. These little stainless steel shots will pound away at your jewelry like little hammers, removing any burrs, and burnish away mild scratches. It won't remove gouges, but will smooth them out, and makes everything brilliantly shiny and polished. Even your most delicate pieces.
Work Harden
Tumbling to work harden the piece, by tumbling the item it hardens the outer layer of the metal. This is good for very thin wire such as headpins, eyepins, jumprings, and earwires.
Getting Your Tumbler Ready
First run your tumbler for a couple hours with the stainless steel shots, just enough water to cover and a squirt of dawn liquid dish soap. You will want to use dish soap with a degreaser in it, no bleach or other additives. After a couple hours open the barrel and pour the shots into a wire strainer and rinse the shots and barrel well. Never pour over you garbage disposal, one steel shot can ruin your disposal.
Let's Tumble And Polish Jewelry
Now you're ready to go. Put the steel shots back into the barrel, and water (just enough to cover the shots and your jewelry), a squirt of dawn, and place the lid on snugly and tumble from 30 minutes to overnight. When I am tumbling jewelry with gemstones, I only tumble for 30 minutes to 1 hour. I never tumble pearls, turquoise, or ceramic beads. It is best to do a test tumble with a gemstone alone if you're not sure, so as not to ruin a finished piece.
Finished Pieces
When removing your finished pieces of jewelry from the tumble, you will pour the contents out of the barrel into a wire strainer (again, never over your garbage disposal). Rinse well, then pour the contents onto a dry towel and spread out. Pick out your pieces of jewelry, finding, etc., and leave the shots out to dry before placing back into the barrels.
Helpful Tips
* If water comes out dark, then you did not add enough liquid dawn to clean the piece. Then rinse well, and tumble again.
* I clean my tumbler every 2-3 months with baking soda and a scrub brush.
* Items that may get tangled need to be tumbled separately.
* May damage plated metal.
* When not sure about tumbling a gemstone, always do a test tumble.
* Pieces that could tangle should be tumbled separately.
* If tumbled for a long periods your metal will come out more of a shiny gun metal color.
* Always make sure the shots and barrels are completely dry before putting shots back into barrels.
Benefits Of Tumbling Your Jewelry
* Easy on the fingers/hands. The tumbler does the work, not your hands.
* Drop and go. You can start them tumbling then go off and do something else while the tumbler is doing the work.
* Removes minor burrs and scratches.
* Does not produce dust.
* Delivers an absolutely beautiful shine while you are away.
* As you can see purchasing a tumbler is a great investment, and a easy way to Tumble And Polish Jewelry.
* Do you use a tumbler? If so do you have any tips you would like to share?
I hope this post helped you for when you are ready to tumble and polish jewelry.