Hi All! Can you believe Fall is just around the corner? Is it cooling off in your neck of the woods yet? Here in Texas we've been having some unusually cooler weather. For a few days, we will be in the 80's, then back up to the 90's. Well enough of the crazy weather, today I want to share my "How to Upcycle a Table with paint and a napkin".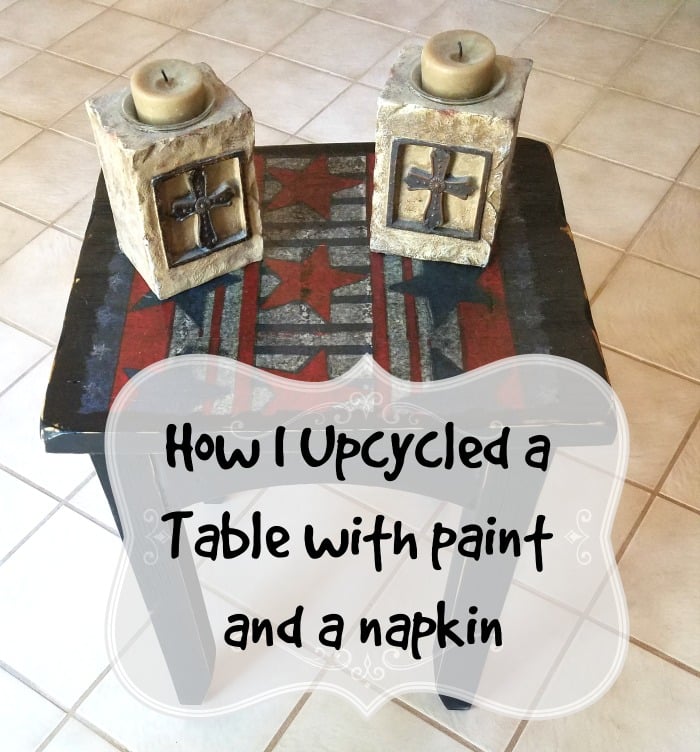 This little table has been sitting in the garage ever since we moved here a few years back. Since I have been wanting to paint a piece of furniture black, LOL. If this is large enough to be considered furniture.
I decide this little wooden table would be perfect to start with to see how I will like something painted black.
Also, I have been wanting to try out a decoupage napkin. So, this small wood table is going to be my guinea pig. It will be painted black with a decoupaged napkin on top.
While out looking for pretty napkins I ran across one with stars and stripes. This will be the one I will use, I think that it will look pretty nice with the black table.
***This post contains affiliate links, if you click on an affiliate link & buy something I may receive a small commission at no extra charge to you. The affiliate money I earn helps pay the expenses to keep this site running. Please read my full advertising disclosure for more info. Thanks so much for your support!***
Material List For Upcycled Table
Small wood table
Paper napkin
Black chalk paint
Mod Podge
Paint brush
Course sandpaper
How to Upcycle a Table
First I started off by giving the table a good cleaning since it's been sitting in the garage for several years it was needing one.
Next, I gave it two coats of black chalk paint letting each coat dry thoroughly.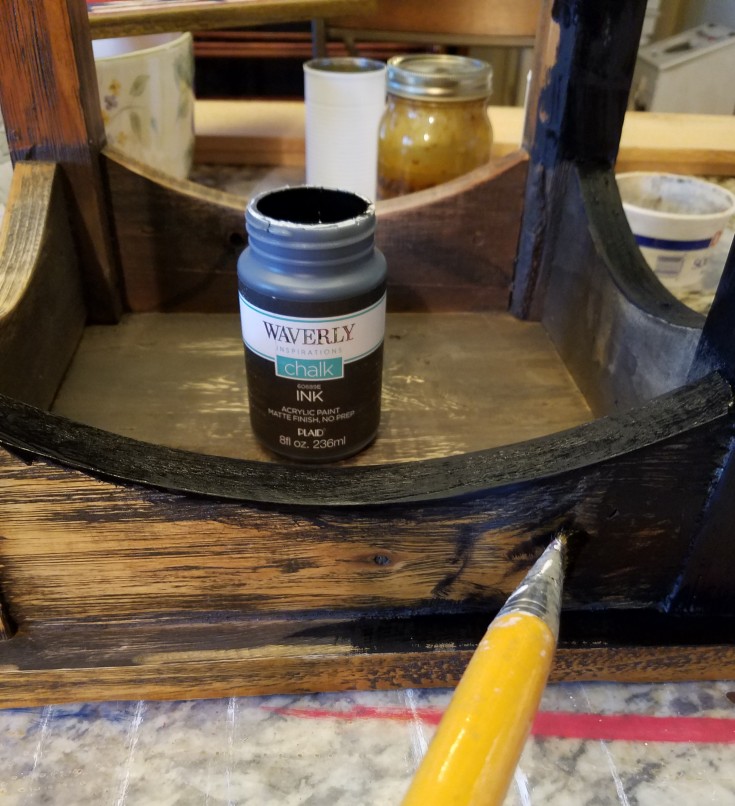 Then I separated the two-ply napkins, and cut off the pieces that I would be using.
One side of each napkin had a straight cut with matching pattern. Because I will be butting the two ends together.
The other three sides I used my paint brush and ran a bead of water around the three sides then torn the edges off to form slightly rough jagged edges.
I positioned the napkins in place then starting on one end using Mod Podge underneath to stick it down in place. Trying to get it as smooth as possible without wrinkles which is very hard to do. No worries I will take care of the wrinkles later.
After letting this dry thoroughly, I then took the little table to the garage. Using my course sandpaper, I roughed up the edges so that some of the wood underneath showed through.
Next, I lightly went over the top of the napkin sanding off what wrinkles that I had adding to the overall rustic look that I was seeking.
Dusted it off then took it back in, and gave the top two coats of Mod Podge to seal and protect the napkin.
That's how to upcycle a table with paint and a napkin, and I am loving how it turned out. Now maybe I will get the courage to paint something larger in black. Like my Kitchen table!
Have you tried decoupaging napkins before? If so please share in comments below. I love reading your comments, it makes my day. 🙂