Hi All! I hope everyone had a safe, and Happy Thanksgiving. My girls, and their family came up so we had a really nice visit. Stayed pretty busy so this weeks post is going to be something that I had worked on a while back, How to Update an Old File Cabinet.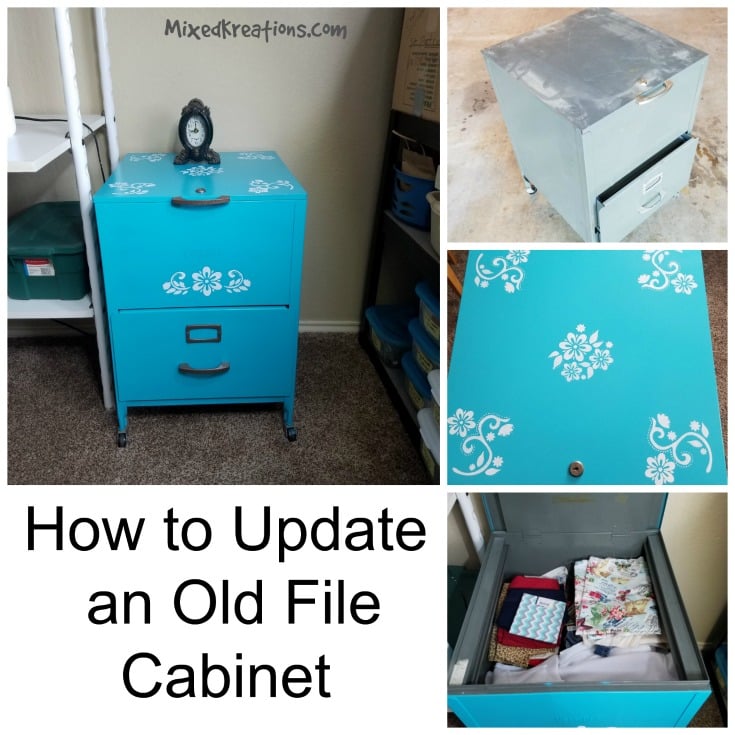 Before I get to the how to's on updating a file cabinet I want to share a little history on this filing cabinet.
When my mother was a young girl at the age of 18 she lived in Denver Colorado, and worked at Montgomery Ward. From there she transferred to The Montgomery Ward store here in Fort Worth Texas.
She became a time keeper in accounting, and worked there until she retired, then worked part-time for about 4 more years. My mother is the only person that I know that has only had one job in a life time, and she loved her job.
When Montgomery Ward closed their catolog sales department they sold a lot of office equipment. This was just one of the filing cabinet my mother used that I bought really cheap, I have a large four drawer one as well. There both heavy duty cabinets, not like the cheap ones they make now days.
This filing cabinet is over 50 years old, was still in great shape just needing an update. Therefore I am going to show you how to update an old file cabinet. The updated file cabinet that I had seen recently over at H20Bungalow has inspired me to drag mine out and give it an update.
***This post contains affiliate links, if you click on an affiliate link & buy something I may receive a small commission at no extra charge to you. The affiliate money I earn helps pay the expenses to keep this site running. Please read my full advertising disclosure for more info. Thanks so much for your support!***
How to Update an Old File Cabinet
Since this filing cabinet has been sitting in the garage gathering dust since we moved it had to be washed.
Next all the hardware was removed.
Then the hubby sprayed painted the filing cabinet with two coats of Rust-oleum Satin Seaside. I'm afraid that I'm not very good when it comes to spray painting.
Next the hardware got two coats of Rust-oleum Hammered Brown.
Once dry the hubby put it all back together for me, then I took it inside for stenciling.
I stenciled a floral design using white chalk paint on the top, and one on the front.
Let dry, and that's it! I will be using it to store fabric in. What do you think? Do you like the color?
More Project Updates You May Enjoy!
Ugly vase makeover
Thrift store prayer sign makeover
Wood box gets new look