This handmade Fancy Jasper gemstone bracelet with copper spiral is made from one of my favorite gemstones. Fancy jasper is a beautiful colored gemstone that comes in a variety of multi shades and colors. It varies in shades of green, brown, red, and yellow, with unique patterns.
Jasper Gemstone Bracelet With Copper Spiral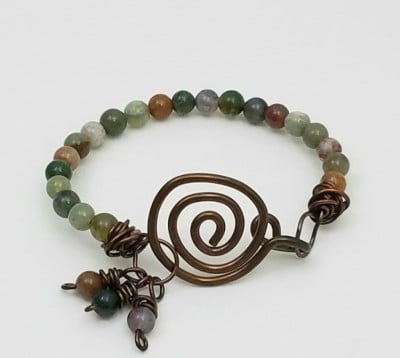 This unique handmade bracelet is made entirely from 100% copper wire and 4mm smoothly polished fancy jasper gemstone beads which I strung onto 18 gauge copper wire . The ends were finished off with my favor messy wire wrapped loops.
I made the clasp by hand-forming a spiral out of 12 gauge copper wire, than hammered for added strength. I add three jasper gemstone beads to dangle off one side of the clasp.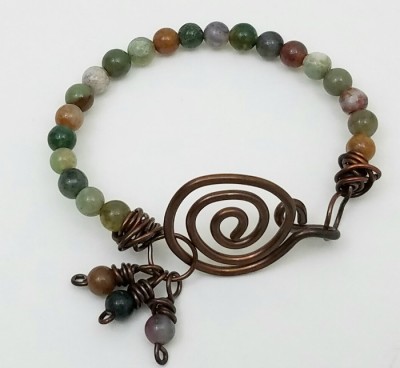 The finished piece has been oxidized and tumbled to work harden and polish for a beautiful shine.
Healing Properties Of Jasper
Jasper's is know for it's healing properties: It's thought to bring comfort and support through times of stress, brings calm and wholeness. Jasper provides protection and absorbs negative energy. Provides security, positive mental attitude, energy, and helps control intense passionate natures.
Benefits Of Wearing Copper
The benefits of wearing copper jewelry go way back to ancient Egypt. It is believed that by wearing copper jewelry it may reduce joint pain and stiffness associated with arthritis. For the believers this means more freedom of movement and joint flexibility.
This pretty Jasper Gemstone Bracelet Copper Spiral would be perfect for everyday wear. It is medium weight yet comfy to wear! Great for layering!
*This post contains affiliate links, if you click on an affiliate link & buy something I may receive a small commission at no extra charge to you. The affiliate money I earn helps pay the expenses to keep this site running. Please read my full advertising disclosure for more info. Thanks so much for your support!*
One of my favorite places to buy gemstones is at Fire Mountain. They offer a large variety of beads, gemstones, jewelry making tool, books, and more. The more you buy the bigger the discount, and they can be mixed. You don't have to buy all of the same product. Request a FREE Catalog.