I am loving my new Ninja 3 in 1 cooking system. It has been great these last couple months with the hot temperatures upon us. 
Ninja 3 in 1 Cooking System
There is so much I can do with it, for starters it's a slow cooker so it's great for those one pot meals, it can also roast and bake which is great because it doesn't heat up the kitchen like an oven will. It can also be used like a stove top this makes it great because now you only have one pan to clean up.
*This post contains affiliate links, if you click on an affiliate link & buy something I may receive a small commission at no extra charge to you. The affiliate money I earn helps pay the expenses to keep this site running. Please read my full advertising disclosure for more info. Thanks so much for your support!*
I used it the other day for my very first pot of stew of the season. I hardly ever brown my stew meat, I usually just dump it all in the Crock-Pot and cook. But this time I browned my stew meat in the Ninja three-in-one slow cooker.
Stew Recipe
* 2 lbs. Stew meat
* 4 medium red potatoes chopped
* 1 onion chopped
* 2 cups of mixed veggies, carrots, peas, and green beans
* 2 cans stewed tomatoes
* Salt and pepper to taste
* 1 teaspoon basil
* 1 teaspoon parsley
* water filled to cover above ingredients
Once the meat was browned I added my vegetables, stewed tomatoes, seasoning, and water. I programmed the slow cook and left it on it's own. It turned out sooooo good that we ate the whole 6 quart pot of stew up in 4 days, and wishing we had more.
I do believe it was the best stew that I've ever made! The hubby commented on it several times.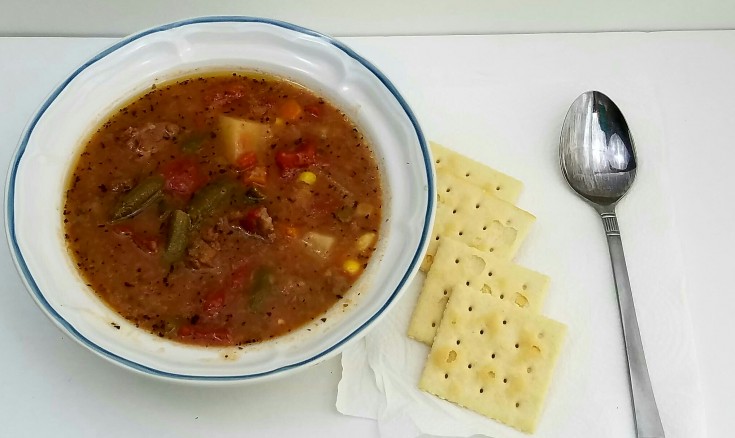 Now that may have been the best because I browned the meat first, which I normally don't. But I do know that it was delicious, and easier making it all-in-one pot. And I only had one pot to clean up afterwards. Being that its made with a non stick surface just made it that much easier. Love it!!!
That makes it a winner for me, and just think at first I didn't want the hubby to spend the money on a new Ninja slow cooker when I had one that works perfectly fine. But gotta love him, he is always looking for ways to make my life a little bit easier, and he did just that with my new Ninja 3 in 1 Cooking System.