For these wooden letters I am using a faux galvanized Metal technique. One that I learned from a blogging buddy of mine, Sherry over at the Savvy Apron.
These faux galvanized metal letters are for another project that I am working on. But I wanted to try out Sherry's paint technique.
I did change it up just a bit. Where she does messy paint stokes, I dabbed the paint on like when stenciling. (Supply list at the bottom of the post)
Faux Galvanized Metal Technique
First start off by painting your letters with black Acrylic paint.
Once dry dab on some of your charcoal grey paint, leaving some of your Black paint showing through. Before it dries use a paper towel and blot the wet paint a few times so that it will leave a blotchy looking area with some areas darker than others.
If your letters that you are giving the faux galvanized Metal technique to are large. Then you may want to work in small sections at a time. So that your paint doesn't dry before you get it all blotted.
After that dries start adding some rainy day grey paint, again dapping it on but leave some of the under coats of paint showing.
Continue this technique with the metallic paint as well.
The & sign I did just a little differently so that it would stand out between the J and L letters. It had some burlap over it but I just painted over it.
I started off by painting it black like the letters then I went straight to Dabbing the metallic on.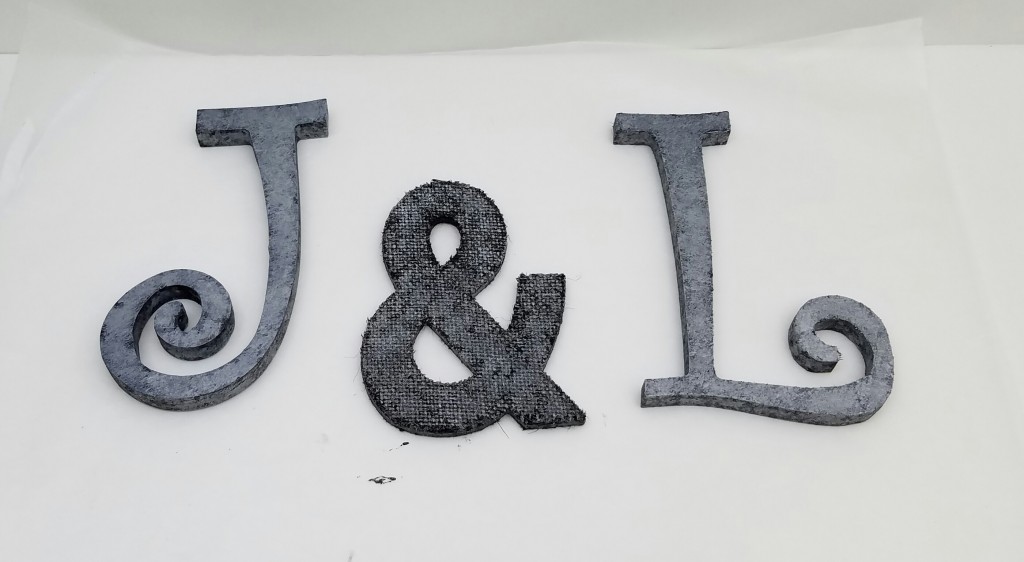 *This post contains affiliate links, if you click on an affiliate link & buy something I may receive a small commission at no extra charge to you. The affiliate money I earn helps pay the expenses to keep this site running. Please read my full advertising disclosure for more info. Thanks so much for your support!*
Supply List
(includes affiliate links for your convenience)
Wood Letters
Delta Ceramcoat Black Acrylic
Delta Ceramcoat Charcoal Acrylic
Anitas Rainy Day Grey Acrylic
Folk Art Metallic Acrylic
Old Paintbrush for Dabbing
Paper Towel
To see Sherry's faux metal technique hop on over to the Savvy Apron, where she loves creating things, cooking, and more.
Don't forget to stop by next week to see the rest of my project. Why I need these faux galvanized metal letter .
If you found this post helpful Please Share, or Pin for later!
Here's Some More Post You Make Like
Faux Leather Cross
Faux cutting board clock
Faux Zinnias made from pine cones