Do you have a makeup brush holder, or does your makeup brushes get lost or worst, destroyed in the drawer or in your makeup bag?
I don't have very many makeup brushes to begin with, but I am tired of looking for them in the mornings when I'm in a hurry to get ready for work.
To solve my problem of the disappearing makeup brushes I decided to make myself a Makeup Brush Holder out of a small jar.

I am not a frilly bling bling type of girl, (now don't get me wrong I see lots of pretty crafty things with bling that I really like, it's just not me). So my brush holder won't be all blinged out. Just something simple that will match my countertop.

Below you can find the directions on how I made my new Brush Holder, and the material list is at the bottom of the post.
Diy Makeup Brush Holder
1. You will need a small glass jar that your brushes will fit in.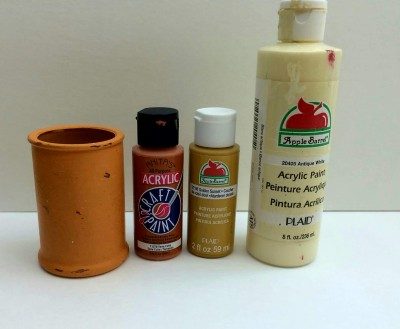 2. Choose a color for you brush holder and mix just a little bit of baking soda to help your paint adhere to the glass jar. I mixed these three colors to come up with the color I was going for.
3. Once my jar was dry I gave it a sanding to give it a slightly worn look.
4. Next I stenciled a number seven on the side of the jar.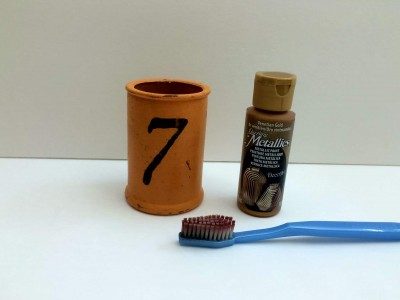 5. I used an old paint brush to splatter some burnt sienna onto the painted jar.
6. For my tiny bit of bling I will be adding two brown twisted cord with a little bit of a bronze shimmer to them.
I will add one around the top using my hot glue gun.
7. And one around the bottom.
That's it for my new makeup brush holder. Now no more hunting or damaged makeup brushes.
*This post contains affiliate links, if you click on an affiliate link & buy something I may receive a small commission at no extra charge to you. The affiliate money I earn helps pay the expenses to keep this site running. Please read my full advertising disclosure for more info. Thanks so much for your support!*
Materials For Makeup Brush Holder
* Small glass jar(affiliate)
* Acrylic paint
* Paint brush
* Brown cord(affiliate) with a light shimmer
* Glue gun
* Baking soda(affiliate)
* Old tooth brush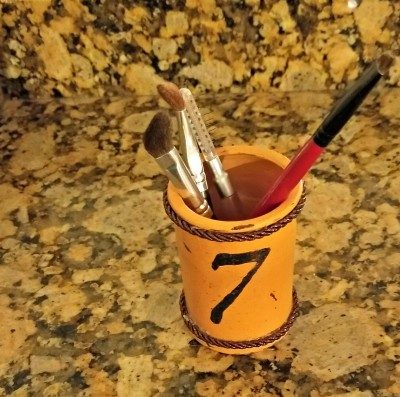 I couldn't get a good pictures, but the brush holder does match pretty close to one of the colors in my new granite counter top.
Do you store your makeup brushes in a diy holder of some kind?