Hi All! Today I am going to share two pumpkin projects. My metal tart mold pumpkin, and two Avon bottle pumpkins. I've been on the hunt for some metal tart mold for some time now, and I scored on our last junkin trip. Pumpkins make a fun diy project because you can turn almost anything into a pumpkin like these pumpkin cans, pumpkin jars, or this pumpkin tin I made a few weeks ago. Or how about this adorable metal strainer pumpkin.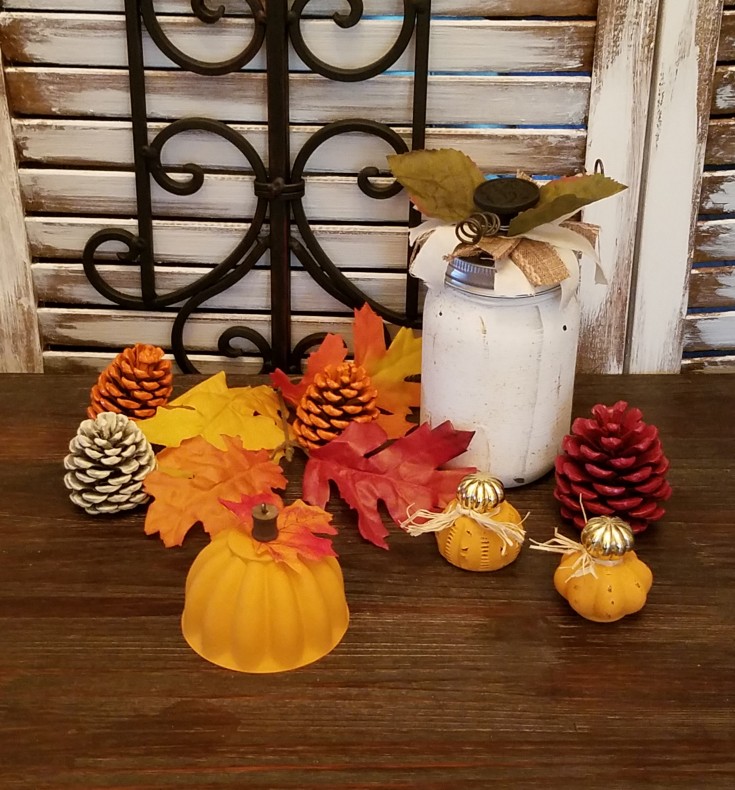 I bet if you go to the thrift store or even take a look around your house you would find lots of items that you could turn into pumpkins. Scrap wood is another thing to make some fun pumpkins. When I was having my recent garage sale I ran across two mini Avon bottles that reminded me of pumpkins. So they are getting a pumpkin makeover as well. I will show them at the end of this post.
***This post contains affiliate links, if you click on an affiliate link & buy something I may receive a small commission at no extra charge to you. The affiliate money I earn helps pay the expenses to keep this site running. Please read my full advertising disclosure for more info. Thanks so much for your support!***
Diy Metal Tart Mold Pumpkin
First, wash your tart mold with hot soapy water, and dry.
Next, give your metal mold two or three coats of orange chalk paint, or make your own chalk paint if you don't have any orange but do have some orange acrylic. All you need is one household ingredient you can find out more on my homemade chalk paint post.
Drill a hole in the top center of your tart mold pumpkin.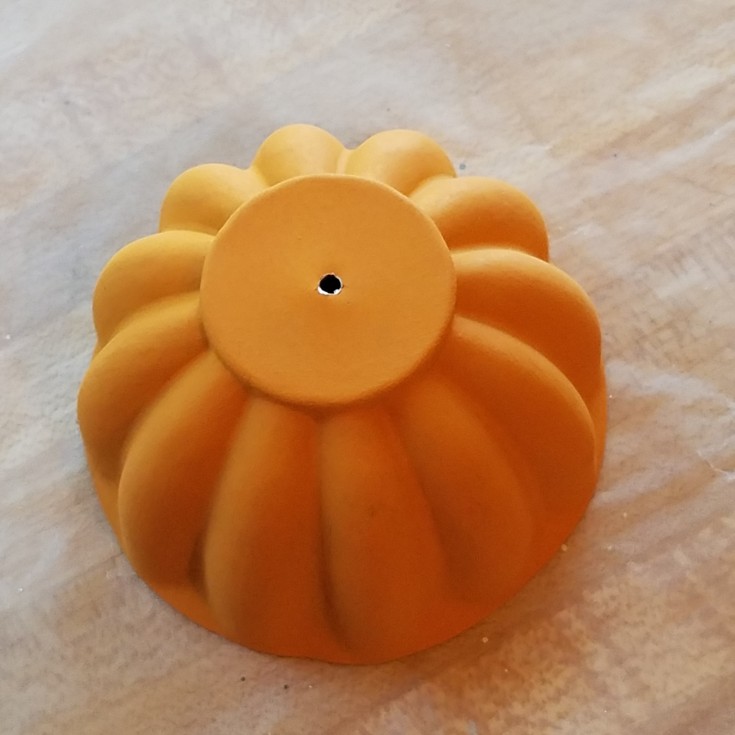 For the stem, I am using a small wooden spool that I painted brown.
To put the tart mold pumpkin together I used a piece of wire about 1 1/2″ in length, and added a loop on one end. I used my round nose pliers to easily add a loop.
Place the wire end through the hole of the tart mold with the loop on the inside.
Add a leaf by poking a hole through the leaf with your wire and slide it down on top of the metal tart mold.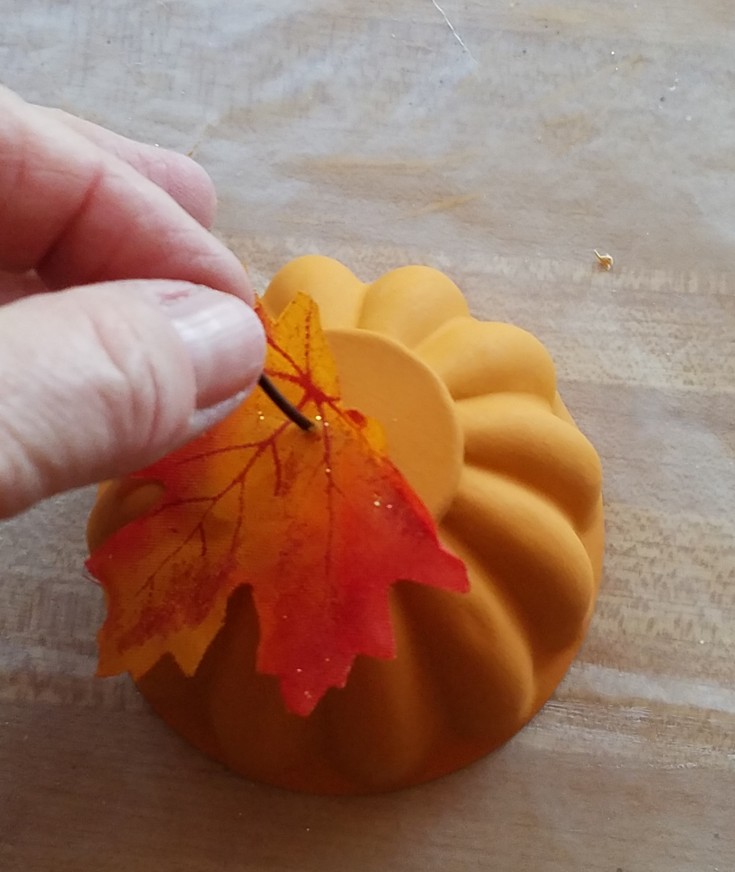 Then add the painted spool to the wire and secure it down by making another loop on top.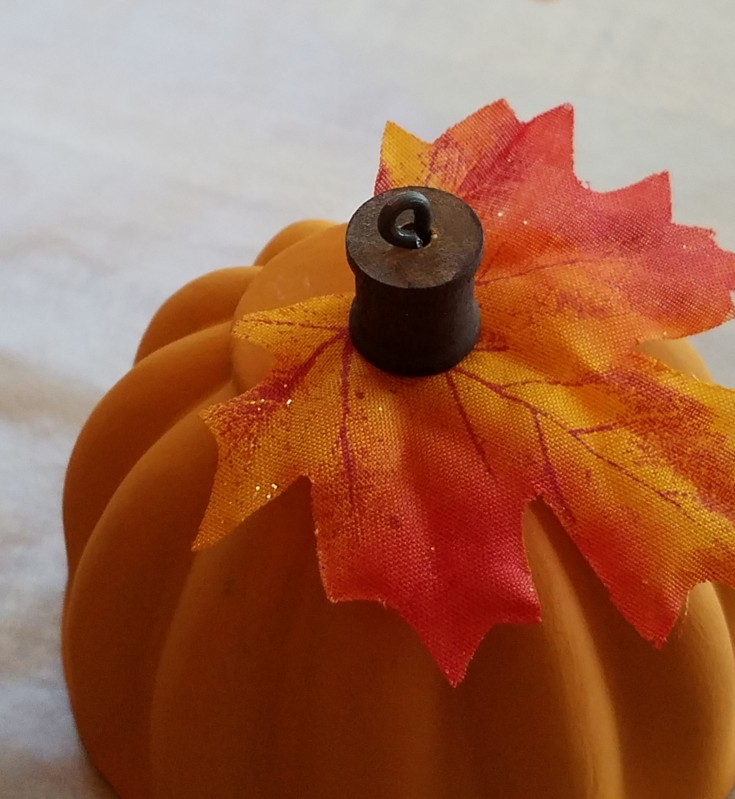 And that is how to make a metal tart mold pumpkin for the holidays.
Metal Tart Mold Pumpkin Supplies
One metal tart mold
Pumpkin chalk paint
Fall silk leaf
Round nose pliers
Annealed wire
Paint brush
Small wooden spool
Mini Avon Bottle Pumpkins
For the mini pumpkins I started off by washing and drying the bottles. Then I gave them two coats of pumpkin chalk paint.
Don't they look like they should be a pumpkin?
Once they were dry I gave them a light sanding then tied a few pieces of raffia around the neck of the bottles and put the tops back on. That's it for a couple of cute mini pumpkins upcycled out of Avon bottles.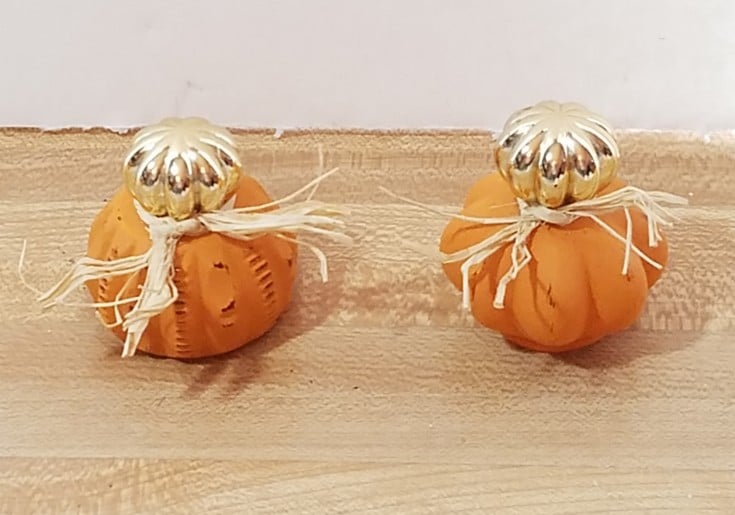 More Fun Pumpkin Projects!
Diy Fall Pumpkins
3 ways to upcycle a Dollar Store pumpkin
The white pumpkin jar