Hi All! Recently I showed you all my fun finds from the latest antiquing/junkin trip. This vintage strainer was among my collection of goodies. I have been on the lookout for some things pumpkin shaped to make some cute Fall décor. This little metal strainer fits the bill. It's round, and has a handle for the stem. Perfect for my vintage strainer jack-o-lantern!
***This post contains affiliate links, if you click on an affiliate link & buy something I may receive a small commission at no extra charge to you. The affiliate money I earn helps pay the expenses to keep this site running. Please read my full advertising disclosure for more info. Thanks so much for your support!***
Material List for Diy Strainer Pumpkin
Vintage strainer
Chalk paint orange
Black, white, blue, rust red, leaf green, brown acrylic paint
Paint brushes
Raffia
Fall leaves
Floral wire
Wood sign cut-out
Stylus Pen or wood toothpick
Annealed wire
Diy Vintage Strainer Jack-O-Lantern
Start by giving your vintage strainer a hot soapy bath.
Then give the round strainer part two coats of orange chalk paint. Paint the handle leaf green.
Once dry draw the face on your pumpkin strainer, and start filling in with black acrylic or chalk paint.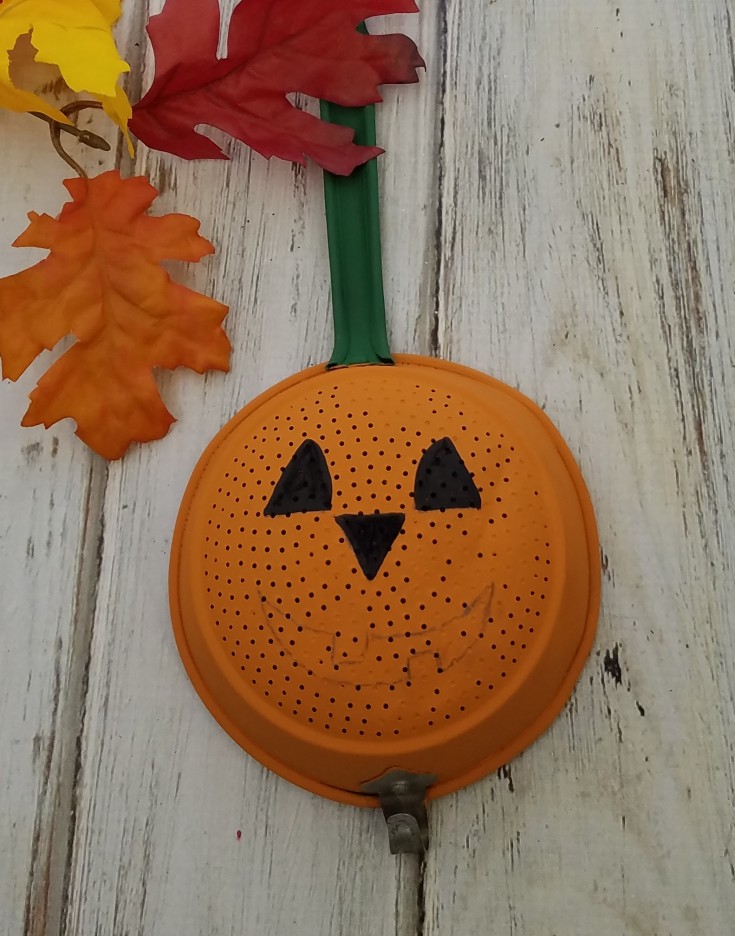 Use an old brush or stipple brush to add the rosy cheeks (Rust Red).
Next float some white acrylic paint on one side of the nose, and mouth.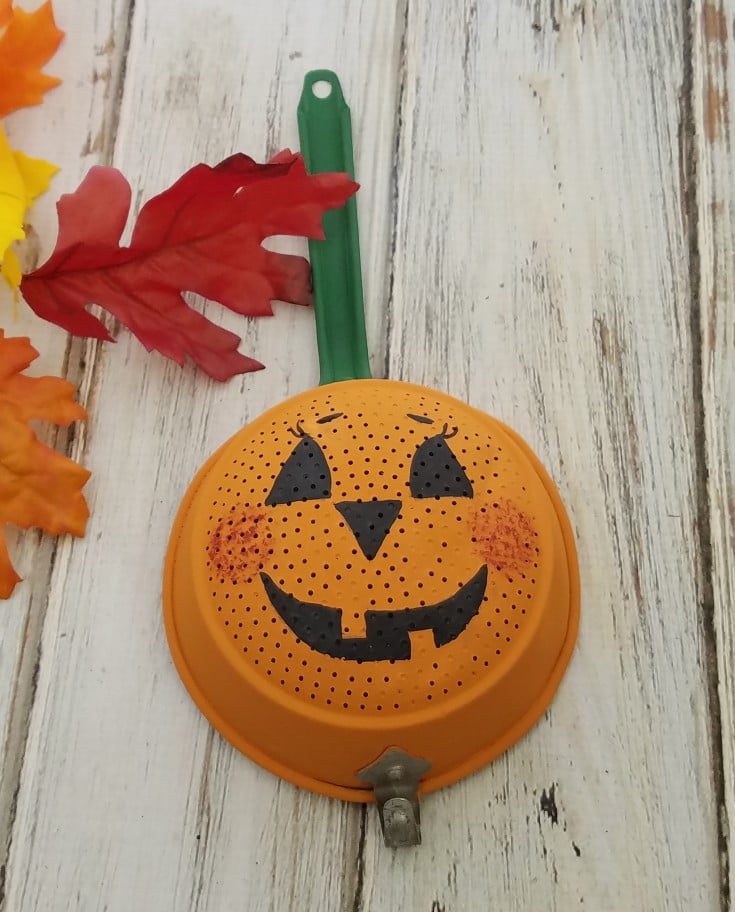 Using the floating technique again for the blue of the eyes.
A detailed brush was used for adding the eyelashes, and eyebrows.
The dots on the eyes, and cheeks can be added by using a stylus pen if you have one, if not a round tooth pick will do the trick.
Once everything was completely dry I added a coat of Mod Podge for protection.
I decided since the metal vintage strainer had a hook on the bottom that my jack-o-lantern needed a sign.
I have lots of wood parts from years ago. So, I dug through them till I found this wood sign cut-out.
Giving it a coat of brown paint then again using my detail brush to add the wording on both sides. Added some wire and it's ready to hang.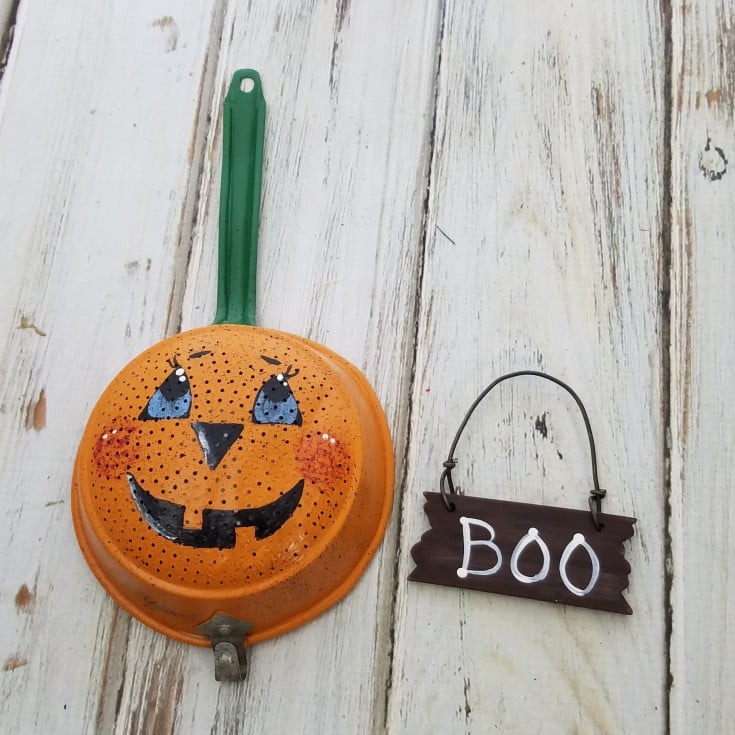 Next came the raffia and fall leaves. To connect the leaves, I used some floral wire. Then I secured the leaves and wire around the handle of the metal strainer.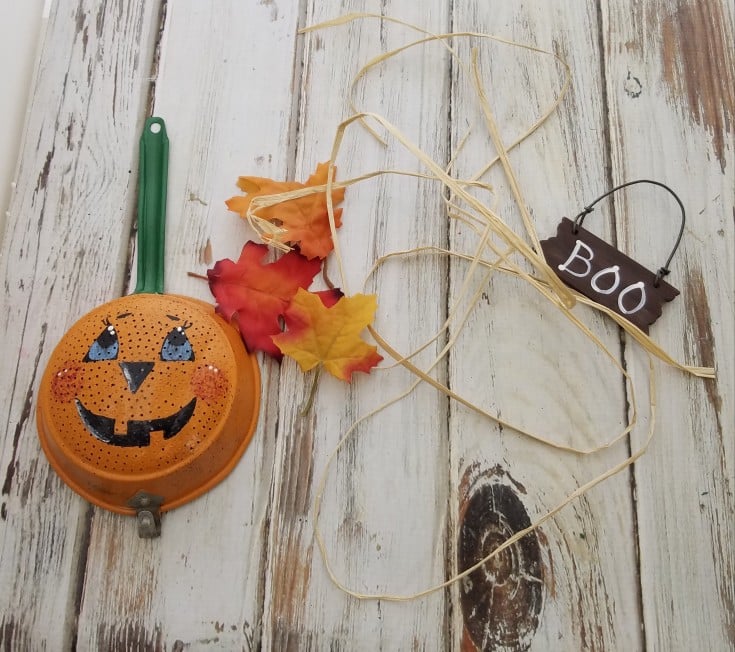 Next came the raffia bow. Lastly, I hung the little wood sign on the hook at the bottom of the strainer.
That's how I made a metal vintage strainer Jack-O-Lantern fall décor.
More Fun Projects
Repurposed items into jack-o-lantern lamp
Tin can pumpkins
Happy fall y'all cedar pickets